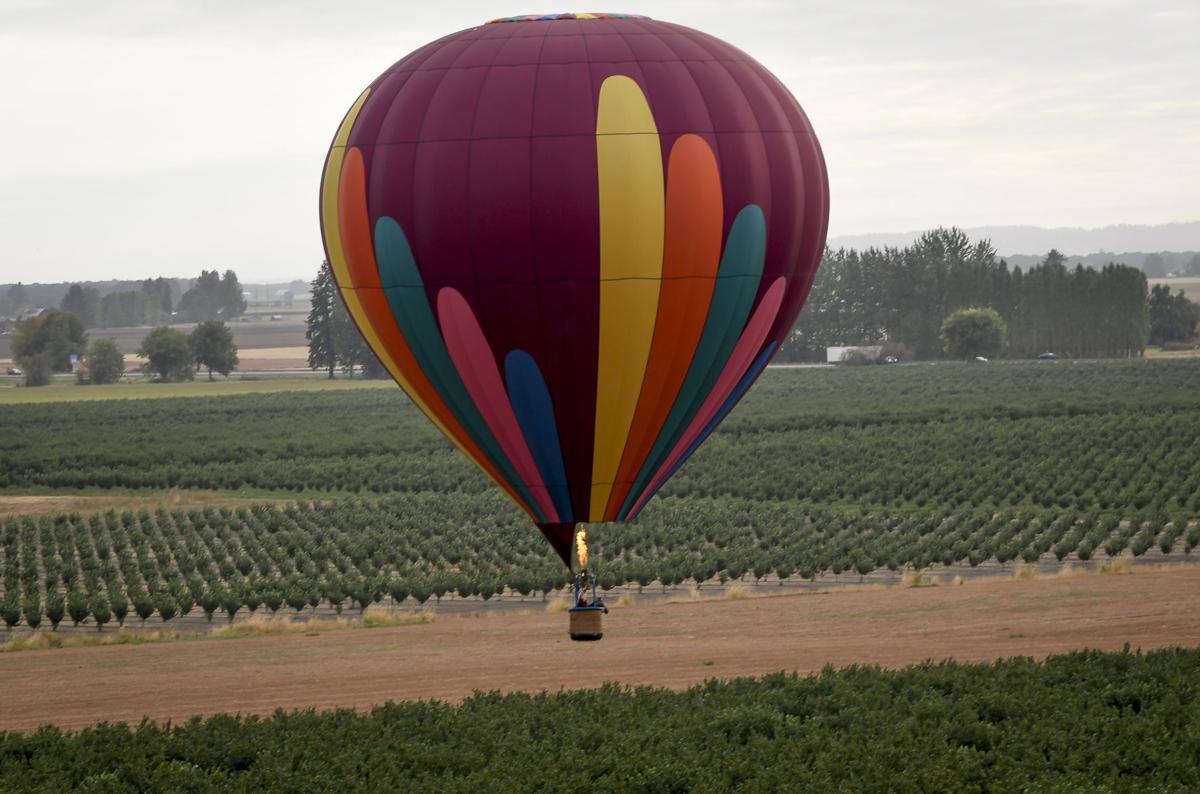 With the delta variant rampaging through Oregon, causing a spike in COVID-19 cases, hospitalizations and deaths, it should come as no surprise that the Northwest Art & Air Festival was canceled.
The city of Albany made the best decision it could in the interest of public health regarding the annual event, but the cancellation — for the second straight year — is still a bummer.
The Art & Air Fest is something that our journalists look forward to covering. It's fun to roam the booths and see all the arts and crafts, watch hot air balloons illuminate the sky during Night Glow, listen to classic rockers such as Joan Jett, or simply bump into your neighbors while walking through Timber Linn Memorial Park.
Besides the Veterans Day Parade, the Art & Air Fest is the biggest thing Albany has to offer, and we'll miss it.
But we also know we're still in the midst of a global pandemic, and some people aren't taking this public health crisis very seriously.
Every time we go grocery shopping in Albany, we see knuckleheads not wearing masks and begging for confrontations.
The city of Albany, to be frank, didn't have much of a choice. Its staffers and volunteers couldn't have reasonably been expected to police Gov. Kate Brown's outdoor mask mandate. And if the city turned a blind eye to this rule, would it have been liable?
Support local news coverage and the people who report it by subscribing to the Albany Democrat-Herald.
Plus, shutting down the event this year simply was the right choice for the safety of our communities. Some sponsors, vendors and volunteers had already decided not to participate given the delta variant's surge, which has overwhelmed Oregon medical facilities. Some residents have died in hospital hallways because intensive care unit beds are full, according to officials.
The timing of the cancellation was regrettable, as notice was given on Wednesday morning, two days before the event. And part of that blame falls on Brown.
After all, Benton County had enough foresight to create its own outdoor mask mandate a week prior in preparation of Oregon State University home football games, which start on Sept. 11.
(On a side note, kudos to OSU and the University of Oregon for installing a vaccination requirement for attendees at home football games and other events. We support this plan as long as requirements are communicated clearly with ticket holders, that those checking cards have proper training, and that data isn't collected on attendees at checkpoints.)
Brown should have known far earlier that an outdoor mask mandate would be the logical outcome for the state, and she needs to stop responding drop by drop to a crisis that is clearly worse than it was a year ago.
She needs to lead from the front because most Oregon counties don't have the intestinal fortitude for such difficult decisions. And one of those tough calls will surely be coming soon.
The largest mid-Willamette Valley schools start in-person classes in about a week. But we fully expect a change in course from Brown before that date that will leave parents in the lurch regarding childcare, and employers in limbo regarding workers who will need to supervise students at home.
As we've often stated, these sort of late decisions can be crippling for families and small businesses.
We'd be shocked if in-person classes occur as currently scheduled without widespread closures stemming from outbreaks. And we'd also be stunned if Reser and Autzen stadiums are operating at full capacity for the Beavers and the Ducks.
Thankfully, amidst the gloom and doom of the Oregon Health Authority's updates, there's a glimmer of hope. More people are finally coming to their senses and getting vaccinated.
The OHA reported nearly 11,500 jabs in the arm on Wednesday. That's more than double the figure from about two weeks ago.
If you haven't been vaccinated against COVID-19, you should do so unless you have a legitimate health exemption. Officials have repeatedly stressed that the majority of hospitalizations and deaths are from unvaccinated residents.
Again, get vaccinated, mask up and be careful to protect yourself and your family. We're not out of the woods yet with this pandemic. And things will likely get worse before they get better.