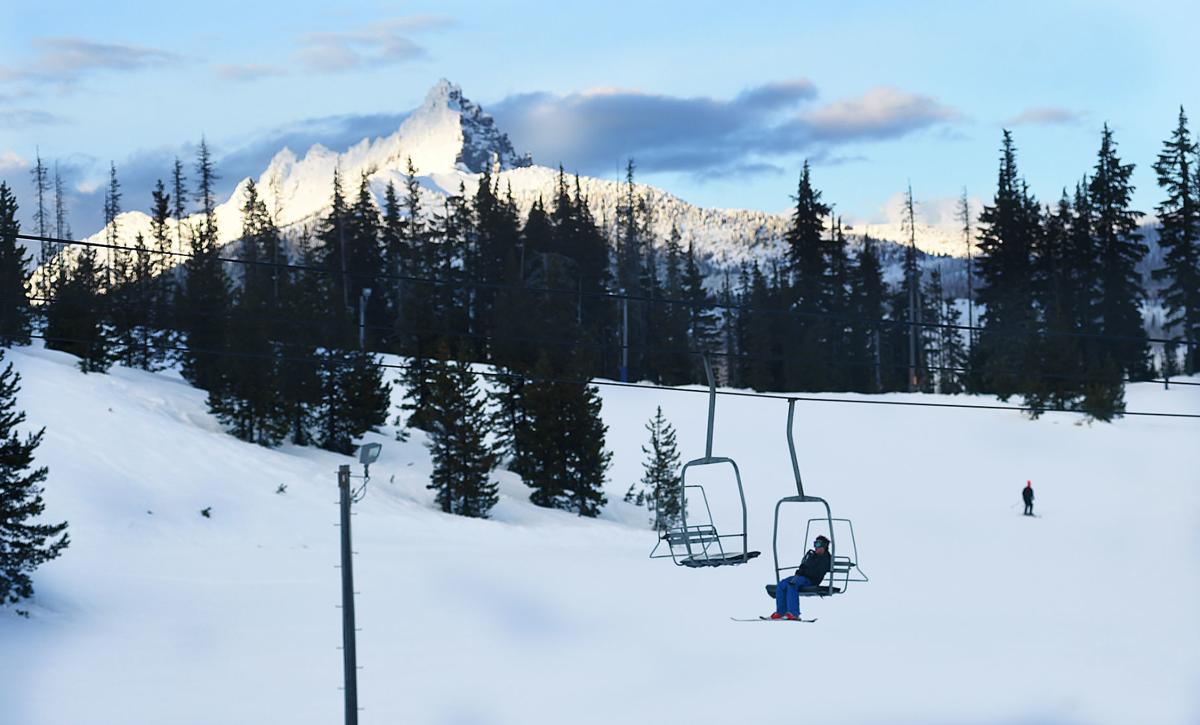 The wintry mix of weather hitting Linn and Benton counties this week might be a pain for residents dealing with slick roads and other issues, but it also means that there's good news up in the mountains for Oregonians. There's snow up in the hills.
Just how bad was the snowpack earlier this winter?
Hoodoo Ski Area couldn't even open until Dec. 27, as it only had a base of 15 inches of snow. The resort closed again on Jan. 1 until it could get more snowfall.
At the start of the new year, even at higher elevations in the Cascades such as Mount Hood Meadows, outdoors enthusiasts would have been wise to use their rock skis or boards. Saplings, rocks and grass tufts stuck out from the snow and the risk of gouging your gear was high.
Two weeks later it's a different world, a veritable winter wonderland for places such as Hoodoo, which reopened on Jan. 9. Lately, it's been a "pow day" every day.
"If you're an avid skier or snowboarder, these are the conditions you wish for all season," said Leif Williams, vice president of marketing for Hoodoo Ski Area. "People who enjoy big, deep powder are able to come up and experience that."
The resort at the eastern edge of Linn County is getting 8 inches to 12 inches of new snow every day, he said. And understandably, the parking lot at Hoodoo has been crowded. For Thrifty Thursday this week — an all-day lift ticket is a steal at $25 — the lot was absolutely jam-packed, Williams added.
The snow base at Hoodoo was nearly 70 inches on Thursday. Up on Mount Hood, Meadows received 5 feet of snow in four days, and all gates of Heather Canyon were open for backcountry skiing and boarding on Thursday.
Skiers and snowboarders aren't the only ones who should be rejoicing about the weather.
Every year, we keep a close eye on the snowpack because it's a good indicator of how our summer will go. Will our forests dry out weeks or months before they should, leading to another devastating and smoke-filled fire season? Will farmers have adequate water for irrigation? Will we have enough water for recreation and tourism? In case you haven't noticed, there are plenty of people who flock here for fishing, boating and other summertime fun. Even "dry" activities like hiking and backpacking benefit from an adequate snowpack in the winter, as that feeds streams, rivers and lakes.
The recent storms boosted Oregon's paltry snowpack to almost average levels. According to the USDA Natural Resources Conservation Service, the Willamette River basin's snow-water equivalent — the amount of water contained in the snowpack — increased from 26 percent of normal on Dec. 30 to 83 percent of normal for this time of year.
The state's snowpack remains a smidge behind the curve, but it's in far better shape, and this is a great sign.
Still, we've learned not to get too optimistic too early. Even if the snowpack gets above average levels in January, a warmer-than-usual February can melt all the gains away. A snowpack that's gone by May isn't much help keeping stream flows steady and holding wildfires at bay.
So here's hoping for more storms, and more powder up in the mountains.
Now seems a good time for a reminder about putting a winter travel kit in your vehicle to help you survive an emergency in the snow or other chilly conditions. Get an old duffel bag and make a kit even if you're not making a run to the hills. A few years ago, we had a relative stuck in a snowstorm for hours on Interstate 5 — at the Enchanted Forest.
The Oregon Department of Transportation encourages residents to carry extra gear such as a hat and gloves, boots, a blanket or sleeping bag, extra food and water, first aid supplies including necessary medications, an ice scraper or snow brush, a working flashlight and more. We'd also suggest you bring a small shovel, even a garden trowel, that you could use to dig your automobile out if necessary. And, obviously, carry chains if you're planning on heading over any mountain passes.
Correction: Albany Mayor Sharon Konopa's first veto on the issue of accessory dwelling units, often called "in-law houses," came in July 2018. Incorrect information about the timeline of Konopa's vetoes was presented in an editorial in the Jan. 10 edition of the paper.
Get local news delivered to your inbox!
Subscribe to our Daily Headlines newsletter.