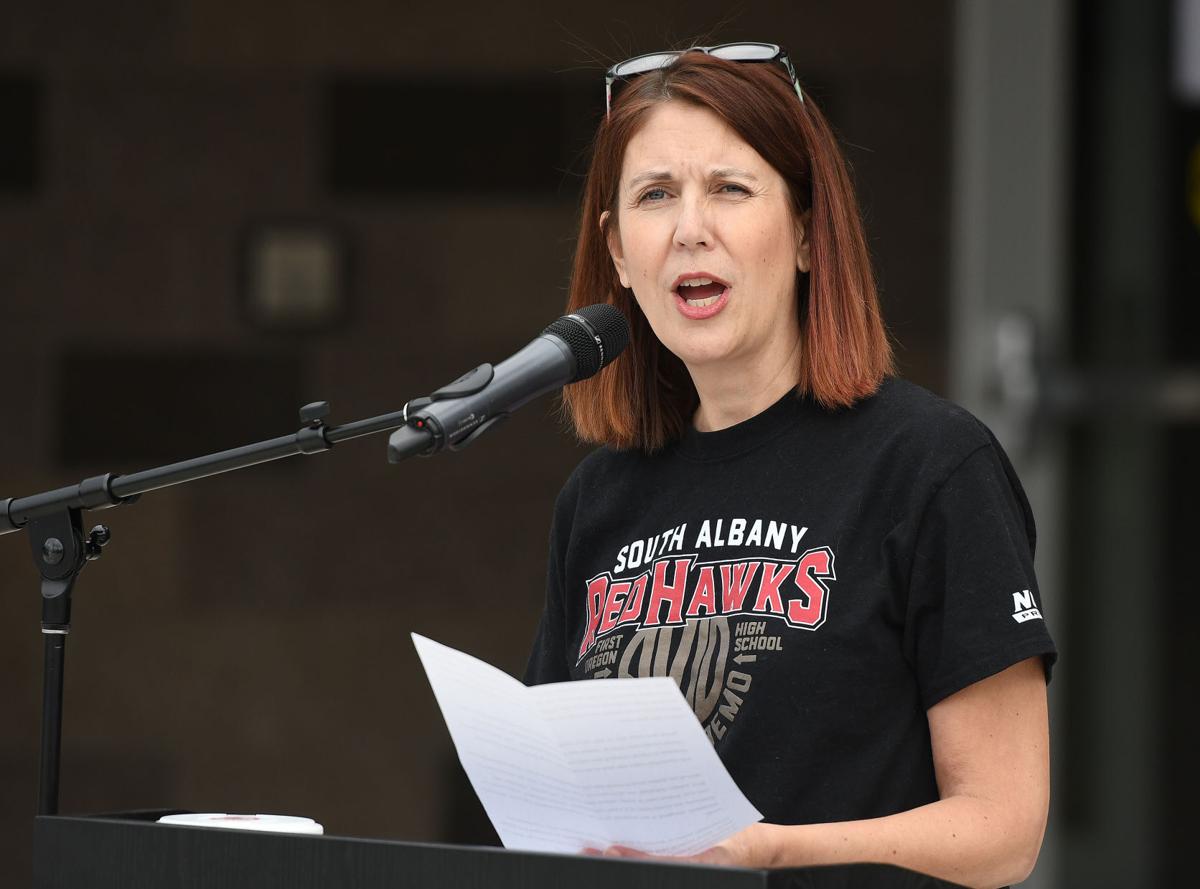 Some people galvanize the community, and Melissa Goff is one of them, but not in a good way.
During her relatively brief tenure as the superintendent of Greater Albany Public Schools, she's frustrated students, parents, teachers, the rank and file of the Albany Police Department and more.
It seems like some of the few people who wholeheartedly back Goff are members of the lame duck school board who quacked far too loudly during a recent meeting. More on that in a bit.
But first, let us acknowledge that we generally agreed with GAPS' cautious approach and the prioritization of public health in reopening schools. We cringed at the confusing messages from the district, though. There were statements, then backtracks, then clarifications.
We reasoned that this was a new, difficult and shifting situation, so we gave Goff a pass.
This was similar to when Goff was superintendent of the Philomath School District, which had a hazing scandal on the Philomath High School football team. No one, we believed, could have solved that issue particularly well.
But now, it seems Goff has a magical ability to make every crisis worse. Here are a few of the highlights since autumn.
Support local news coverage and the people who report it by subscribing to the Albany Democrat-Herald.
A spat with teachers over schedules and distance learning issues in the fall led to a critical letter signed by about 100 educators who said they weren't consulted about changes.
Greatly concerning was the controversy over APD officers welcoming students back to schools this spring. GAPS stopped the tradition after some students and families said it created fear and anxiety. The abrupt cancellation, however, left a sour taste. Most local law enforcement officers are heroes and if this issue were handled gracefully, it wouldn't have seemed a slap in the face and resulted in a protest.
Then there's the 4-1 vote of the GAPS board to censure one of its own members, Eric Aguinaga, and recommend that he resign. The move came after Goff and another administrator filed a complaint in April that claimed Aguinaga had created a hostile work environment and violated a number of board policies. We're not sure what to make of this development, but it's troubling, notably with the hostile work environment assertion.
Also, three new GAPS school board members, all of whom opposed Goff's policies, will be seated in July, joining Aguinaga. The lame duck board's contract extension and pay raise for Goff, made on Monday, could be seen as a cynical attempt to insulate Goff from the new makeup of the government body.
The latest development for Goff was a Tuesday protest outside West Albany High School involving more than 200 students. The teens rallied against a schedule change, imposed by the district without consulting them, that could greatly reduce classes available.
A journalist attended this event, resulting in a rebuke from Goff, who has seemed determined to control the message in previous encounters.
Goff blasted the newspaper for being on school grounds without permission and questioned why a journalist didn't follow protocols for checking in at the West Albany office for COVID-19 screening.
"At this time, visitors are not allowed on school grounds except for special circumstances. Any visitors, however, must check in at the office so we know who is on our school grounds at all times," Goff wrote.
"I would hate to be limiting access to our schools based on continued conduct such as this," Goff added, later in her email.
The journalist, who wore a mask at all times, was on public grounds in an area where screening typically is not required. He contacted two administrators at the scene and was not asked to leave. After completing the assignment, the journalist went to the West Albany office and asked to speak with the principal for comment, but left after being informed that she was in a meeting.
We've covered numerous events and happenings at Albany schools during the pandemic without this sort of blowback.
So it's difficult to stress how unusual this email was with its quasi-threatening tone, arriving before our story had published and on the eve of West Albany High School's graduation.    
The superintendent of Greater Albany Public Schools is one of the most critical positions in the mid-Willamette Valley. This individual must build partnerships not just in Albany but throughout Linn and Benton counties, with myriad agencies, philanthropies and organizations.
But Goff has alienated far too many potential allies – even some who may largely agree with her decisions.