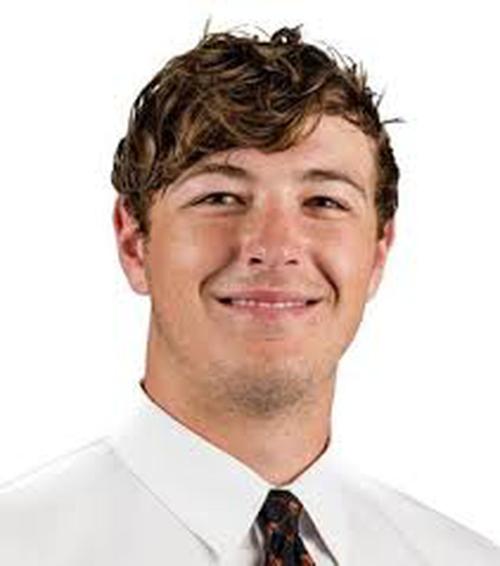 We'd urge you to take a moment with your children or young relatives and tell them to be careful with what they say or type online on social media.
If you make an appalling statement, there could be negative consequences.
These repercussions could occur years later and follow you for the rest of your life.
This fallout could happen even if you were a teenager and technically a child when you said something dumb. This backlash could continue, and perhaps even amplify, if you claim that it was all a joke.
Rocco Carley, a former Oregon State University football player, has become something of a local punchline after a recording surfaced last week in which he made racist, homophobic and anti-Muslim comments.
In an attempted apology on Twitter that somehow made things even worse, the freshman tight end explained that the recording was from about three years ago in a group chat in which he was saying "stupid things" with some high school friends.
Some of Carley's teammates, naturally, found the mea culpa insincere. Ultimately, the apology didn't matter. Less than an hour after Carley tried damage control on Twitter, and the same night the audio surfaced, coach Jonathan Smith dismissed him from the football team.
The decision was swift and, to be sure, Smith had no real choice. There was a pervasive sense of betrayal from teammates who would never truly accept Carley again. This guy would have their back on and off the field? Please.
Carley's comments were so vile that retaining him would have destroyed any sense of locker room chemistry or team unity.
We believe in second chances, rehabilitation and the ability of people to change.
But reality can be harsh.
Even though Carley made the statements as a teenage boy, he'll always be tarnished to a certain degree. He can never fully escape this.
Carley will be lucky if he's able to play college football at any level ever again. What coach, athletic director or university president would want such a public relations nightmare in this age? The scrutiny of having him on a squad would be immense. And worse, in a sport filled with minorities, what players of color or Muslims would want him as a teammate? For that matter, what Christians wouldn't be extremely wary about a person who made such awful statements?
After college, Carley most likely will have to acknowledge this transgression in every job interview he ever has — even if he has to bring it up himself. If an employer somehow doesn't do their due diligence, fails to conduct a rudimentary background check and discovers the recording after Carley is hired, he could be immediately fired.
It's true that Carley's comments, though beyond the pale, aren't as bad as adults who made horrific statements about the death of George Floyd in the immediate aftermath of the black man's killing by Minnesota police. People, including the CEO of CrossFit, have lost their jobs. Tasteless comments also have been made on our Facebook pages by local residents. (As a reminder, we have an auto-ban policy on death trolls.)
Part of the reason we're writing about this, of course, is that Carley has more of a spotlight on him because he was an athlete at OSU. But this sort of mistake could derail students' aspirations regardless of whether they have a high profile or not.
We've heard sources tell us that Carley is a "nice kid" who made a major error in judgment. He was a child who probably knew better but pushed the boundaries and made an insensitive joke.
But there's no excuse. This is 2020 and some things aren't so funny anymore. To be frank, some things were never funny. It's just that many people finally have found the courage to stand up and speak out against racism and other forms of bigotry.
Get local news delivered to your inbox!
Subscribe to our Daily Headlines newsletter.