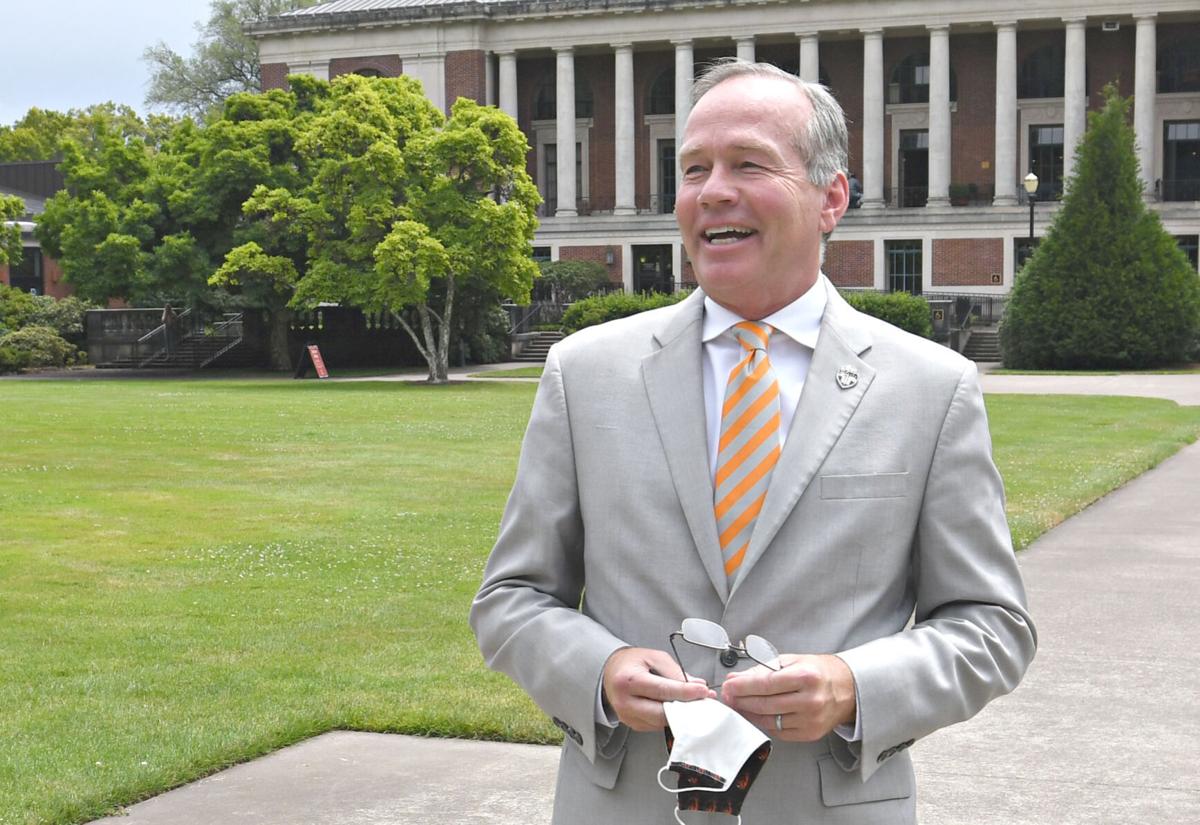 ROSE (roz) n. One of the most beautiful of all flowers, a symbol of fragrance and loveliness. Often given as a sign of appreciation.
RASPBERRY (raz'ber'e) n. A sharp, scornful comment, criticism or rebuke; a derisive, splatting noise, often called the Bronx cheer.
•RASPBERRIES to Oregon State University, which once again seems to be leaning toward a secretive hiring process for its president, even in the immediate wake of the F. King Alexander debacle. The OSU Board of Trustees expressed reservations about a transparent process during a Wednesday meeting because of the negative impact it would have on the candidate pool, but this excuse rings hollow for reasons that we'll get to in a bit.
In case you missed it, Alexander resigned after news surfaced that under his leadership, Louisiana State University failed to act on numerous compliance recommendations to protect students from sexual harassment and violence. An independent law firm's report detailed a climate of willful inaction and a culture of sexual misconduct, much of which involved the LSU football program.
We firmly believe that an open hiring process is necessary for candidates seeking prominent public positions such as police chiefs and university presidents. If a transparent search had occurred, it's far more likely that information regarding Alexander and his tenure at LSU would have surfaced.
Inconceivably, during the Wednesday meeting, Rani Borkar, chairwoman of the OSU Board of Trustees, defended the search process for Alexander, saying that it was "very good." Do you still think, after all that has transpired, that OSU selected the best candidate for the job?
The reasoning given for the confidentiality of the process is that some highly qualified candidates might not apply if their names were made public. But top administrators at institutions of higher learning move from job to job fairly frequently. It should come as no surprise that an ambitious administrator might be interested in a premier presidential job elsewhere.
And, yes, the presidency of OSU is a prime gig.
We have said this before, but putting government business out in the open can expose flaws for all to see. What's uglier is when the public becomes distrustful of institutions that operate in secret. With OSU, that's already occurred to a certain degree.
We also should note that the previous time OSU hired a president, the search was open and resulted in the three finalists visiting the campus and engaging in public forums. The university's selection back then did a pretty good job. Ed Ray led OSU for 17 years.
•ROSES to New Zealand, which became one of the world's first countries to offer paid leave for workers who suffer a miscarriage or stillbirth.
Miscarriages and stillbirths, as far too many residents know, are emotionally devastating to women and couples. Pain and grief occur when the pregnancy isn't very far along, or when would-be parents have picked out baby names. There is a toll for those who have long dreamed of becoming parents, or those who already have children.
New Zealand's paid leave is only three days, but that's a start, and perhaps this is something we'll see other nations emulate.
•ROSES to John and Trish Borowski of Philomath, a retired couple who have been helping the homeless in Benton County, bringing them food, heaters, clothes and other supplies.
"Many Americans are a heartbeat away from becoming homeless, houseless, jobless," John Borowski said, in a recent interview.
The stories of the local unhoused community can be heartbreaking. But the Borowskis serve as a heartwarming example that local people can make a real different in the lives of others.
•RASPBERRIES to wasted money and good intentions. The city of Corvallis allocated $125,000 in hopes of putting together a managed camping facility. Nearly $90,000 of that was essentially lost when the project had to be abandoned after it was denied insurance.
Unity Shelter, which manages several outreach efforts for homeless people in Corvallis, hoped to open the facility. Plans were in place for tents on platforms, case management and a warming hut.