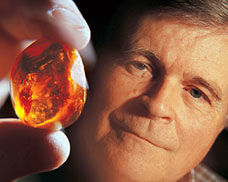 ROSE (roz) n. One of the most beautiful of all flowers, a symbol of fragrance and loveliness. Often given as a sign of appreciation.
RASPBERRY (raz'ber'e) n. A sharp, scornful comment, criticism or rebuke; a derisive, splatting noise, often called the Bronx cheer.
• ROSES to George Poinar Jr., the Oregon State University entomologist whose work in extracting DNA from ancient insects fossilized in amber provided inspiration for Michael Crichton's blockbuster book and movie "Jurassic Park." As we reported in our Jan. 11 editions, Poinar's latest discovery is a previously unknown genus and species of flower that bloomed approximately 100 million years ago. Poinar and his collaborators at OSU and the U.S. Department of Agriculture named the new flower Valviloculus pleristaminis. Valva is the Latin term for the leaf on a folding door, loculus means compartment, plerus refers to many, and staminis reflects the flower's dozens of male sex organs. The tiny, intricately beautiful blossom Poinar and colleagues used as their type specimen became encased in amber on the ancient supercontinent of Gondwana and later rafted on a continental plate some 4,000 miles across the ocean from Australia to Southeast Asia, where it was ultimately collected.
• RASPBERRIES to the latest government foul-up involving COVID-19 vaccines. After prioritizing frontline health care workers, first responders and nursing home staff and residents for the first round of shots, Oregon officials were poised to expand the rollout to teachers, child care workers and anyone 65 or older by the end of next week. But they were forced to backtrack Friday after learning that shipments of reserve vaccine supplies promised to the states by the federal government would not be coming after all. Gov. Kate Brown, who previously had announced plans to use the additional doses to begin vaccinating K-12 educators so schools could reopen, called the about-face by U.S. Health and Human Services Secretary Alex Azar "deception on a national scale." While the reversal impacts every state, it was especially hurtful to Oregon, where the vaccine rollout has been slow to get started. We get frequent phone calls and emails from readers wanting to know when they can sign up for their shots, and we share their frustration.
• ROSES to local government officials and health care providers in Linn, Benton and Lincoln counties who are teaming up to get COVID-19 shots in people's arms as fast as vaccine supplies become available. As we reported in our Saturday newspapers, Samaritan Health Services is gearing up to stage a series of vaccination clinics for people in priority groups next week at the Linn Fair & Expo Center in Albany, and another series of clinics is planned for the following week at Oregon State University's Reser Stadium in Corvallis. Officials from all three counties are pooling resources (including vaccine supplies) in a coordinated regional effort, in part because staging large-scale inoculation clinics makes the counties eligible for larger vaccine allocations from the state. The clinics are open to residents of all three counties who meet the state's current Phase 1a eligibility requirements. To see if you qualify and set up an appointment for the Albany clinic, go to samhealth.org/GetTheVaccine online.
• ROSES to CHANCE, the fast-growing nonprofit agency that is expanding its operations to provide a wider range of services to some of the mid-valley's most vulnerable residents. The acronym stands for Communities Helping Addicts Negotiate Change Effectively, a reflection of the organization's core mission of helping people recover from addiction or navigate mental health challenges using a peer support model with counselors who have experienced some of the same issues their clients struggle with. With the help of a forgivable $150,000 loan from the Central Albany Revitalization Area, CHANCE is remodeling the former Pizza King restaurant on Lyon Street that now serves as its main office. Buta it also has outposts throughout the three-county region in Corvallis, Lebanon, Newport and Lincoln City, and in December CHANCE announced plans to take over operations of the Signs of Victory homeless shelter in Albany. Under the leadership of Executive Director Jeff Blackford, CHANCE is taking a holistic, peer-based approach that holds promise for addressing such seemingly intractable social problems as homelessness, addiction and mental illness.