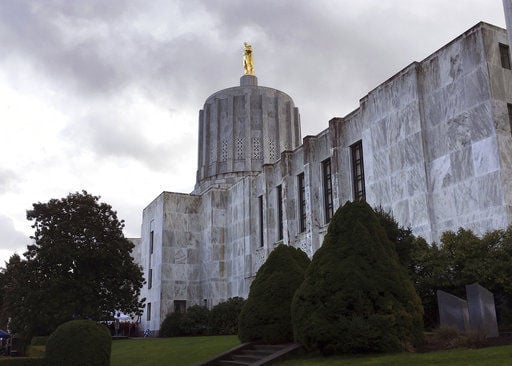 The Oregon Legislature gave Oregonians early Christmas gifts during Monday's special session. Among those benefiting were restaurant owners and workers, renters, landlords and those impacted by devastating wildfires.
It's too bad that the day was marred by criminals in the midst of a right-wing demonstration outside the Capitol building. More on that in a bit.
First, we give thanks for $800 million in aid linked to the novel coronavirus pandemic and the Oregon wildfires.
Among the one-day session's other achievements was extending an eviction moratorium, which had been set to expire on Dec. 31. The new end date is July 1. As we've stated before, COVID-19 has wreaked havoc on the state's economy, resulting in massive job losses. Families are struggling, and it would have been unfair to punish them further by kicking them out into the streets.
We also appreciate that $150 million was set aside for reimbursing landlords for up to 80% of the back rent they are owed, as the Oregon Capital Bureau reported. We wish the figures could have been higher, but this is an amazing start.
One of the easiest but most promising steps taken on Monday was when legislators decided to allow to-go sales of alcoholic beverages. Wine and cocktails must be sold in a sealed container, and are only available when the order includes a substantial meal. This is huge for many restaurants and bars that are known for their tasty concoctions, and will undoubtedly bring a big boost in sales.
Our newspapers just featured such an establishment. El Palenque, which has restaurants in Corvallis, Albany and Portland, makes magnificent grub such as authentic chili rellenos. But part of the attraction of the joint, part of what makes visiting there a mini-vacation, is ordering up a margarita in a specialty flavor such as prickly pear or blood orange.
We understand people's reservations about to-go alcohol sales leading to an increase in drunken driving. But we also expect police to be extremely picky about open container laws from here on out. This rule is an exception for the pandemic, and afterward, things can return to normal.
We should once again stress, as we have far too often in this space under tragic circumstances, that there's no excuse for getting behind the wheel intoxicated. If you need a sobering reminder about the dangers of driving drunk or high, look no further than a recent trial. Brian McIntire of Sweet Home was found guilty on Monday of two counts of first-degree manslaughter for driving his car drunk, causing a crash and killing a local woman and her daughter who were in an oncoming vehicle. 
Our legislators weren't distracted from their duties by a demonstration outside the Oregon Capitol, which drew more than 100 people.
As a reminder, we fully support your right to free speech.
What we don't support is using bear spray on police officers, assaulting journalists or destroying public property, all of which happened on Monday under the guise of defending the Constitution.
Kudos to the Oregon State Police and other law enforcement agencies in Salem for using restraint, and not bull-rushing and firing massive amounts of tear gas into the demonstrators, many of whom were acting peacefully within their First Amendment rights.
OSP acted swiftly and precisely to arrest some knuckleheads.
Make no mistake, the assault of police and journalists is coming from fringe elements during protests this year. It's been a troubling development to say the least. But this doesn't represent the majority of demonstrators from the right, the left or from most Americans, who thankfully still possess common sense.
Oregon's greatest cultural milestones
Oregon is a great state that has made many notable contributions to the world, and on Thursday our newspapers will start discussing the Beaver State's finest films, songs, literature and more.
This dialogue will occur in The E, our weekly arts and entertainment section, and we realize it's sure to stir some healthy debate. Feel free to let us know how we've hit the mark or missed miserably with these lists.
First up is our compilation of Oregon's greatest movies, by award-winning contributor Jennifer Moody.
Regardless of whether you agree with our assessments, these should be fun and informative pieces for our readers.