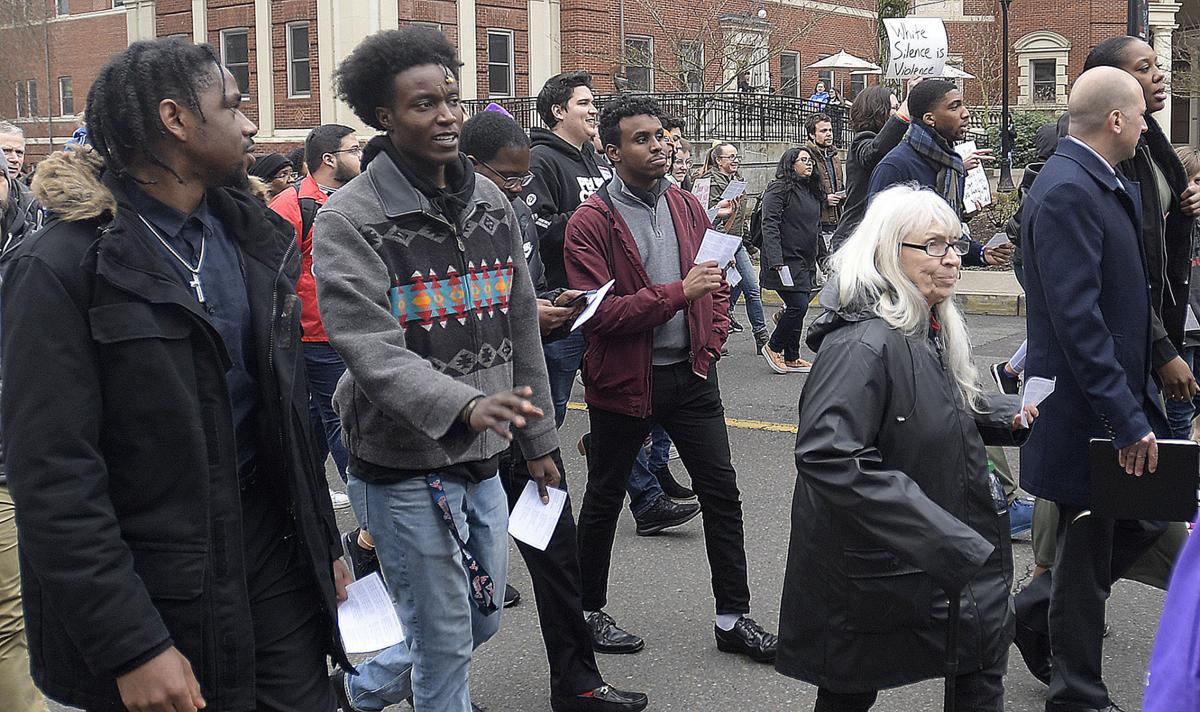 Martin Luther King Jr. Day was celebrated on Monday, with local observances including a march in Corvallis at Oregon State University that drew close to 200 participants singing "We Shall Overcome."
And, yes, there's still much to overcome in the name of liberty and equality, even in the mid-Willamette Valley.
While it's clear that Oregon and Linn and Benton counties are far better off in terms of social justice than they were 50 years ago or even 25 years ago, problems persist.
We've reported on some of these issues, such as racist bumper stickers being put on residents' cars at a Corvallis store, neo-Nazis trying to rile residents with anti-Semitic slogans and getting into a brawl in downtown Corvallis, Nazis putting racist fliers on cars during the Veterans Day parade in Albany, a questionable and forcible arrest of an African-American bicyclist near the OSU campus, and Lebanon High School students wearing blackface. (In the latter case we have to wonder: Where were the adults who were supposed to be supervising these teens?)
But regular incidents that aren't featured in news stories perhaps are more insidious.
Reporter Bennett Hall documented in a Tuesday article that the local chapter of the NAACP gets phone calls from parents and school administrators about children being called the N-word on a daily basis. The MLK Peace March at OSU ended at the beautiful Memorial Union, where Albany City Council member Alex Johnson II spoke to the crowd, recalling a business call in which a potential customer told him that she didn't do business with people like him. She used the N-word when she said it.
The Albany Democrat-Herald and Corvallis Gazette-Times Facebook pages occasionally get comments from people who are comfortable posting outright racist memes and slurs, sometimes with their actual profiles that include their places of work. (We usually delete such comments and automatically ban the profile responsible.) Often, these comments are directed against the mid-valley's growing Hispanic population.
A few years ago, we published a photo of a black man proposing to a white woman on the front page of the D-H. We received a handful of letters to the editor lambasting our leadership for daring to show something so awful and detrimental to society. Oh, the moral decay! These mid-valley residents wanted their racist letters printed, and they included their names, addresses and phone numbers. They were unashamed of their ignorance. Per policy, we declined to publish these diatribes.
And, believe it or not, every year we receive complaints about our coverage of the MLK Peace March at OSU and other related stories. The federal holiday makes a few people uncomfortable.
So, again, there's still a fight for equality happening here, and it's not just limited to issues of race.
The keynote speaker for OSU's MLK celebration was Raquel Willis, a black, queer, transgender activist. Willis persuasively argued that King's battle for equality must be extended to members of the LGBTQ+ community, immigrants, people who identify as nonbinary and others who are marginalized.
Thankfully, the topic of gay marriage no longer seems to be a hot-button issue nowadays. We don't deny that homophobia continues to exist, or that some people still don't approve of gay marriage due to religious principles. Oregonians seem to have developed a bit of a libertarian position on the matter: As long as you're not bothering me, I'm not going to bother you, so live the life you love. Today even some small towns have openly gay and lesbian married couples. And the prejudices are perhaps more rapidly disappearing with the younger generation. Same-sex couples hold hands in the hallways and breezeways of high schools in Linn and Benton counties.
We see more problematic viewpoints regarding trans and nonbinary individuals. In the future, perhaps 25 or 50 years from now, we hope that perceptions about these communities change, and prejudices abate.
One of the great things about America is the concept of liberty and justice for all. We'll continue to argue that position forever, and hope it applies from sea to shining sea.
MLK volunteerism: Here's a big shout-out to all the volunteers who were part of OSU's MLK celebration. Thank you very much for your community service. Over the weekend, there were 220 volunteers who put in 680 hours of work on 17 projects, making Corvallis and the mid-valley a better place to live.
Get local news delivered to your inbox!
Subscribe to our Daily Headlines newsletter.