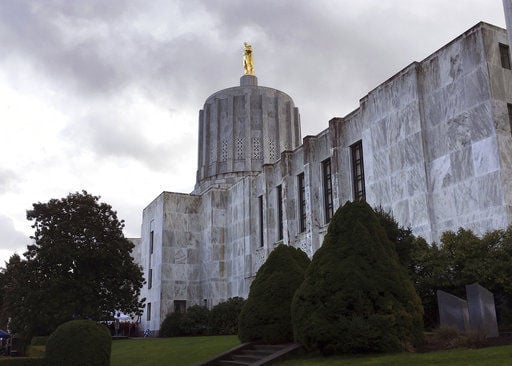 We recently noticed an interesting trend for the November general election. A trio of our preferred candidates for the Oregon House of Representatives are relatively young Republican women with agricultural and business backgrounds.
Women excelling is nothing new for Oregon politics — consider current state Rep. Sherrie Sprenger or former Gov. Barbara Roberts — but this was a new development we were curious about. As journalists, naturally, we look for explanations.
It's obvious that Linn County is mostly rural, and agriculture is a major industry around these parts. Having an understanding of farming and business is a major plus given the demographics of our House districts.
There also could be something to the stereotype of the country work ethic, to growing up contributing to your family with chores and more. Of course, plenty of people from urban backgrounds also have moxie, so maybe we're adding to the mythology of rural living a bit here.
Regardless, residents should look to reelect incumbent state Rep. Shelly Boshart Davis in District 15, vote for her sister Katie Boshart Glaser in District 11, and elect Jami Cate of Lebanon for District 17.
Boshart Davis of Albany is the easiest pick of the three, and seems the surest bet to win the races we're discussing today.
She also has a strong grasp of the issues and wants more Oregonians to be involved in the lawmaking process. But more than anything policy-related, her strongest attribute is that she hustles for her constituents, whether working with Timber Unity or on other tasks.
As we've written before, we're particularly fond of her for helping locals get their unemployment checks during the novel coronavirus pandemic. She literally helped keep the lights on for some of her constituents.
Miriam Cummins of Albany, the Democratic Party challenger in District 15, deserves credit for putting herself out there, and we're appalled that she faced racism when running for office, which is completely unacceptable. But Cummins lacks the experience to provide a strong challenge to Boshart Davis. Still, we wish her well in the future, and we hope she continues to build her resume of public service.
Glaser, a business owner and entrepreneur, faces a tough task in beating the incumbent in District 11, Rep. Marty Wilde. We like Wilde, a Democrat, but we give the slight edge in this race to Glaser.
She doesn't have a strong record of public service, but she was well prepared for our editorial board interview, and that's likely because she served as a legislative assistant for her sister.
Glaser, who lives outside Lebanon, spoke well on issues such as the impact of COVID-19 on businesses, the need to work across the aisle, the wildfires that hit the Santiam Canyon, the movement for better forest management and other issues. She excelled when discussing mental health problems in Oregon, partly because she has had her own struggles with mental illness.
We know that Glaser isn't identical to her sister in her views or experience. But we're betting that her work ethic is similar, and we know that she's already volunteered to help locals in crisis in Linn County.
Wilde, a Eugene resident, is a smart and capable politician, and he's done a good enough job that we won't disagree too much with people who say he's the right pick. His military background and experience as a prosecutor somewhat neutralize complaints about him being a "liberal." Wilde spoke candidly but reasonably about the need for law enforcement reform, and also talked about fire prevention, education, health care, housing and the environment. While he voted for cap and trade, he's now pursuing more positive policies, and that sounds like a positive evolution.
But, to be frank, Wilde seems a far better representative for Eugene than the rural Linn County portions of the district. Linn County, of course, is in our coverage area, and our endorsements reflect who will bring the most benefit to the mid-Willamette Valley. That's why we support Glaser's bid to unseat Wilde.
We were very impressed with both candidates for District 17, a seat that Sprenger is vacating at the end of the year. Cate and the Democratic candidate, Paige Hook, gave some of our finest editorial board interviews of the fall.
Cate is a farmer who has served as the chairwoman of the Lebanon Strawberry Festival Board of Directors, among other volunteer work. She helped Lebanon's annual celebration double its attendance and become more transparent.
She wants to make sure rural voices are heard by the Legislature, and talked at depth on the need to actively manage Oregon's forestland. She also could serve as a reasoned voice on land use laws in Oregon, and discussed the problems farmers face in dealing with state definitions, such as wetland areas that aren't really wetlands.
Hook is a Stayton City Council member who has served as the House majority office manager. She said the district would benefit from having a Democrat represent it, but she would stand up to party leadership when she needed to and said she doesn't have a problem holding people or institutions accountable.
And Hook, to be certain, is a rural candidate, too. She graduated from Scio High School and was a Lamb & Wool Fair princess. Naturally, she spoke well on issues such as the need for rural broadband.
Timothy Dehne of Scio, the Pacific Green candidate for District 17, discussed how the political system has become far too polarized for many residents, and presented himself as an alternative to those who aren't well represented by the two major political parties. He spoke persuasively about the need to address water issues in the area.
In assessing the candidates for District 17, we think Hook would be a fine choice for office, but she was a bit more evasive with some of her answers than Cate on topics such as cap and trade. Perhaps that ability is a sign of a seasoned politician, but we prefer our representatives to be straight shooters, so Cate received our nod.