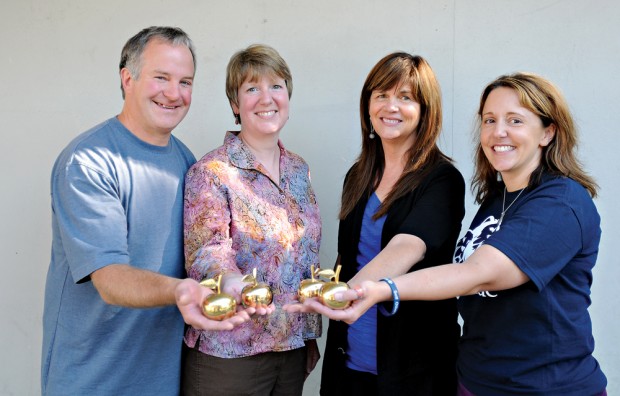 Four Corvallis educators recognized for their strong commitment
It's traditional for the winners of the Corvallis School District's Golden Apple awards to offer credit to other people for their success.
On Wednesday, as this year's winners were announced at the district's annual back-to-school rally, the audience got to see some of those inspirational figures: Each of the four winners had been asked to name five people who had inspired them.
As the winners accepted their awards, photos of those mentors and colleagues were shown on the screen at the Whiteside Theatre.
The new twist at the ceremony gave credit to those colleagues, but the award winners confessed that it had been difficult to pick just five.
"As I looked around me I could have thanked everyone at my school," said winner Stephanie Swenson, a math teacher at Linus Pauling Middle School.
Established in 1996 through an endowment fund created by the late Mario Pastega, the Mario and Alma Pastega Golden Apple award recognizes outstanding achievements by educators.
Winners were nominated by principals, colleagues and other staff members. The other Golden Apple winners this year are:
• Cheldelin Middle School educational assistant Terry McNamara.
• Jefferson Elementary School fifth-grade teacher Kristin Erickson.
• College Hill High School teacher Carol Griffith.
Each Golden Apple winner received a engraved golden apple, a cash award and loaf of bread, continuing a tradition started by Pastega. The winners were introduced by Gary and Ken Pastega, two of Mario Pastega's sons.
Kevin Bogatin, the district's assistant superintendent, explained the inclusion of the winners' colleagues, saying that much of the district's work is team-driven nowadays. As a result, he said, it made sense to have the winners honor their "teams."
In another twist from previous years, Golden Apple winners were notified earlier in the week that they were receiving the award. In previous years, they didn't find out until their names were called.
That didn't stop them from being surprised when they got congratulatory phone calls from Corvallis Schools Superintendent Erin Prince.
"I was completely surprised and overwhelmed," said Erickson, who has been with the district for 17 years. "I don't think of myself as any different when I look around at other teachers."
Erickson was nominated for a Golden Apple in part because of her efforts to educate students about Dixon Creek and her work to help organize Jefferson's arts and science night.
McNamara, who has been with the district for 12 years, began his education career as a sign language interpreter. He was nominated because of his ability to connect to students and help them succeed at the middle school level, especially in math.
"I love having the ability to work with students and impact their learning," McNamara said. "But I think they've taught me even more than I've taught them. They are amazing."
Swenson, a seven-year veteran of the district, said that she appreciated being able to recognize her colleagues, but that it was hard to pick only five. She was nominated in part because of her efforts to mentor new teachers and her commitment to best practices and technology.
"We really are a team that helps each other out," she said. "I am a better teacher because of the people I work with."
Each of the Golden Apple winners said the main reason they decided to pursue careers in education was because they enjoy working with students.
In fact, Griffith said she knew early on that she wanted to enter a profession that would let her work with children. A 19-year veteran of the district, she was nominated because of her work with special needs students and her ability to get disengaged students back on track and prepared to graduate.
"I really care about my students, not just academically, but emotionally and mentally too," Griffith said. "I've always been drawn to struggling students and wanted to help them."