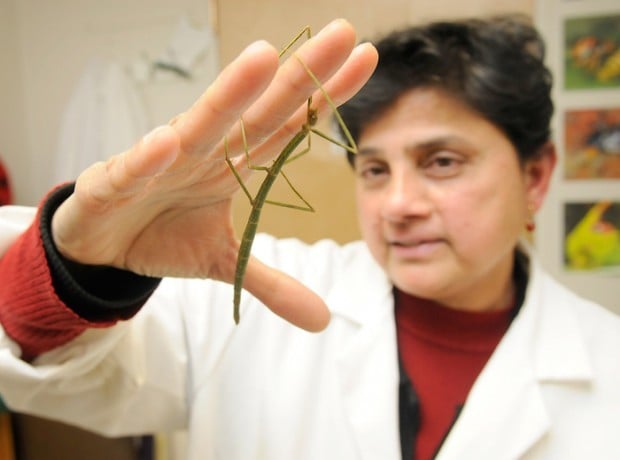 The giant plush spider hanging over the doorway to Sujaya Rao's office foreshadows what visitors can find inside: Australian and Vietnamese breeds of walking sticks, hissing cockroaches from Madagascar - and a tarantula.
Rao, a professor in Oregon State University's Crop and Soil Science department, is an entomologist, a scientist who studies insects. She uses the creepy crawlers as many-legged ambassadors to teach adults and children about the wonders of the world of bugs.
"Insects are a great teaching tool," Rao said while she watched a green walking stick climb up the sleeve of her lab coat.
In addition to her classes, Rao has organized educational outreach programs in her 10-year career at OSU. One of those programs, BugZoo, sends undergraduates interested in entomology to elementary schools for daytime and evening programs for both students and parents.
Since OSU disbanded its entomology major several years ago, BugZoo gives OSU students a chance to learn - and to teach others - about bugs.
"All these students (interested in entomology) don't have an outlet for their passions," she said. "It's a great activity for our undergraduates to do."
Rao's approach to teaching both undergraduates and elementary-age students has paid off. The Entomological Society of America recently recognized Rao for her educational outreach efforts by giving her the Distinguished Achievement Award in Teaching at the group's annual conference in San Diego in December.
Rao wasn't drawn to insects as a child growing up in India.
"There, they're pests!" she said.
It was during her undergraduate years as a zoology major when Rao learned to love working with bugs after an academic research excursion into the forest.
As she placed a hissing cockroach on her shoulder and watched it crawl down her coat lapel, it's hard to believe she ever disliked them.
"People think it's a broach," she said in admiration, pointing to the cockroach. "And then they say, 'Oh, it's moving!'"
And her actual broach? It was bejeweled ladybug on her sweater.
"The only gifts I ever get are entomological gifts," Rao said, pointing to the ladybug pin.
Although she spends her career studying insects, Rao can't name a favorite among them.
"They're so bizarre; so interesting; so different," she said.