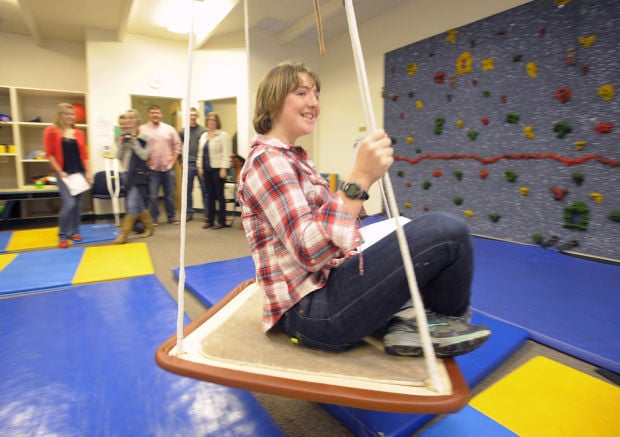 The local high school pageant fundraising season is just beginning, and that means students at four Benton County schools already are working to organize dozens of fundraisers for a variety of charities through the rest of the school year.
Last year, contestants in the four pageants — Corvallis High School's Mr. Spartan, Crescent Valley High School's Mr. and Ms. CV, Philomath High School's Mr. PHS and Santiam Christian School's Mr. SC — collectively raised more than $220,000 for charity.
An early part of the pageant season includes visits by contestants to the charities for which they raise money. Pageants contestants say the visits motivate them.
Wednesday, the Mr. and Ms. CV candidates visited organizations that benefit from their fundraising: Jackson Street Youth Shelter, Old Mill Center for Children and Families and the Children's Miracle Network-affiliated Sacred Heart Medical Center at Riverbend.
Will Heck, a contestant in the pageant, said seeing the difference the charities make is inspirational.
"Until you see it firsthand, you can't grasp what is happening," he said.
Heck said visiting the Old Mill Center was a powerful and somewhat nostalgic experience:
"When I was here in preschool, I didn't really grasp the good they were doing for some of the other kids," he said.
In addition to the preschool, the center offers child and family counseling, hosts a relief nursery and a parenting program for first-time parents.
The center has expanded since Heck, now a senior at Crescent Valley, was a student there.
"It's changed a lot for the better," he said.
Heck and his pageant partner, Nicole Krzykawska, are organizing the "Rock and Jock" charity basketball game, which pits the Mr. and Ms. CV contestants against their Mr. Spartan counterparts. The two pageants split proceeds from admissions, and fans of either team can buy points for their team for $1 each.
Kristina Stone, the advisor for the Mr. and Ms. CV pageant, said the charity visits give the contestants perspective on why they are putting in the hours and effort the pageant requires.
"It makes it more real for them," she said.
Stone said the contestants in Mr. and Ms. CV already have had their first of their 10 fundraising events — they went trick-or-treating asking for donations instead of candy. The contestants raised more than $1,000.
Kelsey Dody, who is organizing the Mr. and Ms. CV a capella night with her partner, Bryce Benson, said the most memorable moment of the day for her was seeing the hands of a premature baby at Sacred Heart's neonatal intensive care unit.
"It's really neat to see where the money goes," she said.
Participants in Mr. and Ms. CV will go caroling for donations in December, but most of their events will be next year.