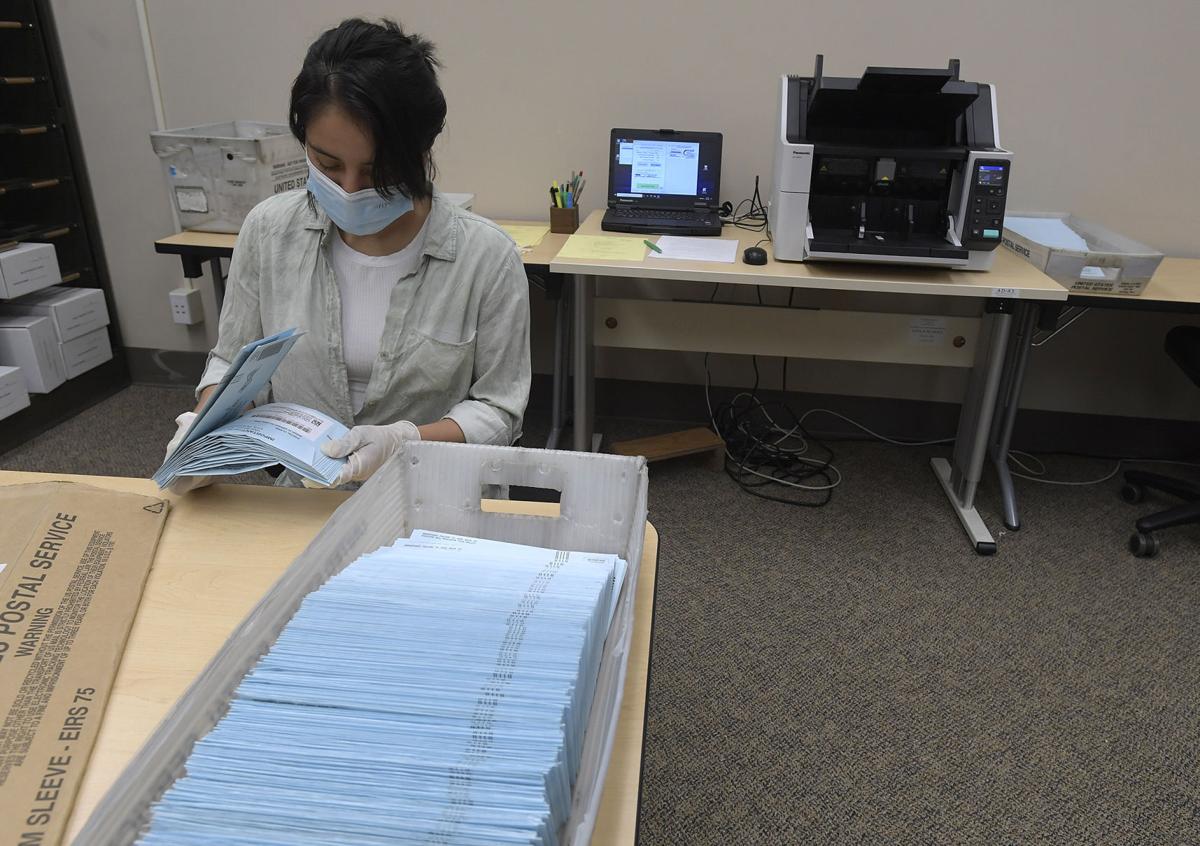 Ballots for the Nov. 2 election are headed to the Post Office on Wednesday, which means voters in Linn and Benton counties will be seeing theirs delivered in the following days. There are several ballot measures on both sides of the river, as well as a few races for elected positions.
There have also been minor moves among the voter rolls, with both Democrats and Republicans losing voters in both counties, with unaffiliated voters showing marked gains since the 2020 general election.
Here is a look at the ballot county by county:
Linn County
In Linn County, there are three ballot measures, two of which only apply to specific voters that fall within the districts in question.
The big countywide issue for Linn voters is Measure 22-189, which calls for an increase in the four-year law enforcement levy, which funds the Linn County Sheriff's Office, Juvenile Department and District Attorney's Office. Since the last renewal, voters have paid $2.83 per $1,000 of assessed value. The question on this year's ballot asks voters to increase that property tax by 15 cents, so the new amount would be $2.98 per $1,000.
Voters shot down a measure last year that would have increased the rate to $3.08 amid the desire of Linn County Commissioners to affirm a commitment to local law enforcement during nationwide calls to defund the police broke out last summer, though, no such effort was before voters or approved by local governments at that time.
There also is the question of whether Mill City should allow the sale and production of cannabis within city limits. If Measure 22-188 passes the city would collect tax revenue of 3% on all marijuana sales in town. Only voters within Mill City will have that question on their ballots.
The same goes for property owners who are part of the Stayton Rural Fire Protection District, which is asking voters to decide on Measure 24-459, which calls for a property tax rate of about 88 cents per $1,000 of assessed property value to fund fire services. The district serves areas of Linn County, including Lyons, so only those voters will see the measure on their ballots.
Linn County voter rolls picked up a bit since last fall, though both parties say dips in their numbers and data shows that more eligible voters flocked to the non-affiliated category. Last fall, there 93,908 eligible voters, compared to a total of 95,471 so far this year. That number is subject to change, however, since the deadline to register is Tuesday.
There were 22,817 registered Democrats in Linn County last fall, compared to 22,424 this year. Republican voter rolls dropped to 32,696 from 33,337 last year. The share of non-affiliated voters increased from 31,300 to 33,459.
Benton County
A new Corvallis councilor will be elected for Ward 8 because Ed Junkins left in June to take a position at the University of Notre Dame in South Bend, Indiana. Tracey Yee, a former council candidate in the ward and former chair of the city's Community Involvement and Diversity Advisory Board (CIDAB), is running unopposed. Absent a massive write-in campaign Yee will be sworn in at the first council session after the vote is certified, perhaps as early as Nov. 15. Yee already is participating in some city meetings in an effort to help get her up to speed on the issues.
The race in Ward 8 is the third time in recent years that the council has faced an issue of a ward without representation. Mark Page moved out of Ward 8 in 2018, but he was able to retain his seat until the next election, which installed Junkins. Bill Glassmire left Ward 7  in August, 2019 for health reasons. He was replaced by Paul Shaffer, who was elected in a five-way race in November.
Amid concerns about the length of time that Ward 7 and Ward 8 residents were without council representation in those cases a charter amendment is on the ballot along with Yee. Measure 2-132 would establish an appointments process for council vacancies. 
Two other charter amendments also are on the ballot for Corvallis residents. Measure 2-131 would change the recruiting process for the city manager position. Currently, the charter requires an opening be filled within six months, a challenging task in modern municipal hiring. If the measure passes, the mandate changes to two years and extends the amount of time someone can serve as city manager pro tem.
Measure 2-133 calls for changes in pronoun use in the charter to update the document to modern usage and also remove ambiguity
Two other measures are on the ballot that affect only local constituencies. Measure 2-134 calls for renewal of a five-year local option property tax levy for the North Albany Rural Fire Protection District, and Measure 2-135, if passed, would establish a five-year local option property tax levy for road maintenance in the McDonald Forest Estates Road District.
Like in Linn County, Benton County has seen some shifts in voter registration. Overall, voter registration dropped more than 300 from Nov. 18, 2020 throudh Oct. 4, 2021, from 60,543 in 2020 to 60,231 in 2021.
Democratic registration fell nearly 800 voters, from 26,881 in 2020 to 26,096 in 2021. Republican registration dropped almost 500 voters from 13,010 in 2020 to 12,524 in 2021. A total of 21,611 voters were unaffiliated in 2021, bearkt 1,000 more than the 20,652 in 2020.
Troy Shinn covers healthcare, natural resources and Linn County government. He can be reached at 541-812-6114 or troy.shinn@lee.net. He can be found on Twitter at @troydshinn.