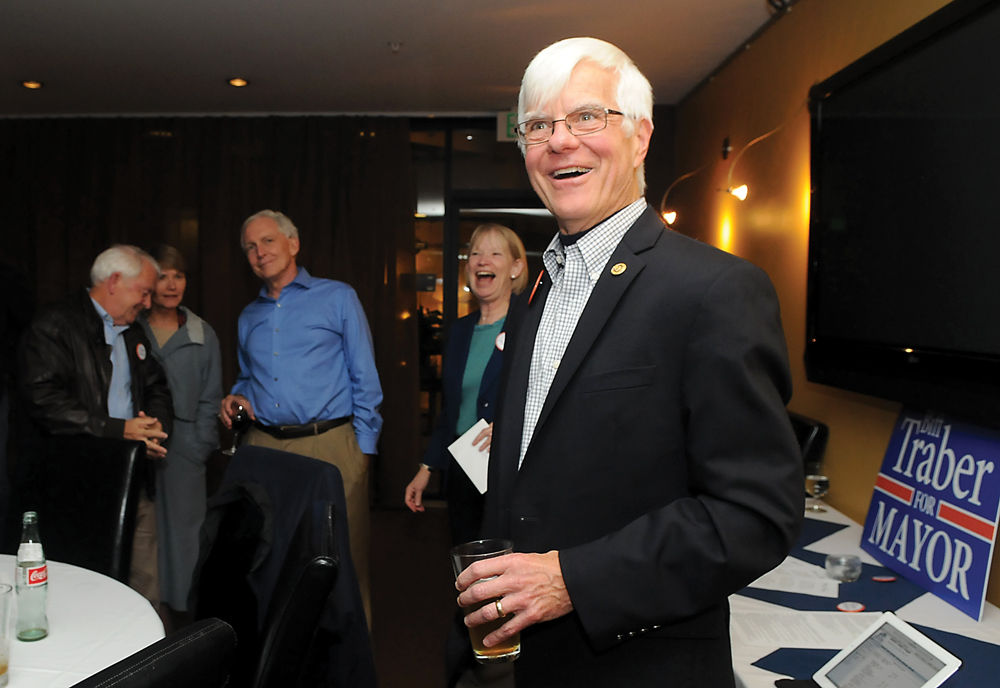 Retired software executive Biff Traber will be the new mayor of Corvallis.
Traber, 64, the current city councilor for Ward 8, received more than 60 percent of the vote in Tuesday's election, defeating agriculture researcher Josh Gulliver, 37, who was making his first run for public office.
Traber succeeds Julie Manning, who chose not to run for a second four-year term.
"What I wanted to get across to the voters was the value of my experience and the priorities I have," Traber said at his Election Night party at Del Alma.
Traber said his three main priorities would be maintaining sustainable finances, continue to work on the collaboration relationship with Oregon State University and begin work on needed planning documents, such as the city's vision statement.
"There are a whole cascade of things to talk about, but we have to talk about the vision first," he said.
Gulliver did not sound like a candidate who had lost by more than 20 percentage points.
"I'm pretty happy, absolutely," Gulliver said. "Considering Biff is an established individual and deserves all the credit, I'm feeling pretty good getting almost 40 percent of the vote.
"I'm really appreciative of the people who voted for me, and I'm looking forward to working with Biff — and Corvallis.
"I'm not going anywhere."
Gulliver and Traber have talked about the possibility of Gulliver serving on a city board or commission. Gulliver also noted that he is thinking about a possible City Council run and was "not ruling out" another run for mayor in four years.
"Corvallis is a wonderful place, and I thoroughly enjoyed the experience," he said.
Traber, who was elected in Ward 8 in 2010, served two terms representing the ward and was council vice president during the most recent two-year council cycle.
Traber continues a decades-long trend in which virtually all Corvallis mayors moved into the post from one of the nine councilor seats. From 1978 until 2010, every mayor ran as a sitting councilor, with Manning being the exception to that rule.
Traber served as the treasurer of the campaign that passed Measure 02-86, the local option levy passed by Corvallis voters in 2013.
He also has worked in community service and volunteer roles with United Way, Rotary, Boys & Girls Club, Leadership Corvallis, New Roots Housing, Sustainability Coalition and St. Mary's Food Pantry
Traber also has volunteered as a City Hall ambassador and has been a key liaison between the council and groups working to reduce homeless problems in Corvallis.
Be the first to know
Get local news delivered to your inbox!