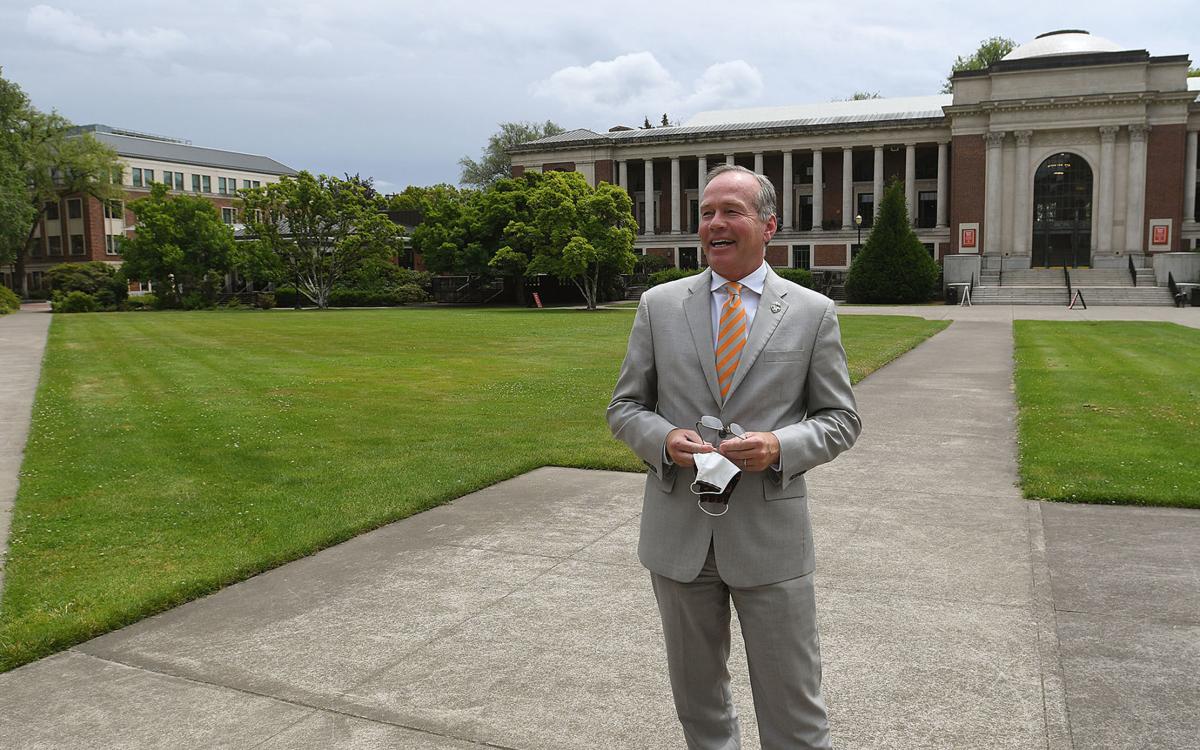 The Oregon State University Board of Trustees will hold a meeting to consider discipline for OSU President F. King Alexander for the second time in as many weeks on Tuesday.
The meeting, announced Saturday, does not include a specific indication for why another meeting considering discipline will be held one day before the board's executive committee is slated to discuss moving forward with the plans discussed in the last meeting.
The agenda description says it will cover "additional considerations regarding President Alexander's presidency since the March 17, 2021 Board meeting," before the board goes into executive session to consider disciplinary measures.
Steve Clark, vice president of university relations and marketing for OSU, declined to provide additional comment regarding the cause of Tuesday's meeting, saying the he felt the board notice "covers it well."
Adding to the intrigue around Tuesday's meeting, the Louisiana State University Board of Supervisors sent a letter to the OSU board disputing several statements Alexander made in front of the board last week.
The letter, which was first reported by KEZI9, was sent from Robert Dampf, chair of LSU's Board of Supervisors, to OSU's Board chair, Rani Borkar, on Monday. In it, Dampf points out several comments from Alexander's testimony during last week's Board meeting. 
"During your Board meeting last week, an individual raised the question of why Dr. Alexander was only offered 13 written questions by Husch Blackwell, after which he espoused his frustration at not being interviewed," Dampf wrote. "In actuality, Dr. Alexander was twice invited to be interviewed and instead communicated through Oregon State's general counsel that he would only accept questions in writing. Husch Blackwell consented when it was the only way to get answers from Dr. Alexander, but stated their preference for a live interview so that there could be follow-up questions. Had Dr. Alexander accepted the invitation for a detailed interview, naturally the report would have included many of the details he indicated that he wished he would have been able to provide, and perhaps he wouldn't be in the position he currently faces."
Husch Blackwell is the outside law firm LSU hired last year to conduct an independent investigation into the university's Title IX proceedings. The report was released March 5 and detailed numerous instances in which LSU failed to act on Title IX compliance recommendations, many of which took place during Alexander's tenure as president from 2013-2019.
Support local news coverage and the people who report it by subscribing to the Corvallis Gazette-Times.
Ultimately, Dampf took issue with what he perceives as Alexander not taking responsibility for what happened under his watch.
"There has to be a hierarchy of discipline that appropriately applies to perpetrators, administrators, and employees, based on the scale of their transgression and the scope of their responsibilities," Dampf wrote. "Your Board of Trustees must be of a similar mindset, since you collectively determined that probation, an uncommon admonishment of a sitting president, was an appropriate sanction."
Clark provided comment from OSU regarding the letter on Monday evening.
"We read this letter with interest," Clark said. "LSU's concerns with President Alexander's statements about his time at LSU seemingly would have better addressed directly to F. King Alexander and not OSU's Chair of the Board of Trustees. As a university we look forward to seeing the progress in advancing Title IX at Louisiana State University and at all universities and colleges nationally, given the recommendations of the Husch Blackwell report."
Last week, the board chose to place Alexander on a probationary period and task him with formulating a plan to build trust within the OSU community. The decision to retain him as president drew almost unanimous anger from many within the community. The OSU student government called for his removal before the meeting began, and the faculty senate called for his and much of the board's resignations the day after their decision.
Alexander — while he had been criticized for months by some for his continued support of an armed police force on campus and the Reser Stadium renovation in what some saw as misplaced financial priorities — became a full-fledged lightning rod following the March 5 release of the Husch Blackwell report examining Title IX practices at LSU. Husch Blackwell, the independent law firm hired by LSU to review Title IX practices, found a pattern of Alexander failing to address an inadequate Title IX system.
Alexander has said he was too busy dealing with a chaotic financial situation within the university, and said protecting the budget was his number one priority.
Dampf blasted Alexander for this claim, and for trumpeting his work in improving LSU's Title IX office, and implementing new Greek life policies during his time as president.
"LSU campuses already had Title IX coordinators on each campus prior to Dr. Alexander's arrival," Dampf wrote. "Also, the Greek organizations' activities were suspended in response to an unfortunate death, and not in response to Title IX concerns. Had Dr. Alexander consented to be interviewed, Husch Blackwell could have sorted through the inconsistencies and provided an opportunity to correction."
The report also revealed Alexander knew of then-head football coach Les Miles's inappropriate behavior towards female students and did not terminate his employment. Alexander has since said the decision to keep Miles was made before his tenure began and that he did not have the ability to terminate Miles. On at least two other occasions, Alexander has said he was advised by counsel not to fire Miles.
K. Rambo can be contacted at 541-812-6091 or k.rambo@lee.net. Follow on Twitter via @k_rambo_.