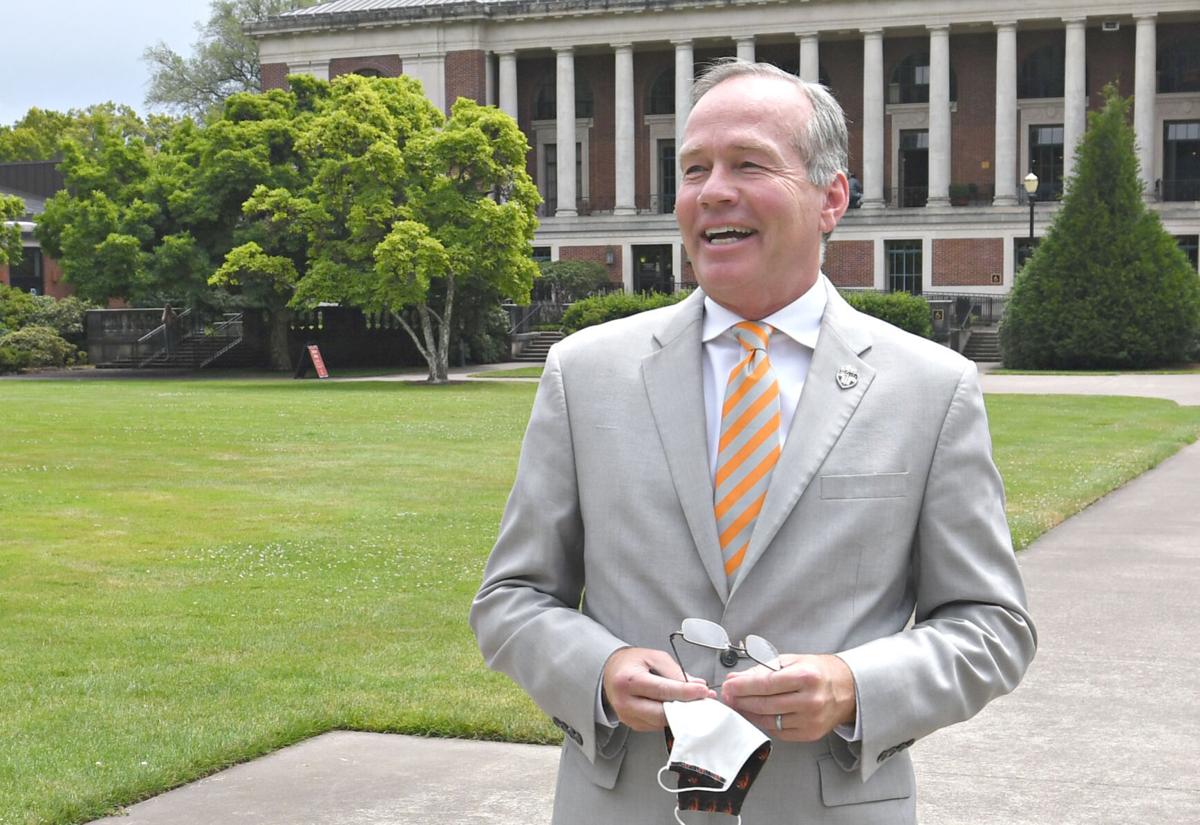 F. King Alexander has resigned from his position as Oregon State University's president, effective April 1. 
Alexander offered his resignation Sunday, and OSU Board of Trustees Chair Rani Borkar announced it during a public OSU Board of Trustees meeting Tuesday morning. After an executive session closed to the public, the board voted to accept Alexander's resignation and place him on administrative leave until his resignation is effective. Edward Feser, provost and executive vice president, was appointed as acting president until an interim president is appointed by the board.
The board was meeting for the second time to consider disciplinary action for Alexander after deciding to place him on 10-week probation last week. Prior to announcing Alexander's resignation, Board of Trustees Chair Rani Borkar said it became clear that trust was unable to be regained by Alexander since the board meeting last week.
"After listening to and hearing important input from diverse members of our community, we now know that rebuilding trust is no longer possible," Borkar said. "In response over the weekend, the board scheduled this meeting. Simply stated: Dr. Alexander no longer has the confidence of the OSU community. This broken trust was not only expressed by the vote of the faculty senate, but by an outpouring of heartful statements from students, alumni and survivors of sexual assault.
"On Sunday, President Alexander offered his resignation effective April 1."
The board voted to accept Alexander's resignation rather than terminate him in part because the terms of resignation offered by Alexander would cost less than firing him "without cause," per his contract. If the board chose to fire him "with cause," Alexander could bring litigation against the university and would require at least 30 days notice of a formal hearing conducted by the board.
Under the proposed terms of resignation, Alexander will receive 12 months of his presidential salary and forfeit his tenured professor salary. In total, Alexander will receive $630,000 of salary in a lump sum, paid by private funds. Additionally, Alexander will receive a $40,000 relocation stipend, the same amount he received for relocation when he moved to Corvallis. He will also have COBRA health insurance for 12 months. Alexander will be on administrative leave until April 1. 
The board authorized Borkar to negotiate the resignation going forward without further authorization or discussion.
Before the motion passed, at-large member Lamar Hurd gave an emotional testimony and apologized to survivors of sexual assault.
"I know people have been hurting," Hurd said through tears. "In cases of sexual assault and misconduct and violence and things of that nature, I know it triggered a lot. I know that's what a lot of the discussion has been about. I know all too often it gets overlooked. I just want to make sure you guys know, it wasn't overlooked."
After Hurd's testimony, at-large member Patty Bedient also apologized to survivors. Bedient said the board needs to reexamine policies around public testimony, saying the board came off as "cold" during the public testimony portion last Wednesday. People were being cut off in the middle of impassioned testimony by the board secretary due to time limits, while Alexander was offered the opportunity to speak with no time limits on several occasions. The disparate treatment was widely regarded as disrespectful and inappropriate.
Tuesday marked the second time in as many weeks that the board met to discuss potential action against Alexander. Last Wednesday, the Trustees voted 12-2 to put Alexander on probation, during which he was required to complete several action items before June 1. Among those was the stipulation that Alexander must formulate a concrete plan to regain the trust of the OSU community and address community feedback.
The decision was quickly met with outrage by Oregon State's students and faculty. 
Less than 24 hours after the board's decision, OSU's faculty senate called on Alexander — and most of the Trustees — to resign. Both motions included votes of no confidence, which passed by strong majority. 
The faculty senate also voted to extend a vote calling on Alexander to resign to the entire faculty, what is known as a plebiscite referral. The motion passed with 83% approval with 1,548 rank and file faculty calling for his resignation. Votes against the call for resignation totaled 218 or 11.7%, while 98 faculty members, or 5.3%, abstained. 
Alexander came under severe criticism for his tenure at LSU. LSU commissioned a report by an independent law firm, Husch Blackwell, which found Alexander had demonstrated a pattern of negligence in addressing Title IX inadequacies at the university. On no less than three occasions, Alexander was given advice by experts on how to improve LSU's Title IX practices and failed to act in a substantial manner.
Alexander, when questioned by the board last Wednesday, said LSU was in financial disrepair, which forced him to focus on the budget.
"People say, 'Why wouldn't I know about that?'" Alexander said during last Wednesday's board meeting in reference to specific Title IX issues at LSU. "That's because we were fighting all these other battles to build a leadership team to start a Title IX office, but (also) get a general counsel, get a CFO … we didn't even have a provost. This is what I spent my time working on — helping to establish good policies, but not getting down into the weeds three layers below me. Because we had bigger things to do. Number one: protect our budget."
The Husch Blackwell report also found Alexander was aware of then-head football coach Les Miles' misconduct towards female students but did not fire him when he took over as president in 2013. Alexander initially said attorneys told him he did not have adequate cause to fire Miles. He has since said the decision was already made and he had no power to change it, a claim being investigated by the LSU accreditation body, as the board making personnel decisions on football coaches may be against their rules.
Jarrid Denney can be reached at 541-521-3214 or via email at Jarrid.Denney@lee.net. Follow him on Twitter @jarrid_denney