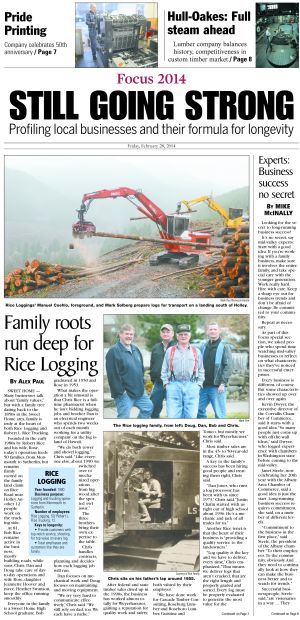 Looking for the secret to long-running business success?
It's no secret, say mid-valley experts: Start with a good idea. If you're working with a family business, make sure it involves the entire family, and take special care with the younger generation. Work really hard. Hire with care. Keep a sharp eye out for business trends and don't be afraid of change. Be committed to your community.
As part of this Focus special section, we asked people who spend time watching mid-valley businesses to reflect on what characteristics they've noticed in successful enterprises.
Every business is different, of course. But some characteristics showed up over and over again.
Kevin Dwyer, the executive director of the Corvallis Chamber of Commerce, said it starts with a good idea. "So many people just come up with off-the-wall ideas," said Dwyer, who logged experience with chambers in Washington state before coming to the mid-valley.
Janet Steele, now celebrating her 20th year with the Albany Area Chamber of Commerce, said a good idea is just the start. Long-running business success requires commitment, she said, on a number of different levels.
"Commitment to the business in the first place," said Steele, the president of the Albany chamber. "To their employees. To the community, obviously. And they need to continually look at how they can make the business better and to watch for trends."
Successful businesspeople, Steele said, "are visionaries in a way. … They don't live in a vacuum." Instead, they're reading business news. They're talking to friends and customers, constantly keeping an eye out for the latest business trends.
Added Dwyer: "They're taking lessons learned from the day before and applying them to the next day. They're not afraid to try something new. They're not just stuck in the old ways."
Taking "lessons learned from the day before and applying them to the next day. Not being afraid to try something new. Not just being stuck in the old ways."
Shelly Garrett, the executive director of the Lebanon Area Chamber of Commerce, said businesspeople consistently need to ask these vital questions: "What makes us stand out from our competition? What do we do better?
Garrett said that the No. 1 thing she notices in successful businesses is that they work hard to ensure a satisfying experience for customers.
"Customer experience is the No. 1 most important thing you can do," Garrett said — and, she warned, customers are quick to notice if an employee simply doesn't care. "As a customer I really respect that that employee cared more about my needs than their own self-serving agenda."
Many long-running businesses are family businesses, and they come with their own sets of challenges, said Sherri Noxel, director of the Austin Family Business Program in the Oregon State University College of Business.
Noxel said successful family businesses stay focused on the basics, including the importance of family unity: "It starts with this idea of family unity. They want to work through the tough times together."
They also pay careful attention to the younger generation, Noxel said, especially with research showing that children often are forming strong impressions of the family business by the time they turn 16. "Is it stressful? Risky? Fun? Challenging? … You really want to get the kids involved to see how fun it is."
But successful family businesses also know when it's time to bring in some outside assistance, Noxel said. "They will bring in good outside experts," she said.
To all those ingredients, add these: Sheer hard work, mixed with a dose of love.
Said Dwyer: "Every day, it's coming into your business and saying, 'What do we have to do to make the business better?' … You've got to love what you're doing."