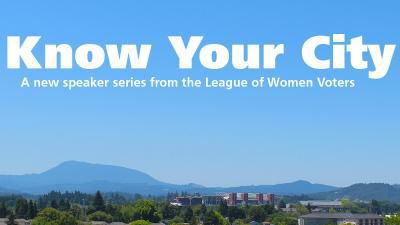 The League of Women voters of Corvallis, in partnership with the city and the Corvallis Sustainability Coalition, is offering a series of three Thursday night forums this month that are intended to help residents get to know their city government better.
All three sessions will be held at 7 p.m. at the Corvallis-Benton County Public Library, 645 NW Monroe Ave.
The "Know Your City" series starts this Thursday with a session on the city charter and the structure of city government. Panelists include former Ward 9 Corvallis Councilor Hal Brauner and Courtney Cloyd, president of the Central Park Neighborhood Association.
The city budget and how the city pays for city services will be the subject of the Jan. 17 event. Presenting will be Nancy Brewer, the city's longtime finance director, and City Manager Mark Shepard.
Land use and the impact it has on how the city is designed will be discussed Jan. 24. Speaking will be Paul Bilotta, director of Community Development, Karen Emery, director of Parks and Recreation, and housing and neighborhoods coordinator Tracy Oulman.
All of the sessions are free and will include time for audience questions. Light refreshments will be served.