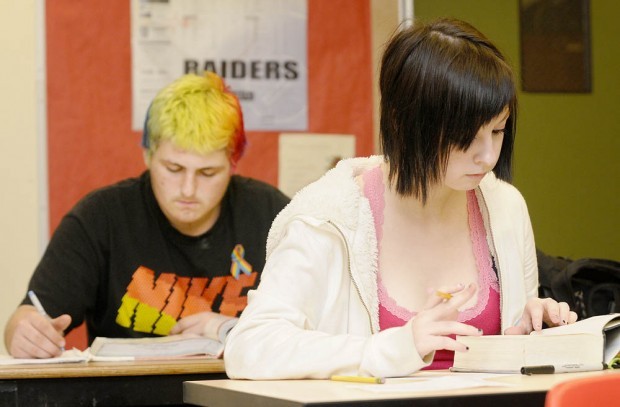 Kaylen Fidler wasn't thrilled about cutting her summer vacation three weeks short. Eight months later, she realized it was worth the sacrifice.
Fidler spent those weeks last August at Crescent Valley High School, getting acclimated. She learned the school's layout, met staff members and learned study skills. She was one of 27 Crescent Valley and Corvallis high school freshmen who participated in the summer Freshmen Bridge program.
"It was hard at first," Fidler said. "Who wants to give up part of their summer? But I knew I needed help because high school was going to be harder. My writing skills had to get better."
Freshman Bridge - which is called Spartan Bridge at CHS and CV Academy at CV - is a summer program for incoming freshmen who have been identified as at risk for not graduating from high school. Eighth-graders at Cheldelin and Linus Pauling middle schools are identified as candidates for the program based on academics, attendance, behavior and test results.
During the three-week program, students practiced math, reading and writing study skills, met with teachers, administrators and students, learned about academic and extracurricular activities and got familiar with the layout with their schools.
"Just knowing where everything is and knowing some of the teachers already helped so much," said CV freshman Tyler Palkki. "It helped me feel more comfortable. It was easier to meet new people."
An added bonus: students who complete the Freshmen Bridge program and attend guided study hall sessions regularly can earn half a credit toward graduation. Students typically attend the study halls.
This summer, 57 students are expected to be invited to participate in the Freshmen Bridge program, if enough money can be raised. Last year, the program was funded by federal stimulus dollars that are no longer available.
The Corvallis Public Schools Foundation is helping the schools raise the $11,500 needed to offer the Freshman Bridge program this summer. In addition to paying for instructors and supplies, the amount would cover bus transportation. About $3,500 has been raised so far.
The program is popular with parents as well.
Ramona Medina, whose son Victor participated in Spartan Bridge, said the program helped her son get excited for high school.
"After the program, he felt like, 'I can do this' and felt ready and encouraged to walk into the door," Ramona Medina said.
CV assistant principal Julie Linhares said about two-thirds of the CV Academy students are on track to be sophomores next year. She would love to see the program available to all freshmen.
CHS vice principal Alicia Ward-Satey said the program engages students early, which has the effect of keeping them interested.
"Many students tend to drop out during their freshman year," Ward-Satey said. "So we need to make sure they have a solid foundation and feel connected early on, so they will want to continue."