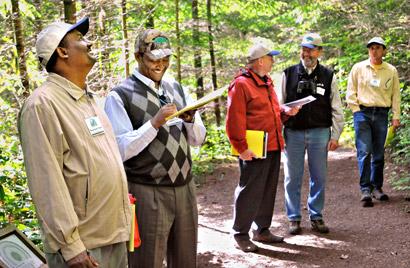 Ethiopian Sister City delegation tours Starker Forests; Gondar city leaders facing deforestation issues at home
Under a canopy of fir boughs, surrounded by singing birds, a delegation from Corvallis' new sister city, Gondar, Ethiopia, trekked Thursday through one of Benton County's most beautiful spots - a forest outside of Blodgett.
But Gondar's Mayor Megabiaw Tassew and Mayor-elect Habtamu Genetu weren't just taking a pleasure stroll through a scenic part of Starker Forest land; they also were learning some important forest management techniques that they'll be taking back home to a land desperately in need of reforestation.
Starker Forests representative Dick Powell led members of the Corvallis-Gondar Sister Cities board, Ethiopian-born Oregon State University professor of forestry Badege Bishaw, Corvallis Mayor Charlie Tomlinson and several others on a tour that showcased Starker's sustainable forest practices over the last decade.
One of Gondar's biggest natural resource issues is protecting its reservoir, which is the only source of water to the city of 200,000. Deforestation and farming practices have caused runoff to silt the city's reservoir.
Since the sister cities relationship with Corvallis was formed three years ago, restoring a forest buffer around the reservoir has been a priority. That project includes planting trees to stabilize the soil closest to the water source.
Forestry professor Bishaw, who just returned from a trip to the region, has been working closely with Gondar officials to develop a reforestation plan.
The tour was part of a week-long series of activities for the delegates, and the two Gondar leaders had many questions about healthy forests and forest ecology. Genetu was particularly interested in how straight the trees grow in Starker forests, compared to the tendency for native trees in Gondar to bend.
"We get one out of 10 straight trees," he said.
Bishaw explained that straightness was a result of both tree type and silvicultural practices that plant trees closer together than normal, so that in competing for sunlight, they stand tall to reach the most open area of canopy.
Ethiopia, which operates on a different calendar, recently celebrated its millennium, and part of the celebration included country-wide goals, including reforestation programs such as the one underway in Gondar, Genetu said. That includes tree planting as well as seeking alternative sources of energy, because most Ethiopians use wood for fuel.
"We don't have a well-established electrical system," he said. "If there are no alternatives created, there will be no way to sustain this (reforestation) project."
Tassew said he hoped that he and Genetu would not only gain information on forestry and watersheds, but would also learn about eco-tourism and how to better promote Gondar to the rest of the world. He was proud of the area's rich history and many scenic areas.
Having Corvallis' help in spreading the word that Ethiopia is a beautiful, progressive country eager to welcome visitors, investors and new ideas is one of Genetu and Tassew's hopes for the sister city partnership. And shifting the area's economy, which is heavily dependent on subsistence agriculture and livestock raising, to things including tourism would also help to solve natural resource problems.
"We don't get exposure" for the rich cultural and historical heritage, Tassew said. Ethiopia has a diverse climate, and 88 ethnic groups and several major religions living in close proximity. Genetu said that's one of the things Americans don't know about the country, and one that serves as a good example.
"There are 88 diverse ethnic groups, living together in harmony," he said.
A number of Corvallis residents will be able to see some of Gondar's cultural richness and historic heritage next year, when Mayor Tomlinson and a small delegation from Corvallis plan to visit sister cities Uzhgorod, Ukraine, and Gondar, Ethiopia, in one trip. The details still are being planned.
Get local news delivered to your inbox!
Subscribe to our Daily Headlines newsletter.