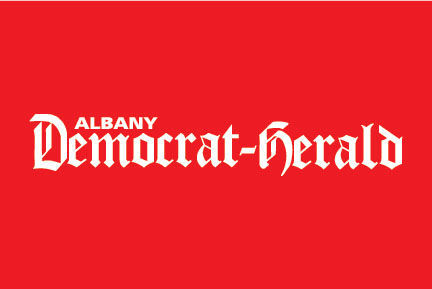 Gleaners receive generous grant
The Albany Gleaners are grateful for the generous contribution of $2,000 from the Confederated Tribes of Siletz Indians Charitable Contribution Fund.
This money is much needed to buy food, mainly from Linn Benton Food Share. In 2019-20 we were able to purchase 27,695 lbs of high-quality foods including fruits, vegetables and protein. Attending the awards reception was an inspiring experience. It was wonderful hearing about the work of many organizations. So much good work is able to be done in communities because of the generosity of the Confederated Tribes of Siletz Indians.
Thanks to those who helped man
I would like to thank all those who were involved in helping my dad when he fell in the Philomath Boulevard parking lot on March 15.
From what he said, there was quite a crowd of people who called for help and "made sure he didn't get ran over." And someone sacrificed a roll of paper towel for under his head, which were all know is a precious commodity these days. So, thank you to all of you Good Samaritans on behalf of my dad! We really appreciate it.
Goodness shines out
The goodness of people shines out, especially during these trying days.
I am so grateful to the kind person who found my lost credit card this last week, and promptly called it in to be blocked. It was a lovely ending to a very stressful day. I want to extend a relieved thanks and note of appreciation to that very honest individual, whoever you are!
Easter baskets brighten day
During this challenging time, it warms the heart when people help people.
The staff and residents of Regency Park Place Assisted Living would like to thank Burst's Candy for their generous donation of 40 beautiful, individually wrapped baskets for each of our residents. It made this Easter a little brighter than it otherwise would have been.
This small locally-owned candy shop has been in business here in Corvallis for 75 years. Located downtown, we know they are feeling this shutdown like so many others, so we thank you for the generosity you passed along to our residents, and wish you well in the coming months.
Regency Park Place Assisted Living (Corvallis)
Grant helps maintain continuity
Thank you to The Ford Family Foundation for a generous emergency grant to help maintain continuity of care for the children and families at Old Mill Center for Children and Families.
The challenges of COVID-19 affect all of us.
In addition, we are grateful for a grant from the OSU Folk Club Thrift Shop Foundation. The support given to Old Mill Center promotes wellness in our community and reduces problems such as child abuse and neglect.
Old Mill Center for Children and Families (Corvallis) 
Items for the Good Words column are published to recognize good deeds and charitable events. No promotions or advertising, please. Include the sender's name, address and a daytime telephone number for verification or in case of questions.
Good Words items generally should be about 150 words long or may be edited to that length. We prefer that they be sent electronically to opinion@gtconnect.com but they also can be mailed to the Gazette-Times, Attn: GOOD WORDS, P.O. Box 368, Corvallis, OR 97339-0368.