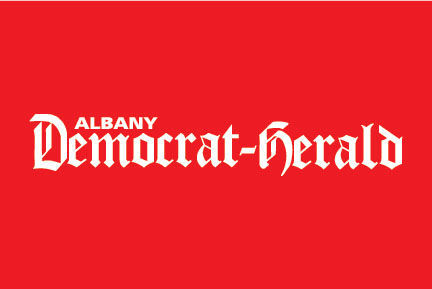 Thanks for foundation for funds
Old Mill Center for Children and Families would like to thank the OSU Folk Club Thrift Shop Foundation for granting us the funds to purchase therapy tools needed to support clients of our counseling, preschool, relief nursery and intensive treatment services programs.
The funds will be used to acquire two new sand tray tables, art supplies, sand box diggers, a train set, as well as playground balls, all of which are integral to the children's learning and healing.
Those suffering from the impact of trauma often have a hard time verbally expressing thoughts, feelings and emotions. Our therapists are trained to utilize resources like sand tray tables to facilitate nonverbal expression of internal conflicts and challenges. Thanks to the OSU Folk Club Thrift Shop's generous support, we now have the resources to better serve more children and families.
Old Mill Center for Children and Families (Corvallis)
Artist paints mural at Humane Society
Thank you very much to Karen Timm for her fabulous work on the beautiful mural that now graces the rear entrance of the Heartland Humane Society Thrift Shop.
We greatly appreciate the gift of her considerable time and creativity. Her artwork beautifully depicts some of the creatures who benefit from the work of Heartland Humane Society. We invite the community to check it out, come into our shop and help support our mission: "To build a more compassionate community by teaching humane messages to our youth, caring for homeless animals, and strengthening the human-animal bond."
Heartland Humane Society (Corvallis)
Baseball, softball draw public support
On behalf of the Corvallis Little League Board of Directors, I would like to send our deepest thank-yous to various people within the Corvallis community who supported a very successful spring baseball and softball season for nearly 500 kids in the Corvallis area.
City Parks and Recreation. For our teams that travel throughout the Willamette Valley, they are always reminded of the beauty of the Crystal Lake park facility. Huge thanks to Jeff Ordway and team for getting our fields ready to play after the April flood that covered all 10 of our fields.
For our parents and community members who volunteer as managers and coaches at all levels who took time out of their days to teach skills, model sportspersonship and engage with these young people, a sincere thank-you.
For the parents, community members and many men of Sigma Alpha Epsilon fraternity who took the opportunity to umpire our games. They had great training and assistance from our umpire coordinator, Brian Dolan. Our coaches modeled excellent life skills in working with our players if calls did not go their way.
Thanks so much for our many sponsors who committed financial resources and gifts in kind to support our season. We would particularly like to recognize the Grand Slam sponsors of $1,000 or more this year: Compton Family Wines, the Corvallis Knights, Dutch Bros, PacificSource Health Plans, RBC Wealth Management and River Design Group. The rest of the sponsors can be found here: https://www.corvallislittleleague.com/Default.aspx?tabid=1197807
Juneteenth was a celebration of freedom
Thanks to all who came out to celebrate freedom at this year's Juneteenth Celebration, hosted by the NAACP Corvallis/Albany Branch on a sunny June 8 afternoon.
To the more than 300 attendees who came to share with us, we appreciate your participation and support for the event.
We are grateful for financial and activity sponsors, without whom our event would not have been possible: the city of Corvallis King Legacy Advisory Board; United Way of Linn, Benton and Lincoln Counties; Collaborative Employment Innovations (CEI); The Arts Center; New Morning Bakery; Oregon State University Residence Halls Association and Area Councils; Event speaker Senior Assistant Attorney General Faye Stetz-Waters; and graphic designer Amber Hill.
Special thanks to Christopher Hughbanks, the Community Coordination Committee and volunteer members of our local NAACP branch.
The mission of the National Association for the Advancement of Colored People is to ensure the political, educational, social, and economic equality of rights of all persons and to eliminate race-based discrimination. Membership is open to people of all races. Members of the local branch meet together on the second Thursday evening of each month, alternating between Corvallis and Albany. For more information: https://www.naacpcorvallisbranch.com/info.
NAACP Corvallis/Albany Branch
To send Good Words
Items for the Good Words column are published to recognize good deeds and charitable events. No promotions or advertising, please. Include the sender's name, address and a daytime telephone number for verification or in case of questions.
Good Words items generally should be about 150 words long or may be edited to that length. We prefer that they be sent electronically to opinion@gtconnect.com but they also can be mailed to the Gazette-Times, Attn: GOOD WORDS, P.O. Box 368, Corvallis, OR 97339-0368.