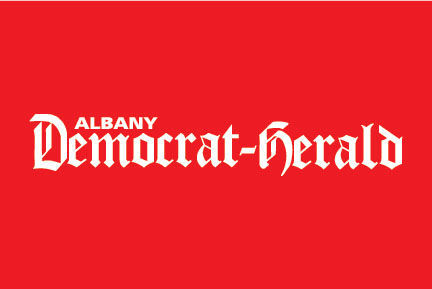 Shop shares the love of reading
Old Mill Center for Children and Families would like to thank Grass Roots Books & Music for donating many wonderful books for us to share with our families.
Among other important uses for these books, we were able to include a book or two with our food donations, which were provided through Subaru of Corvallis. This was a great opportunity for Old Mill Center home visitors to provide a little holiday cheer to our client families and bring a little more warmth to the family with a new book to share.
Early reading is critical for young minds; thanks so much to Grass Roots for helping us help the kids and families we serve. Your donation will go along way to help with early literacy.
Old Mill Center for Children and Families (Corvallis)
Thanks to the ladies for lunch at the lodge
The Corvallis Elks would like to thank the ladies of the Laureate Beta Theta chapter of Beta Sigma Phi for their many hours of volunteering at our lodge.
They volunteer their time every month at our luncheon for the clients of Grace Center for Adult Services. They also step up and come in to help with the monthly Brunch for the Food-Deprived. Their service is invaluable and their time greatly appreciated. They do this for the members of our community whom we serve and who enjoy and appreciate what we do for them.
You do not have to be an Elk to help out, as these ladies demonstrate. Thanks, ladies!
Festival enriched by community partipation
The Corvallis Nativity Festival would like to thank the community for its participation in this year's festival.
It was again a success, largely because of those who shared their nativities and donated countless hours to setting up, managing and cleaning up after the festival. Thank you for your support and attendance, and we look forward to working with and seeing you again next year.
Corvallis Nativity Festival
Concert raises funds for Winter Smiles
Student leaders from Corvallis High School recently accepted a check from the Rev. Stan Baker for donations received from a Dec. 8 fundraiser, the first "Sounds of the Season Concert" held at Crossroads Christian Fellowship in Corvallis.
The concert benefited the Winter Smiles program at CHS. The CHS Spartacapella Choir, individual performers from Garfield Elementary School, the Santiam Christian School Band and individual performers from Oregon State University all made the magic happen!
Winter Smiles is a student-run gift, household item and food drive that benefits families in our community who have at least one child at CHS. Some families are navigating poverty, some families are dealing with unforeseen medical bills during the holidays, some families have parents who have recently lost jobs, and others participate for a variety of other reasons.
Students work with teachers, local businesses and community members to help meet as many of their needs as possible. There are usually about 20 families in need every year, and the whole community helps to make the magic happen.
If you would like to help by donating to the Winter Smiles program, call contact Crossroads Fellowship at 541-753-2190. Donations are tax-deductible. Put it on your calendar: Next year's concert is set for 3 p.m. Dec. 13.
Crossroads Christian Fellowship (Corvallis)
Donations support local students
The Corvallis Public Schools Foundation would like to thank the individuals, groups and organizations who have supported students in recent months. We cannot list them all, but will share a few outstanding examples.
The Rotary Club of Greater Corvallis provided financial support and volunteers for two food-related projects this fall. On Nov. 27, the group made Thanksgiving meals available to 46 families, many by home delivery. A special thanks goes to Tammy Morrison for coordination.
The Friday Rotary Club also supported the purchase, assembly and delivery of 50 bags of food on Dec. 18 to help meet families' nutritional needs over winter break. We thank Fred Meyer for providing a generous discount on groceries, and Sarah Devine of the Corvallis School District for organizing the effort.
The Unitarian Universalist Fellowship of Corvallis, the Corvallis Rotary Club (Thursday), the Episcopal Church of the Good Samaritan and the DQ Chapter of the Philanthropic Educational Organization also made generous donations for students navigating homelessness. At present, an estimated 200 students qualify for the school district's Homeless Education services, and 2,200 students (approximately one-third of total enrollment) are eligible for the free/reduced-price meal program. Donations provide school supplies, food, clothing, transportation and other necessities that help students come to school ready to learn and thrive.
Finally, we would like to recognize the Mario and Alma Pastega Family Foundation and Bud Helpenstell for helping launch a professional development endowment. This endowed fund supports a "grow your own" model for developing and investing in educators within our community.
Liv Gifford and Mike Sheets
The Corvallis Public Schools Foundation
Items for the Good Words column are published to recognize good deeds and charitable events. No promotions or advertising, please. Include the sender's name, address and a daytime telephone number for verification or in case of questions.
Good Words items generally should be about 150 words long or may be edited to that length. We prefer that they be sent electronically to opinion@gtconnect.com but they also can be mailed to the Gazette-Times, Attn: GOOD WORDS, P.O. Box 368, Corvallis, OR 97339-0368.
The deadline for Good Words is Friday morning, and they are published on a space-available basis, generally in the order in which they are received.