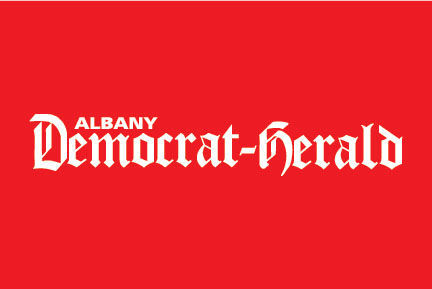 Museum dinner earns funds
The Albany Regional Museum recently held its third annual Farm-to-Table Dinner.
This event wouldn't be possible without the hardworking museum board members and staff who not only promote and organize the event but volunteer as servers for the dinner.
We would like to thank the local businesses that supported our silent auction: 4 Spirits Distillery, Albany Civic Theater, Allan Bros. Coffee, ATA Karate for Kids, Ball Studio Photography, the Crow's Foot Gallery, Linn-Benton Family Flyfishers, Little Wuesten Café, Monteith Historical Society, North Albany IGA Supermarket, Sniffany's Pet Boutique, Umpqua Bank and Urban Ag Supply.
We owe a special thanks to Conner McLain of Springhill Cellars Winery for being our wine steward and providing excellent wine. We're deeply grateful to Matt and Janel Bennett of Sybaris Bistro and their fantastic staff who donated their time to craft a delicious meal for the event. When our outdoor location was rained out, Matt and Janel offered Sybaris as the venue; we cannot express enough gratitude.
Last, we would like to thank everyone who attended the event and helped the Albany Regional Museum raise over $7,000; we are very thankful for their generosity.
Gleaners express gratitude for grant
The Philomath Community Gleaners would like to express our deep gratitude to the Confederated Tribes of Siletz Indians for its generous grant of $2,000 to our group last August.
This money will be used to buy high-quality food from Linn Benton Food Share and other sources. We currently have 345 members, which includes 126 children and 66 adoptee families (elderly or disabled). This grant is matched by fundraising done by our fantastic bake sale team. Gleaners make a huge difference in the lives of many lower-income members of our community, and also keep tons of food out of the landfill.
Philomath Community Gleaners
Business supports museum construction
The Benton County Historical Society is so grateful to Many Hands Trading for its longtime support of the construction of the new Corvallis museum.
You have free articles remaining.
This year Many Hands chose to benefit the museum project with 25% of its sales on the Sept. 21st Day of Sharing. The business also provided space and the opportunity for museum volunteers to share information about the new museum with customers and passers-by.
The Corvallis museum has been a long time coming. Although delays in the completion schedule have occurred, watch for a grand opening in early spring. It is only with support from generous donors and community partners like Many Hands Trading that the museum will soon be opening its doors and providing meaningful experiences to the people of our community and visitors from afar.
Thank you to Many Hands Trading and a thank-you to the many museum supporters, community members and visitors who shopped at Many Hands Trading on Sept. 21. Whenever you look at or visit the beautiful new museum at the intersection of Second Street and Adams Avenue, we hope you will feel proud of your contribution.
The richness and power of our community is in its many giving hands. We appreciate not only the financial support of Many Hands Trading, but also the example the store provides for us all, by contributing in all the ways we can, creating a thriving community.
Benton County Historical Society
Instrument donation helps programs
The Sundays@3 Concert Series sends a thank-you to the community for donating string and wind instruments at the instrument exchange event and Flatt Stanley Incident concert on Sept. 22.
Eight clarinets, two flutes, one piccolo, three violins, one viola, four guitars, one electronic keyboard, several music stands, instruction books, posters and other accessories were donated. Many performance clothes were donated as well.
The instruments, refurbished in kind by local artisans, along with books and accessories, are being donated to Willamette Valley youth music programs. The performance clothes which were not selected at the event were donated to the Goodwill in Corvallis.
Thank you for supporting music students in this way.
Episcopal Church of the Good Samaritan (Corvallis)
Items for the Good Words column are published to recognize good deeds and charitable events. No promotions or advertising, please. Include the sender's name, address and a daytime telephone number for verification or in case of questions.
Good Words items generally should be about 150 words long or may be edited to that length. We prefer that they be sent electronically to opinion@gtconnect.com but they also can be mailed to the Gazette-Times, Attn: GOOD WORDS, P.O. Box 368, Corvallis, OR 97339-0368.
The deadline for Good Words is Friday morning, and they are published on a space-available basis, generally in the order in which they are received.