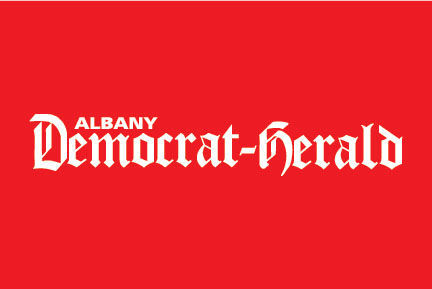 Special Olympics gives thanks for shirts
Special Olympics of Benton County would like to thank the generous anonymous donor who gifted our program with T-shirts and jerseys.
The mission of Special Olympics in Benton County is to enrich the lives of more than 165 local children and adults with intellectual disabilities, through sports and health education. Training is available in multiple sports throughout the year. Our athletes are looking forward to proudly wearing the new shirts and jerseys during the upcoming basketball season and at the Oregon regional competitions.
Local club donates fleet of bicycles
The Albany Bicycle Safety Education Program, in partnership with the Mid-Willamette Family YMCA, is fortunate to have a new fleet of bikes and trailer this past spring thanks to the generosity of the Mid-Valley Bicycle Club.
This has allowed us to replace an aging fleet that was acquired some 15 years ago and was made possible as a result of the Tandem Rally that took place last summer in Albany. A number of people from Albany, Corvallis and the surrounding community participated in this fundraiser. In addition we have had many people and organizations step up and donate time and materials to outfit the trailer and bike fleet.
I would especially like to thank the following for their assistance: Albany Bike N'Hike; Gerber Trailer Sales (Monmouth); Albany Miller Paint; Kenagy Family Farms; Lowe's Home Center; Home Depot; Bussard & Son, Inc.; Doug Taylor (metal work); Rite Way Electric; Albany Kiwanis; and Security Alarm Corp.
In addition, many individuals (too many to list) have donated countless hours to help make this program successful. Please feel free to give them a shout-out when you see them leading groups of kids around the community on a bike ride. Thank you.
Albany Bicycle Safety Education Program
Zonta grant backs Hispanic mothers
Old Mill Center for Children and Families would like to thank the Zonta Club of Corvallis for a generous grant to support an all-women support group of Hispanic mothers.
The mothers meet twice a month, and facilities and coordination are provided by us. Group meetings are a place for mothers to gather, provide peer-support, learn about health, parenting and other relevant topics and services, advocate for themselves and practice self-care. Being in a support group can reduce feelings of isolation. Sharing food is a culturally important facet of their time together, and grant funds will supplement meals the women bring.
Thanks to the Zonta Club of Corvallis' generous support, we now have the resources to better serve local women and children.
Old Mill Center for Children and Families (Corvallis)
Volunteers make parade successful
The 31st Annual All-American, Anyone Can Join, Fabulous, Fantastic 4th of July Parade was a rousing success.
Thanks to all the volunteers who helped make it work. The Corvallis Fire Department sponsored the event. Thanks to Battalion Commander Ben Janes and the bucket truck crew. This year's Divo, 92-year-old World War II veteran Bob LeBlanc, led the crowd in singing "The Star-Spangled Banner" to start the parade.
The Police Department sent a motorcycle to lead the parade, and they stopped traffic on Third, Fourth and Fifth streets while the parade went by. Thank you, Chief Sassaman.
The parade filled Monroe Avenue, side to side, from Eighth Street to First, an estimated 800 marchers, counting kids, adults, elected officials, dogs, bicycles, scooters, wagons, cars, buses and one boat. Three times that number lined the route to watch and to catch the candy that was thrown.
Big thanks to the volunteers who stopped the traffic along the route: Gayle and Even Evenson, Carol Mason, Jay Thatcher, Larry LeBlanc, Mark Sherman, Everett Hansen, Barbara Lachenbruch, Tony Anstad, Dave Sherrill, Kate McNutt, and especially Bill Cohnstaedt and Gene Johnson, who always put out and pick up the "Parade Ahead" signs. Best of all, the parade didn't cost the city anything, and gave our politicians a safe place to spend the holiday.
4-H members spruce up cemetery
Once again about a dozen 4-H members from the Choice Cuts and Shining Stars 4-H clubs participated in a community service day at the Mount Union Cemetery on the afternoon of May 5.
These volunteers cleared weeds from flower beds, spread bark mulch, sprayed headstones with moss killer, obtained information from headstones to fill in some blanks in our database, and performed any other tasks needed. Parents and 4-H leaders pitch in and work hard, provide guidance, and also supply many needed tools and power equipment. It is a great learning experience for the kids, teaching them how to give of themselves to their community.
The board of trustees and volunteers at the Mount Union Cemetery are extremely grateful for this work, which has become a semiannual event in recent years. Many thanks to this fine group of folks.
Mount Union Cemetery Association (Philomath)
To send Good Words
Items for the Good Words column are published to recognize good deeds and charitable events. No promotions or advertising, please. Include the sender's name, address and a daytime telephone number for verification or in case of questions.
Good Words items generally should be about 150 words long or may be edited to that length. We prefer that they be sent electronically to opinion@gtconnect.com but they also can be mailed to the Gazette-Times, Attn: GOOD WORDS, P.O. Box 368, Corvallis, OR 97339-0368.
The deadline for Good Words is Friday morning, and they are published on a space-available basis, generally in the order in which they are received.