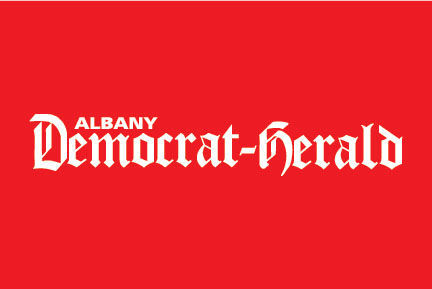 Pickleball fundraiser empowers CARDV
On Aug. 3 and 4, "Pickleball for Empowerment," a fundraiser for the Center Against Rape and Domestic Violence, was played at the James A. Ringler Pickleball Courts near Adams Elementary School in Corvallis.
The event was a great success due to our wonderful sponsors: Ellen Ringler and family; Schupp, Plemmons, Cook Wealth Management; Dr. Jim Hale – Valley Eye Care; and Pam Moye in memory of Rene Moye. 
Over two days, about 60 players, men and women, competed and battled until the winners emerged.  Great fun was had by all, and many of the players fed the cash donation jar to help even more. 
CARDV served more than 7,000 survivors in 2018. The agency also provides educational materials, a chat line, safehouses, legal assistance and advocacy. CARDV works closely with young men and women in the grade schools and at the Boys & Girls Club of Corvallis.
A big thank-you to Shane Denning, who organized and ran the tournament. CARDV and I are grateful for all your hard work.
Tribal contribution supplies kits
Deepest thanks go to the Siletz Tribal Charitable Contribution Fund for its recent generous gift to St. Martin's Episcopal Church Personal Care Kits Ministry at the Lebanon Soup Kitchen.
This gift enables us to purchase and distribute many necessary supplies of health and hygiene products including toilet paper, toothpaste, shampoos, lotions, etc., which help our guests with the basics of daily life. This adds to their self-respect, aids them with their employment and enriches their lives. The support of the Confederated Tribes of Siletz Indians strengthens and encourages us in reaching out and helping the needy in our area.
Some of these items were distributed during a visit to the soup kitchen on Aug. 30; more will be given out on upcoming visits. On behalf of the poor and homeless, we say thank you again and again.
Sara Jameson (St. Martin's Episcopal Church)
National Night Out scored a success
We'd like to thank all of our neighbors who turned out for our National Night Out event on Aug. 6.
It's our 22nd year sponsoring National Night Out, which is funded by donations of refundable cans and bottles. Our event generated 50 pounds of food to be donated to the South Side Food Bank.
A special thanks to the Corvallis Police Department's volunteer, Varian Tilton, who for many years has been coordinating the events taking place on the first Tuesday in August, along with his other duties. We appreciate the planning it takes to make sure an officer and McGruff make an appearance at the NNO events. This year 30 events took place in Corvallis. That's a lot of party-hopping in a toasty dog costume.
Let's extend neighborhood cohesion beyond a once a year get-together by getting more people Community Emergency Response Team-qualified and participating in emergency management planning training offered by the county and city. We can best help our neighbors and ourselves if we are better prepared for emergencies.
Our thanks to our many great neighbors who make Park Avenue and surrounding neighborhoods a great place to live.
Grants will fund Monroe nursery
Old Mill Center for Children and Families would like to thank the Benton Community Foundation, the Ralph Hull Foundation, and Soroptimist International of Corvallis for generous grants in support of the Monroe Relief Nursery Satellite, which will open this fall.
This new satellite location will provide families with a variety of services, including therapeutic toddler and preschool classrooms, parenting education, respite care and a resource closet. These services will help prevent child abuse and neglect through support, early intervention, education and outreach. Once fully operational, the satellite will serve 19 children in the south Benton County community.
Old Mill Center for Children and Families is a community-based, family-oriented center empowering children and families of diverse backgrounds to optimize their potential through specially designed education and therapy programs.
Old Mill Center for Children and Families (Corvallis)
Library thanks program sponsors
The Lebanon Public Library's Summer Reading Program is funded solely through grants and donations.
A total of 1,205 residents of all ages signed up for this year's Summer Reading Program. Thanks to our generous sponsors, we were able to provide fun and educational programs, prizes and incentives to encourage reading, as well as an all-ages grand finale after-hours party.
The Lebanon Public Library would like to thank the following for their role in encouraging reading and learning throughout the summer for children and families: the Friends of the Lebanon Public Library, our biggest supporters year-around, but during the summer, their hard work really pays off; Big Town Hero; Franz Bakery; Springbank Farms; the Oregon State Fair; Linn Lanes; Star Wars Oregon, Cloud City Garrison 501st Legion;
The State Library of Oregon Ready to Read grant; the Siletz Tribal Charitable Contribution Fund; and our amazing volunteers — we couldn't do it without all of you.
Restaurant, diners support museum
The Corvallis Third Street McMenamins has joined the growing number of local businesses helping to make the new Corvallis Museum a reality.
On Tuesday, June 11, McMenamins donated 50% of its sales after 5 p.m., for a total of nearly $1,000 toward the construction of the museum. The Benton County Historical Society appreciates the McMenamins' commitment to preserving historic places, and we thank them for helping us preserve, display and interpret our county history with a new facility in downtown Corvallis.
We are grateful for the generous support of the McMenamins family, the Third Street staff, and the many friends of the museum who came to the dine-out to eat. Great food; great service; great cause!
Benton County Historical Society
Items for the Good Words column are published to recognize good deeds and charitable events. No promotions or advertising, please. Include the sender's name, address and a daytime telephone number for verification or in case of questions.
Good Words items generally should be about 150 words long or may be edited to that length. We prefer that they be sent electronically to opinion@gtconnect.com but they also can be mailed to the Gazette-Times, Attn: GOOD WORDS, P.O. Box 368, Corvallis, OR 97339-0368.
The deadline for Good Words is Friday morning, and they are published on a space-available basis, generally in the order in which they are received.