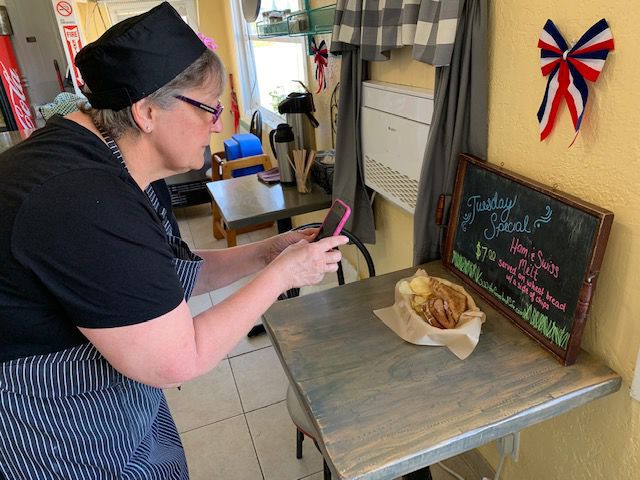 HALSEY – The population of this small town might be under 1,000 people, but folks still need local entertainment out in the country, said Mary Granzow, owner of the Grassland Cafe.
"Everybody needs something to do on a Friday night here, visit, talk with neighbors, eat some good food," she added.
Granzow is organizing the Halsey Community Market, which will operate from 4 p.m. to 8 p.m. every Friday this summer in a parking lot near her restaurant, at the intersection of Highway 99E and Highway 228.
"I think Halsey needs commerce, and to engage people in our small town. It's about including everyone in the community," Granzow said.
So far, five vendors have committed to the market this season, including a meat smoker, a resident who makes homemade greeting cards, a booth that specializes in real maple syrup, and more. The Grassland Cafe also will be selling berries and baked goods made with berries.
Several other vendors are interested, Granzow said. Food-based booths cost $50 a day, but booths of other types are free.
"We're looking for artists. I like the idea of assisting young artists," Granzow said.
Last year, Granzow held the Halsey Community Market on Saturdays, but didn't get as many vendors as she hoped, as there are plenty of other markets in the mid-Willamette Valley on the weekends.
The Grassland Cafe wasn't open until August last year, and Granzow believes that the popularity of her restaurant will help boost the market this year, as well.
"We are busy, busy, busy. It's been good," Granzow said.
She's focusing on social media, such as Instagram and Facebook, to get the word out about daily specials at the Grassland Cafe.
The cafe also is now open on Friday and Saturday nights for dinner, from 4:30 p.m. to 8:30 p.m., Granzow said.
Eventually, Granzow wants to purchase the parking lot adjacent to her restaurant, where the Halsey Community Market will be held, and erect a brick-and-mortar produce stand.
For more information on the Grassland Cafe, 80 W. Second St., or the Halsey Community Market, call Granzow at 541-369-3662.