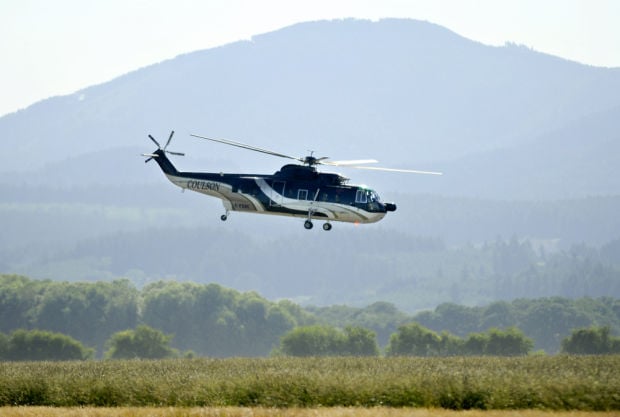 For more than a week now, a large helicopter has been flying into the Corvallis Municipal Airport from the north — over and over and over again.
The 23-passenger Sikorsky S-61 operated by Precision Helicopters is being used to train pilots in instrument-guided landing procedures. The Newburg-based company normally flies out of various Portland-area airports but transferred some of its operations to Corvallis after a Learjet overshot the runway at the McMinnville Airport on May 13, damaging an instrument landing system transmitter.
"We're down there flying in your neck of the woods, beating the air to death," said David Rath, Precision's managing director.
The McMinnville transmitter has been repaired and is now being tested for recertification. Rath said hoped to be able to move the training flights back to McMinnville as early as this weekend but wasn't certain exactly when that would happen.
"It's always a moving target," he said.
Rath declined to provide any specifics about the number of pilots being trained or exactly what sort of flying they plan to do with their instrument landing certifications.
But according to Corvallis Municipal Airport Manager Dan Mason, there are currently six pilots being trained for military contract duty in Afghanistan, making numerous flights each day.
"They've been starting about 8 or 9 in the morning and going until dark," Mason said. "They're spending a lot of money on gas and support services here in the community."
The heavy-lift helicopter has been following a roughly circular flight plan, sweeping northeast from the airport toward Albany, then going west to Adair Village before turning south over Corvallis, Mason said.
Because the pilots are practicing instrument landings, they must follow a specific FAA-designated route into the airport that takes them right over the heart of town.
"The last 10 miles on the approach is straight in from the north," Mason said. "They go right over Reser Stadium."
The copter also must adhere to a specified glide slope, starting at 3,700 feet above the ground at Adair Village and gradually losing altitude as it nears the airport. Pilots are required to stay at least 1,000 feet above the ground over residential areas.
Nevertheless, a number of area residents have contacted the Gazette-Times this week to complain about the noise.
"It's a big helicopter," said Reed Behrens, who lives near Northwest 29th Street and Circle Place. "It shakes the windows and upsets my pets."
Behrens told the newspaper he's had as many as four flights an hour over his home and has called the mayor to ask her to halt the practice.
"It's not something you can easily ignore. I don't mind a helicopter every once in awhile, but come on!"
Jacquie Markowski lives near Northwest Garfield Avenue and 13th Street. In a letter to the editor, she called the sound of the engines a continuous disruption.
"I feel like I'm living on the shoulder of the Interstate," she wrote.
Mason said as many as a dozen airplanes make the same approach into the airport every day, although most air traffic comes in from less populated areas without the use of instruments.
Those flights, he said, tend to be less frequent and less noisy than the training runs by Precision's Sikorsky S-61.
"Those are so big they seem like you can reach out and touch them," he said.