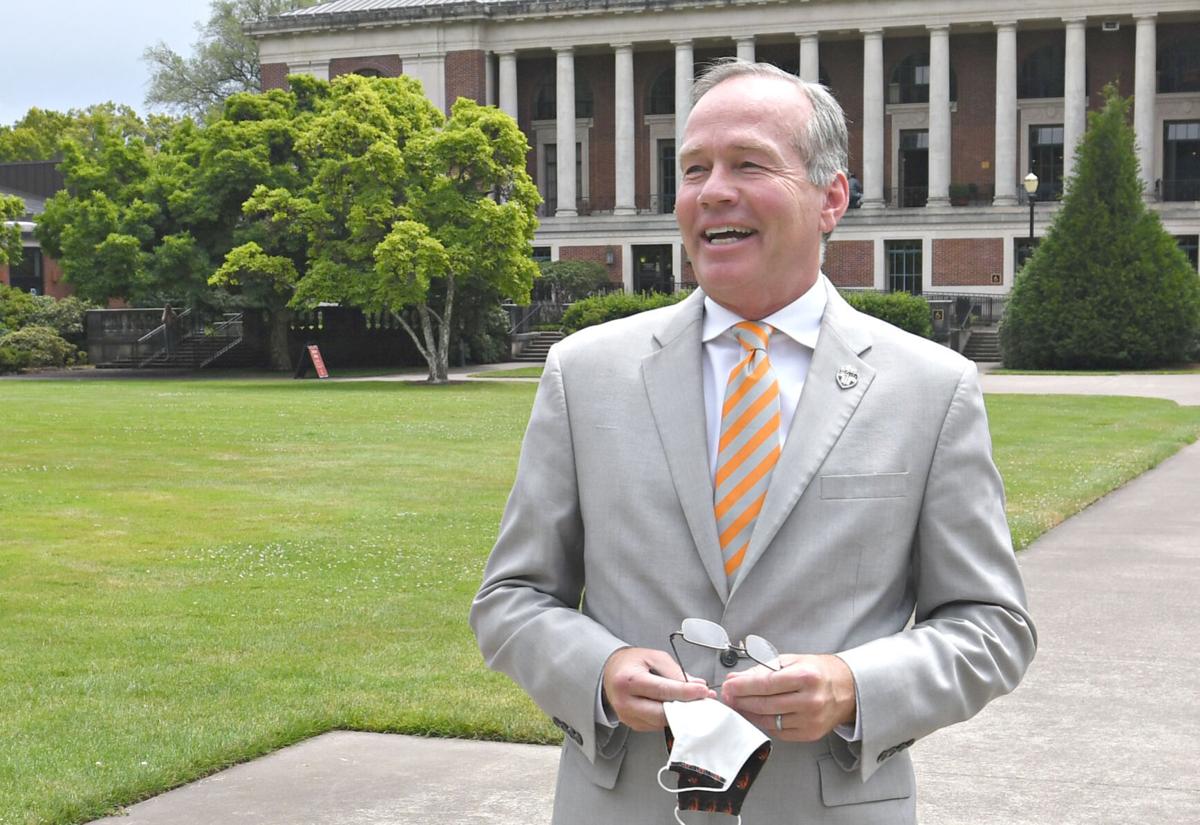 According to a report conducted by an outside law firm, Louisiana State University administration failed to act on Title IX compliance recommendations during Oregon State University President F. King Alexander's tenure as LSU president from July 2013 until December 2019.
Tom Galligan, interim LSU president, called it a time of "institutional betrayal" of Title IX claimants Friday during a university board of supervisors meeting when the report was released.
Scott Schneider, an attorney with Husch Blackwell, the firm that conducted the review, painted a grim picture of Title IX under Alexander. Husch Blackwell was hired by LSU to review the university's Title IX practices, largely during Alexander's time as president. Alexander, who has been the president of OSU since July, was mentioned 16 times by name in the body and footnotes of the report.
"My commitment to preventing sexual misconduct is longstanding and includes creating LSU's first internal Title IX office in 2016," Alexander said in a Friday statement in response to the report. "As LSU's president, I required that all reports and concerns of sexual misconduct be provided to the university's central Title IX office."
Title IX is a federal law that is intended to protect people from discrimination based on sex in educational programs or activities that receive federal financial assistance. Sexual assault, domestic violence, dating violence and sexual harassment on college campuses fall under Title IX, which requires institutions to investigate claims and protect students and personnel from further harm.
The report from Husch Blackwell said frustrations from students, faculty, staff and community organizations regarding LSU's response to "community efforts to raise awareness regarding issues of sexual misconduct" were "aimed largely at Alexander." The report said LSU community members interviewed by Husch Blackwell felt Alexander did not "prioritize this issue or meaningfully engage with individuals raising concerns."
Title IX compliance during Alexander's tenure at LSU, according to Schneider, was overly complicated and the compliance office was understaffed and ineffective in assisting survivors of sexual assault, harassment, dating violence and domestic violence.
Furthermore, Schneider said, university leadership was made aware of systemic Title IX issues for years and "did nothing."
"This is an example of serious institutional failure," Galligan said.
Support local news coverage and the people who report it by subscribing to the Corvallis Gazette-Times.
Brenda Tracy, a sexual assault survivor and activist who formerly worked for Oregon State as a sexual assault consultant, said she believes Alexander should no longer be employed by the university. 
"The stuff that's coming out at LSU, I feel like he should be fired," Tracy told Mid-Valley Media. "I do not feel like he should be at Oregon State in any way, shape or form. … If he didn't disclose anything to the board of trustees, and that was a quick hiring process, I feel like he's not been forthright about what was going on at LSU or his part in it."
Tracy is particularly concerned by the vetting process that led to Alexander's hiring, and the fact that she and Oregon State's student population learned about Alexander's part at LSU through media reports and information requests, rather than from the university that hired him.
Allegations surrounding former LSU head football coach Les Miles, now coaching at Kansas, surfaced Thursday in a university report and were first reported by USA Today. University officials found Miles acted inappropriately toward female students and ordered him to have no further contact with female students.
Husch Blackwell found a June 21, 2013, email from former athletic director Joe Alleva to Alexander and university legal counsel in which Alleva said the university had cause to fire Miles and recommended doing so. Husch Blackwell found no record of a response from Alexander, who was then the incoming LSU president.
Alexander's written responses to Husch Blackwell's questions during the investigation were provided to Mid-Valley Media by Steve Clark, vice president of university relations and marketing at OSU (see the online version of this story for the full text).
"The University's General Counsel and the Taylor Porter Law Firm informed members of the Board of Supervisors and me at the time that there was not sufficient evidence to terminate Mr. Miles," Alexander wrote to Husch Blackwell on Monday in response to a question about why Miles was not fired. "The Board and I agreed to the General Counsel and Taylor Porter's recommended plan of discipline for Coach Miles."
Last November, USA Today published a detailed report of LSU's mishandling of sexual assault complaints against students, including top athletes. In that investigation, it was reported that at least seven LSU officials had direct knowledge that former LSU football star Drake Davis was physically abusing his girlfriend.
Husch Blackwell found Alexander was presented with information regarding Davis hitting his then-partner. Husch Blackwell found Alexander did not initiate any Title IX investigation into the incident, nor into Verge Ausberry, executive deputy athletic director and executive director of external relations, who had failed to report the incident to the proper Title IX personnel.
The report states: "It bears noting that the disclosure of these texts in the November 2020 USA Today article was not a surprise to LSU. The East Baton Rouge District Attorney specifically shared the texts and other information regarding the Davis criminal case with former President Alexander and then University General Counsel Tom Skinner in November 2018. The texts and other information were shared in meetings between the leadership of the University, LSUPD, and personnel from the District Attorney's office tasked with investigating the Davis case."
Alexander told Husch Blackwell the university acted as soon as it learned about the case against Davis.
"Upon hearing of the Drake Davis incident, immediate action was taken by the University to ban Davis from the campus and to prohibit his contact with the victim," Alexander said in his Monday answers to Husch Blackwell. "The LSU police investigated and worked closely with the local District Attorney to gather evidence to bring criminal charges against Davis."
The report also found Alexander himself signed off on Davis' admission to LSU.
"Again, there is nothing in this report suggesting any sort of inquiry into why Davis left his previous institutions," the report says. "Regardless, in accordance with the SEC's Bylaws, on August 11, 2016, President Alexander certified that 'I have personally reviewed and approved ... the decision made by this institution' to admit Davis."
Alexander expressed disappointment with people in the LSU athletics program who did not follow Title IX rules.
"I am deeply saddened by the experiences of all survivors of sexual misconduct," Alexander said in the Friday statement. "And I am seriously disappointed to learn that individuals employed in the LSU athletics program broke the university rules and did not follow directions, policies and requirements for misconduct reporting. While LSU's president, information that I had received throughout my tenure was that any complaints regarding sexual misconduct and Title IX violations were fully and immediately investigated."
The Husch Blackwell report also included text from a letter sent by an LSU law professor to Alexander and all university Title IX personnel in June 2015. The professor described a portion of LSU's Title IX code as "unlawful" and "inexcusable," adding that it "must be remedied," an assessment that Husch Blackwell agreed with.
"As part of this review, we have been unable to find any documentation memorializing how these concerns were assessed or addressed by the leadership of the University," the report says about the response to the letter.
The report outlined three other occasions of Alexander being made aware of issues with Title IX compliance at LSU in which Husch Blackwell found issues with how Alexander reacted.
Alexander was party to a presentation by Jennie Stewart, LSU's Title IX coordinator, on Sept. 23, 2016. In the presentation, Stewart outlined a number of issues concerning LSU's Title IX office, including lack of funding and lack of personnel. The presentation called for at least seven new hires in the Title IX office, including a lead investigator, and an investment in training. The minimum request was for an additional investment of $329,000 to pursue these improvements.
The report states: "According to Stewart, President Alexander said words to the effect of: 'We don't disagree with any of this ... it gives us a good idea of where we need to go.' Stewart immediately started drafting a job description for a 'lead investigator.' That position was not filled for another 19 months when Jeffrey Scott was hired. That appears to be the only additional resource that came from this presentation."
A "Presidential Charge," commissioned by Alexander on Aug. 30, 2016, created a task force of students, faculty and staff to review Title IX policies at LSU that produced a February 2017 report featuring 17 recommendations.
"According to the law professor who sat on this task force, the report and recommendations 'went nowhere,'" the Husch Blackwell report says. "As part of this review, we have been unable to find any documentation memorializing how this Task Force report was assessed or addressed by the leadership of the University."
Husch Blackwell found another instance following a September 2017 internal audit report titled "Oversight and Prevention of Sexual Misconduct," in which it was unclear if Alexander took any action. The report called for establishing a "standard mechanism to consistently record complaints of potential (LSU Title IX policy) violations and track their disposition" after finding insufficient documentation of evidence that parties were notified of investigations or their status and a lack of "formal or consistent procedures for documenting complaints."
In his written response Monday to a question from Husch Blackwell, Alexander said he recalled "being supportive of the recommendations forwarded by these groups and it is my understanding that a plan was developed by the General Counsel to implement them over time."
During the LSU Board of Supervisors meeting, Galligan announced the university is briefly suspending without pay executive deputy athletic director Verge Ausberry and senior associate athletic director Miriam Segar due to findings from the Husch Blackwell report. Both were accused of mishandling reports of sexual misconduct and domestic violence from LSU students.
At the time of this report, Ausberry and Segar were the only LSU officials who have received public discipline from the university.
Ultimately, the Husch Blackwell report also found that the Title IX procedures LSU had in place put the university in a position to "not be successful" in handling dating violence cases.
"For an institution that was staffed to the nines around Title IX, this would have been a very complicated process to successfully navigate. ...," Schneider said. "I think one survivor described it as… 'We felt as if this system, this process, was designed to put victims in a position where they were forced to give up because they were worn down by the process.'"
K. Rambo can be contacted at 541-812-6091 or k.rambo@lee.net. Follow on Twitter via @k_rambo_. Jarrid Denney can be reached at 541-521-3214 or via email at Jarrid.Denney@lee.net. Follow him on Twitter @jarrid_denney