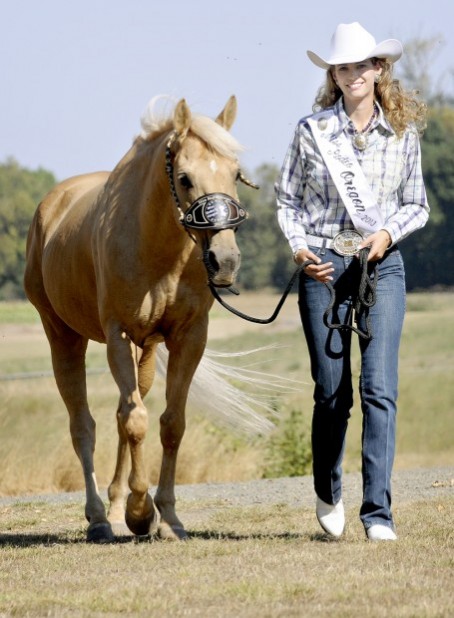 She'd just been announced as Miss Rodeo Oregon for 2013, but it took several seconds for the news to sink in for Nicole Schrock.
It wasn't until 2012 Miss Rodeo Oregon winner Shelby Ross whispered to her to move forward that Schrock started smiling and waving to the crowd at the Clackamas County Fairgrounds on Aug. 18.
"I was in shock," Schrock said this week. "It was like, 'Did they say my name?' I wasn't expecting it at all. The competition was really tough this year."
Schrock, who graduated from Corvallis High School in 2008, is the first Corvallis woman to win the state title. The Miss Rodeo Oregon Pageant dates back to 1957.
She succeeds Ross, who is from Sisters. The other 2013 Miss Rodeo Oregon contestants were Kelsey Schmunk of Hillsboro, Sara Marcus of Sisters and Elise Broehl of The Dalles.
And Schrock did it in impressive fashion, winning all but two of the nine award categories: most photogenic, best personality, written test, appearance, speech, horsemanship and people's choice.
The Miss Rodeo Oregon Pageant was a four-day event held during the Canby Rodeo at the Clackamas County Fairgrounds. Schrock said the pageant was like a job interview and that she was well-prepared.
"I studied a lot for this," Schrock said. "It's more than just being able to ride a horse and look pretty. They really want you to know your rodeo and even current events. They want you to have opinions."
You have free articles remaining.
Schrock, who will be a senior this fall at Oregon State University, is majoring in bioresource research, applied genetics and agricultural education.
And winning Miss Rodeo Oregon adds to Schrock's impressive rodeo resume. She was the 2007 Benton County Fair and Rodeo Queen, the 2009 Sweet Home Rodeo Queen and the 2010 Miss Northwest Professional Rodeo Association Queen.
Schrock said she started riding horses when she was about 4 and quickly fell in love with rodeo — not just the sport, but the people involved as well.
"I love meeting people," Schrock said. "Rodeo brings people and communities together. That's why I enjoy doing this so much. Being Miss Rodeo Oregon allows me to meet more and more people."
Schrock is scheduled to take over the duties that go with her new title on Jan. 1. She said she will probably end up taking a break from OSU to accommodate her busy schedule.
In addition to traveling around the state, she said her role as an ambassador for the sport will take her out of state, possibly as far as Florida. She estimated she could visit more than 40 rodeos next spring and summer.
And in December, she will compete in Las Vegas for the title of 2013 Miss Rodeo America. She will be vying to succeed Mackenzie Carr of Vernonia, the first Oregonian to ever win Miss Rodeo America. Carr was on hand to see Schrock named Miss Rodeo Oregon.
Schrock said she's excited to represent Oregon and to share her passion for the state, as well as her school.
"I bleed orange and black," Schrock said. "I've been a Beavers fan as long as I can remember."