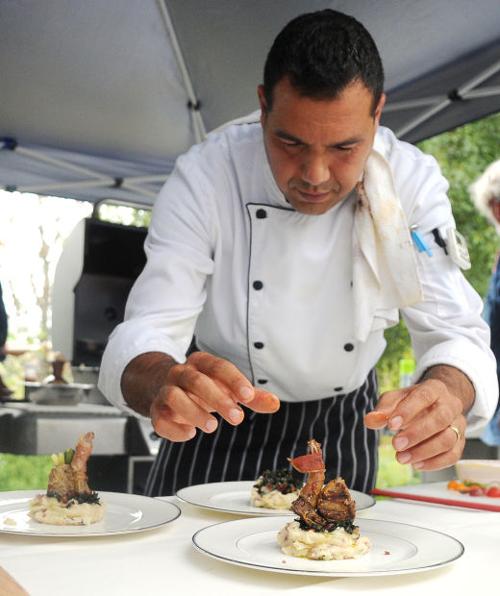 If you've been wanting to learn to cook nutria, your chance is coming this Sunday as a part of the third annual Invasive Species Cook-off, an event known as "Eradication by Mastication," hosted by the Corvallis-based Institute for Applied Ecology.
The event began in 2012 as a potluck featuring dishes made from invasive species; but last year it became a cooking competition where attendees watched three chefs turn invasive ingredients such as dandelion greens and wild boar into elaborate dishes. Organizers also offered catered dishes made using invasive species, such as bull frog leg potato salad.
This year the event will add a demonstration by Chef Philippe Parola called "The Art of Cooking Nutria and Asian Carp."
According to a press release for the event, Parola, who is from Baton Rouge, Louisiana, developed recipes for the Louisiana Wildlife and Fisheries for game and fish including black tip shark, alligator meat, nutria meat and Asian carp.
But the menu for the event in Salem features more localized invasive fare and includes appetizers of crayfish-stuffed piquillo peppers; wild turkey terrine with mole spices, warm dandelion spanakopita, sorrel-smoked salmon puffs, wild boar (feral swine) bratwurst, blackberry mustard and a dessert that features more blackberry, chocolate and hazelnuts.
The event is a fundraiser for the Institute for Applied Ecology, which does environmental research, restoration and education projects throughout Oregon and Southwest Washington. According to the U.S. Fish & Wildlife Service website, invasive species cause $120 billion in damages in the U.S., so raising interest in the issue is among the ecology institute's goals.
An evening of eating some of the invasive species that are disrupting the environment has become such a regional draw, it is moving to the Zenith Vineyard in Salem, where it will be from 2 to 7 p.m. Sunday. For more information, tickets and directions, see http://eradicationbymastication.org. The cost for the gourmet meal is $75 a person, $25 a child, or $750 for a table of 10.
Event organizer Tamara Mullen said moving the event to west Salem places it centrally between Corvallis and Portland, where many people who attend are from. Last year's event drew around 200 people. As of Monday, more than 230 tickets had been sold.
"It's really going to be an exquisite event and have a layer of quirkiness because of the food we are eating," Mullen said.
The cooking competition is similar to the Food Network show "Chopped": Participating chefs have an hour to prepare meals that include mystery invasive species ingredients. The chefs competing this year are Ryan Morgan, the executive chef at Theory at the Oregon Museum of Science and Industry in Portland; Cody Utzman, former "Chopped" champion and head chef of Frankie's in Albany; and Hamid Serdani, the owner of Chef Serdani Services and chef at Gathering Together Farm in Philomath.
The catered buffet for those who attend is to be prepared by Matt Bennett, the head chef and owner of Sybaris in Albany; Joshua Green, the executive chef of Bon Appétit at Willamette University in Salem; and pastry specialists Amelia Lane and Anna Henricks of Sweetheart Bakery in Portland.