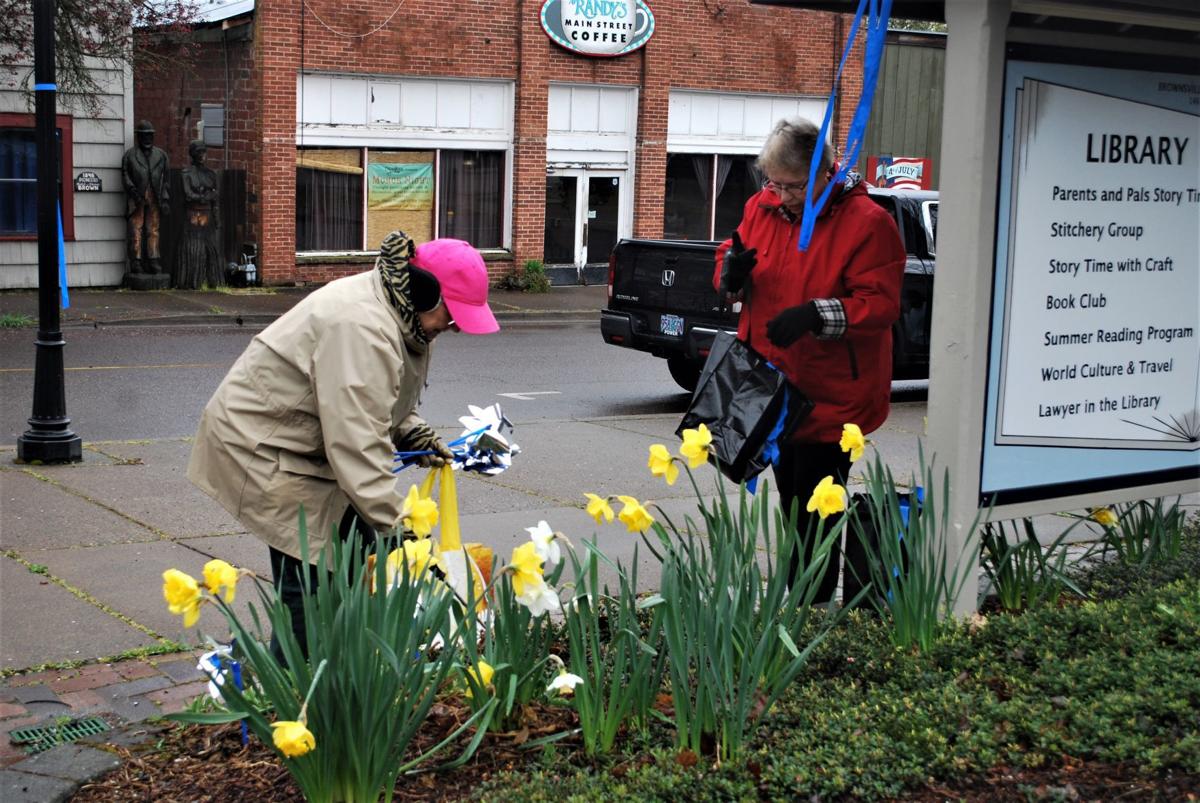 BROWNSILLE — Monday morning was cool, wet and windy, but the weather didn't keep volunteers John and Linda Morrison, Irene Corbett and JoAnn McQueary from attaching dozens of blue ribbons to lamp posts and tree limbs and planting bright blue and silver pinwheels throughout Brownsville.
Other volunteers were doing the same thing throughout Linn County.
The symbols of hope will remain visible during April, a reminder that it is Child Abuse Awareness Month. Educational activities associated with the annual event were cancelled due to the COVID-19 pandemic and the state's stay-at-home orders, but the seriousness of the issue remains.
Jennifer Gilmore-Robinson, executive director of the ABC House in Albany, says it is more important than ever that mid-valley residents recognize the signs of child abuse as families are forced to stay at home due to the COVID-19 pandemic.
The Linn County Child Abuse Network encourages the public to be vigilant to protect children in need.
Gilmore-Robinson said that last year, ABC House served 718 children through its child abuse assessment and support services.
"Approximately 300 were served through on-site child abuse assessment services and the remainder were emergency medical consultations," Gilmore-Robinson said. "Almost half of the children referred for child abuse assessment services were under the age of seven."
ABC House also provided trauma counseling and support to 102 children and adults and delivered prevention training to more than 3,700 community members.
"With schools and youth serving organizations closed and safe adults less accessible, we don't have the same safety nets and supports right now for children," Gilmore-Robinson said. "Calls to the child abuse hotline are drastically lower compared to last month, in part, because mandatory reporters who normally keep their eyes on kids aren't able to see them every day."
Gilmore-Robinson said that while most homes are a safe place for children, "parents and caregivers are under extraordinary pressure right now. Some adults under strain will snap, and children will pay the price."
She said every community member can do something to help children.
"We encourage everyone to reach out to friends or family members with children and offer support in safe ways, whether it's a video chat or arranging for a grocery run. Parents, keep an eye on your child's internet and social media use," Gilmore-Robinson said. "Continue to check in with your kids to see how they are doing. Most of all, if you have a concern that a child in your life is being harmed, call the child abuse hotline or local law enforcement."
To report possible child abuse, call the Oregon Child Abuse Hotline, 1-855-503-SAFE (7233).
Laura Hawkins, spokeswoman for the Albany Police Department, said the back windows of patrol cars in Albany, Lebanon and Sweet Home and the Linn County Sheriff's Office, will sport a special wrap that promotes the Child Abuse Network provided by Xtreme Grafx.
"We also put a banner on the side of a truck trailer on Pacific across from the police department, and we have highway banners going over Pacific by Wendy's and one in Lebanon and one in Sweet Home," Hawkins said. "We have radio ads reminding people to check on neighbors and if they see something, say something. All of this was purchased with a Ford Family grant."
Hawkins said the blue pinwheel gardens promote awareness and represent the 583 substantiated cases of child abuse in Linn County in 2018. The 2019 stats will be released in May.
Hawkins said more than 18% of Linn County children are living in poverty and more than 1,000 students are homeless.
"In 2018, 26 children died from abuse or neglect in the state of Oregon and 21 of them were 5 years old or younger," Hawkins said. "This is a concerning time. Stress levels are up and kids are stuck at home. This is the time to reach out to your neighbors and families, and everyone has to come together to protect the children in our community."