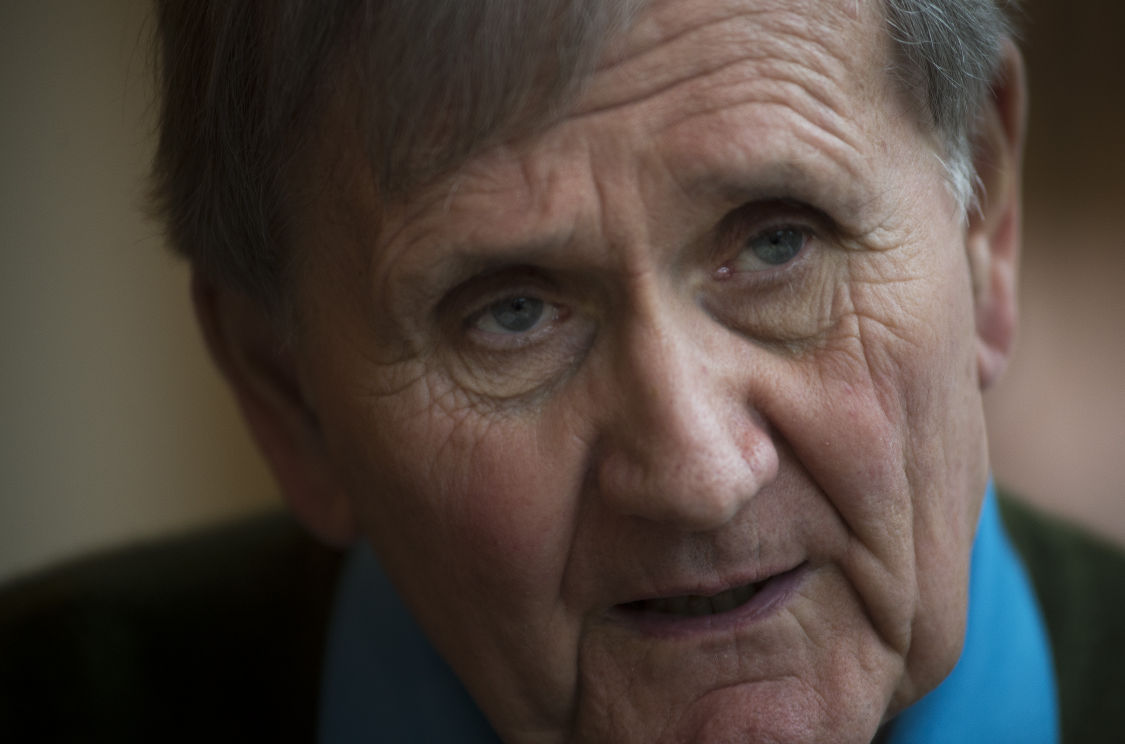 Think nuclear Armageddon can't happen to you? Think again.
"In case some of you believe we don't have to worry about nuclear weapons anymore — that the Cold War is over, or the Super Bowl is more important — I just want to assure you they're just as dangerous as they ever were," Ambassador Thomas Graham told an overflow crowd in the Journey Room of Oregon State University's Memorial Union on Monday.
Graham knows what he's talking about. As a senior U.S. diplomat from 1970 to 1997, he helped negotiate a series of treaties that constitute the international framework for nuclear arms control today.
On Monday, he cited two examples of the multiple near-misses that have brought the world to the brink of full-scale nuclear war. In both cases, the Soviet Union's military command had received false — but credible —information that the United States had launched one or more nuclear missiles its way. Soviet doctrine called for a retaliatory nuclear strike. But in each case, a single individual in the chain of command decided it must be a false alarm — despite all evidence to the contrary — allowing the crisis to pass safely.
"The right man was in the right place at the right time, and he had the courage to make the right decision," Graham said. If military doctrine had been followed, he said, "none of us would be here today."
Those and other brushes with catastrophe are outlined in the prologue to Graham's new book, "The Alternate Route," published by OSU Press. Rather than looking back at our Cold War past, however, the volume looks ahead toward a possible future when all nuclear weapons may be banished from the earth.
In his talk at OSU — the first appearance in a tour to promote the book and its message — Graham outlined a strategy that would build on a number of existing treaties that have created internationally recognized nuclear-weapon-free zones covering all of Latin America, Africa and the South Pacific as well as Southeast Asia and Central Asia.
"Over 50 percent of the land territory of the world is legally nuclear-free," Graham pointed out. "Now, what do we have to do to expand this territory?"
The first step, he said, would be to negotiate additional treaties that would cover all but the five permanent members of the United Nations Security Council — the United States, Russia, China, France and the United Kingdom. These countries, known as the P-5, are also the only nuclear weapons states recognized by the Nuclear Non-Proliferation Treaty.
But even though the P-5 possess most of the world's nuclear arsenal (with an estimated 13,000 or so warheads between them, most belonging to the U.S. and Russia), they are not the only nuclear powers in today's world. In the Middle East, Israel has as many as 200 nukes. In South Asia, India and Pakistan have around 100 apiece. And in North Asia, North Korea has 10 to 15.
Getting those countries to disarm would be critical to making the nuclear-weapon-free zone plan work, Graham said, and he acknowledged doing so would not be easy.
With its strong conventional forces, he said, Israel might be persuaded to give up its nuclear weapons program (which the country does not officially admit to having). And "something's going to happen someday" to eliminate North Korea's nukes, though he couldn't predict what that might be.
That leaves India and Pakistan, which Graham called "by far the toughest one of all."
Not only have the South Asian rivals fought several wars against each other, but India considers its nuclear weapons program a point of national and even racial pride that proves "dark-skinned people can do this too," Graham said, "and Pakistan is not going to give up nuclear weapons unless India does."
Still, he believes, it may be possible to persuade all the unrecognized nuclear powers to give up their warheads.
"If somehow, some way, all of this could happen, all that would be left would be the P-5 … and maybe you could actually negotiate nuclear disarmament through a series of gradual measures."
That could mean, as a first step, getting the United States and Russia to slash their nuclear arsenals from about 5,000 and 7,000, respectively, down to 300 apiece, with the remaining P-5 nations cutting theirs to 75 each.
The next step would be for all five nations to dismantle their remaining warheads while keeping a limited supply of fissionable material on hand and, finally, getting rid of that as well.
"This is a very tall order," he admitted, "but … it's a lot better than doing nothing."
Asked if the U.S.-North Korean standoff could be de-escalated with Donald Trump in the White House, Graham was optimistic that cooler heads in the Cabinet would prevail.
Personalities and politics aside, however, he suggested that the bigger threat lies in the ever-present possibility of human error that could touch off a nuclear holocaust by mistake.
"People are people," he said. "We can try (to prevent an accidental launch), but as long as nuclear weapons are around, it's going to be a risk."
Reporter Bennett Hall can be reached at 541-758-9529 or bennett.hall@lee.net. Follow him on Twitter at @bennetthallgt.