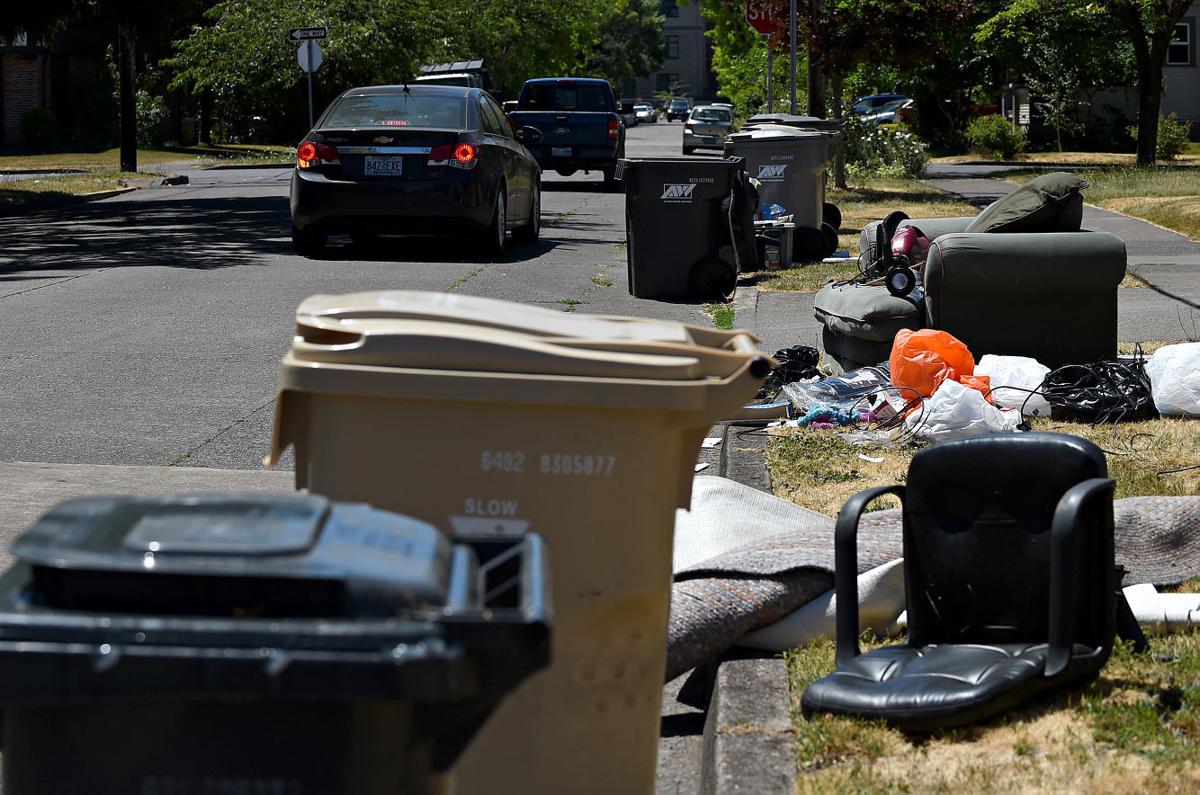 It's the first of June. The weather is getting warmer. Oregon State University is gearing up for commencement exercises. The Beavers are in the NCAA baseball tournament.
And couches are starting to appear in the streets as students start checking out of their housing.
Well, the Beavers should be in the NCAA tournament.
But we can't fix that. Meanwhile, a group of property managers and landlords wants to limit the couch damage this year.
The Corvallis Rental Property Managers Group, which is in its fourth year of working on training and outreach efforts to help make Corvallis more livable in the face of enrollment increases at OSU, held its first "Sofa Challenge" on Tuesday at the Elks Lodge.
On hand were members of the Corvallis Sustainability Coalition's waste prevention action team and representatives from Republic Services, OSU and the Corvallis Fire Department.
Aside 1: The Couch Patrol was on site as well, taking notes, and pondering the imponderable: What if they dispatched the Couch Patrol … and there were no couches to patrol? End aside 1.
"This is the time of year when more couches are on the streets and there is more trash," said moderator Dawn Duerksen of Duerksen Associates. "Plus, June 11 is coming up and that means graduation. That's when the moms come and trash starts. Because moms see things that they don't want to take home and put in their garage."
There are lots of ways to take care of these "things," according to those presenting Tuesday:
• Jonathan Stoll, community relations coordinator for OSU, noted that he has door hangers that he and his staff distribute to graduating students with tips for moving out.
• Jeanette Hardison of the Sustainability Coalition passed out brochures and a list of groups that accept used furniture and emphasized that residents should always call first to make sure that its furniture is a match with the policies of the agency.
"The more we can slow down how full our landfills get the better we are," Hardison said. "Reuse just makes good sense."
• Jim Patton, fire prevention officer with the Fire Department, noted that the department already has had one couch fire to investigate this season.
"Yes, it was a harmless prank," Patton said, "but it took one of our engines out of service."
Patton also advised residents to keep such wayward couches away from the house and to watch for debris in the area.
"That couch fire could become more than a nuisance," Patton said.
The property managers spent the bulk of the one-hour session firing questions at Julie Jackson and Randy Holcomb of Republic Services, the waste-hauler for Corvallis.
The Republic reps noted that the agency tries to respond within 24 hours when a customer calls with a couch complaint. Also, Republic offers "extra lifts" so that dumpsters are empty when the students start cleaning out their rooms. They will provide extra containers and also will take calls for those requesting "bulky item" pickups.
All of these extra services result in an add-on to the property owners' bill.
Jackson, Republic's mid-valley community relations manager, said that she expected some blowback three years ago when Republic first started picking up couches and charging the owner.
"We thought we were going to have a lot of problems but we haven't. We didn't get one complaint," she said.
Jackson also noted that scavenging from dumpsters or recycling carts is illegal.
"Once it is in the container, it belongs to us," Jackson said.
Aside 2: The Couch Patrol will be out on the streets in the coming weeks. We will say no more. End asides.