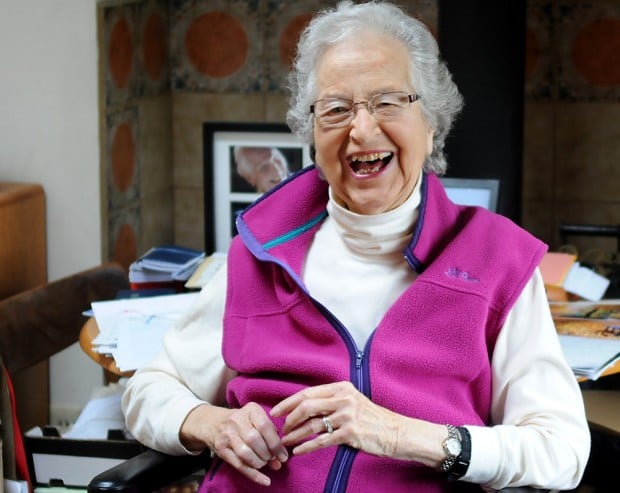 Maryanne and Warren Staton found a postwar home in Adair Village
Located just a few miles north of Corvallis, Camp Adair provided a training ground for thousands of young American soldiers preparing for combat in World War II.
After the war, some of the old camp's buildings were repurposed as housing for returning veterans and their spouses pursuing an education at Oregon State College, forming the core of a new community dubbed Adair Village.
"It was a little city," recalled Maryanne Staton, who lived in the complex with her husband, Warren, from 1947 to 1951, along with several hundred other married OSC students. "It was an essential part of our lives. All of us were on the GI Bill."
Staton and her husband (who died in 2008) were both Navy veterans, although they had to go through some gyrations to sign up.
"We went to the recruiter, and he said that a wife could not join the same branch of the service as her husband, but the reverse was not true," Staton recalled. "So I enlisted the day before he did."
They enlisted in September 1943, after marrying July 11 of that year.
Warren Staton joined the Seabees, the Navy's engineering division, serving in the South Pacific. Maryanne was in the WAVES — Women Accepted for Volunteer Emergency Service — and was stationed in Northampton, Mass., and Albany, Calif.
"We were separated almost two years, and we wrote each other every single day," Staton said.
After the war the couple spent some time in Maryanne's hometown of Boise, Idaho, before moving to Corvallis to attend school at Oregon State.
As married students who had served in the war, they were entitled to one of the apartments at Adair Village. As Staton recalls, the accommodations were far from elegant. The complex had been cobbled together from old military hospital wards connected by covered walkways. The units were small — two tiny bedrooms, bathroom, living room, a kitchen with an icebox — and the exterior walls were uninsulated.
"They had knotholes in them, and the wind would come in those knotholes. We would stuff things in them," she recalled.
The interior walls were thin, too.
"We could hear everything that went on in the next room," Staton said. "We witnessed one marriage break up. And we had one neighbor who must have been from eastern Oregon because he had a gun, and we could hear him clicking that gun. That was scary."
But the price was right — $48 a month — and the views couldn't be beat.
"We considered moving into town several times, but the view of Mount Jefferson out our kitchen window was too much to give up," Staton said. "We were very grateful and very happy to live there."
It was a busy time in their lives. Both would go on to have long careers as professors at Oregon State — Warren teaching civil engineering and Maryanne teaching human development — and school consumed most of their energy. They would drive their '39 Plymouth into town in the morning, spend all day in class or in the library, then come home at night to eat supper and hit the books.
"We weren't very social," Staton said. "All we did was study."
But that was OK, too, she added.
"We enjoyed each other so much after having been separated during the war we really had no desire to do much socializing."
Got an idea for a "Story Next Door" profile? Email your suggestions to news@gazettetimes.com, with "Story Next Door" in the subject line.
Got an idea for a "Story Next Door" profile? E-mail your suggestions to news@gtconnect.com, with "Story Next Door" in the subject line.