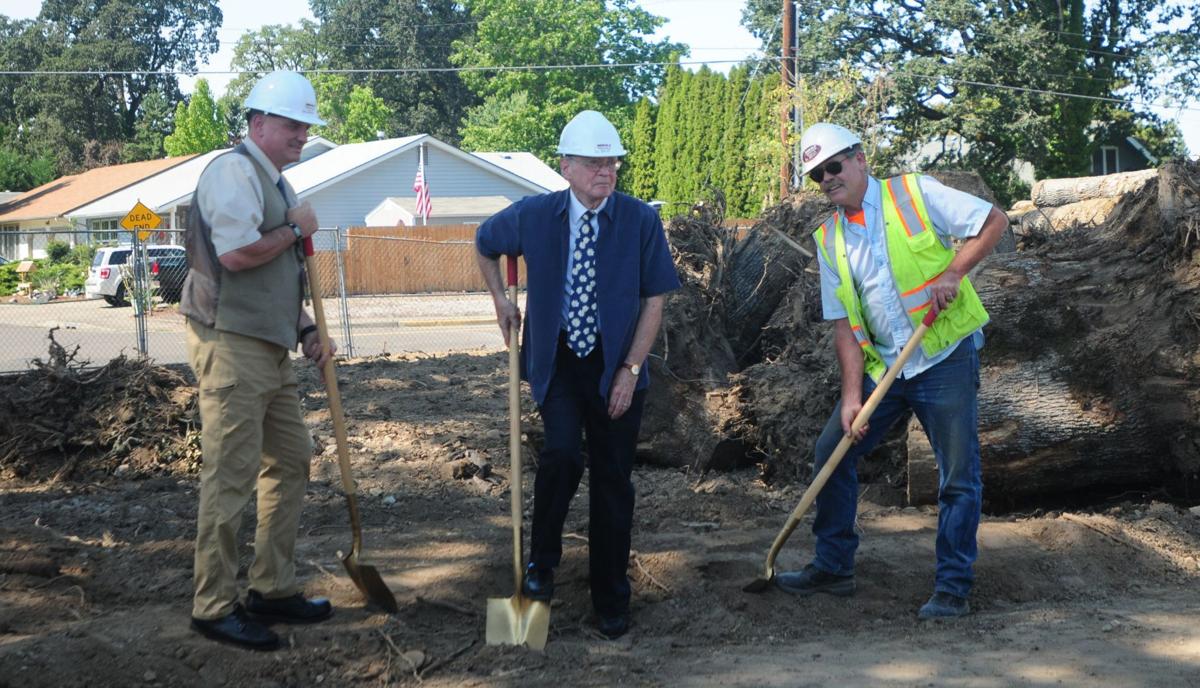 The Linn-Benton Housing Authority on Wednesday broke ground on a new 48-unit apartment complex in Lebanon which will serve low-income seniors and veterans.
The Garden View Apartments will be built at 3011 S. Main Road, across the street from Bob Smith Memorial Park. Donna Holt, the executive director of the Housing Authority, led the event.
Gus Bedwell, who works with the state's homeless veterans through the Oregon Housing Community Services Department, was among the featured speakers. He said projects such as this are badly needed as there are approximately 300,000 veterans in the state and just over half of them are 65 years of age or older. This is the highest percentage of aging veterans in the country, Bedwell said, and a significant portion of these veterans are homeless.
"Unfortunately in Oregon, we have the third-highest rate of veterans experiencing unsheltered homelessness in the entire country," Bedwell said.
Three of the units in the new facility will be allocated specifically for use by veterans who have experienced homelessness. Funding for these units will be provided by the United States Department of Housing and Urban Development.
"Three doesn't sound like a big number, but if you ask Donna about the bureaucracy and what it takes to even get one, three is huge," Bedwell said.
The Housing Authority has 79 veteran housing vouchers available, Holt said.
"That would be by choice. Folks can go out and look elsewhere or the veterans can come to Garden View Apartments and lease with that voucher as well," Holt said.
The Housing Authority acquired the property in 2015 and has been working to put the project together since. Holt thanked the neighbors in the area for being supportive, the city of Lebanon for its assistance, and US Bank for serving as the financial partner for the project.
Work is already under way clearing the property and construction is expected to be completed in the fall of 2020. One-bedroom units will be 615 square feet and two-bedroom units will be 881 square feet. 
The project is intended for low-income seniors and veterans, with income limits ranging between $13,800 to $27,600 for one person to $15,570 to $31,500 for two people. Holt said these figures may change slightly over the next year. 
The Housing Authority will issue a public notice before opening the official waiting list.
Get local news delivered to your inbox!
Subscribe to our Daily Headlines newsletter.