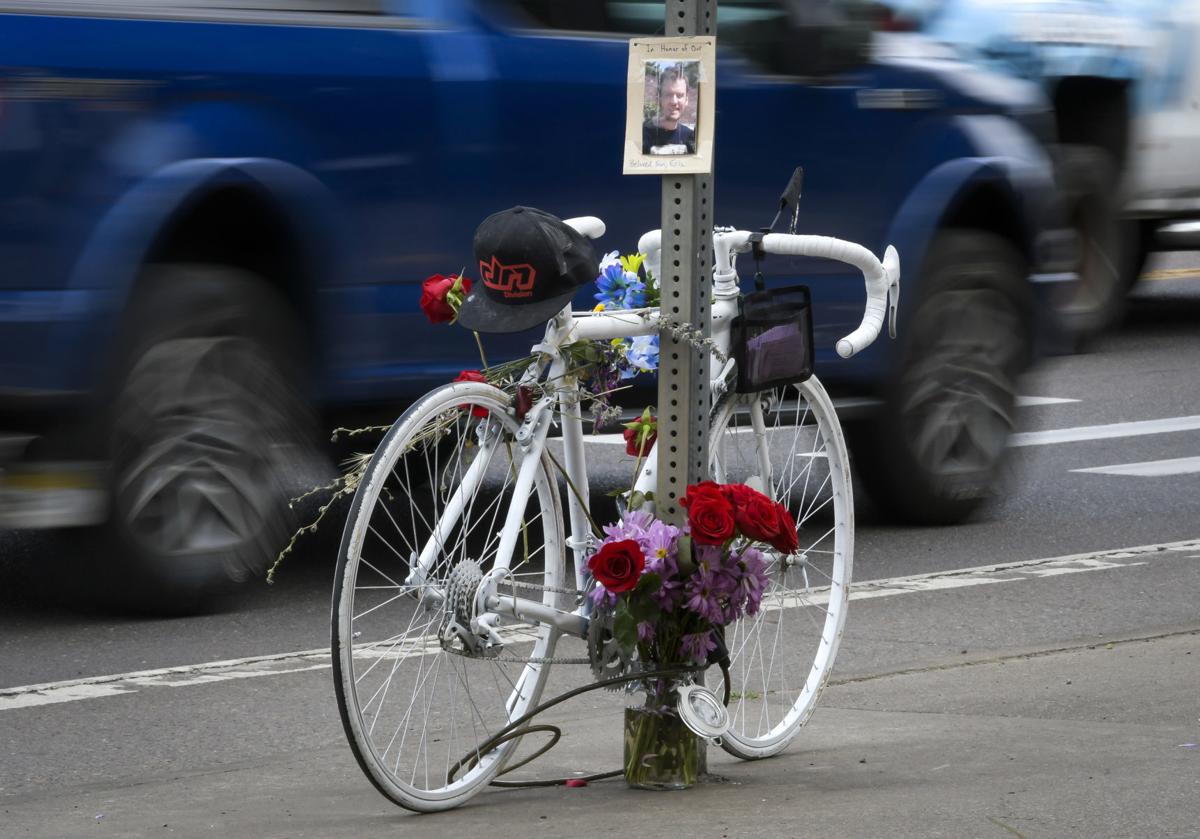 A member of the local cycling community has placed a "ghost bike" in south Corvallis in honor of a bicyclist who died after being struck by a van last week.
The crash happened about 7:25 p.m. Wednesday on South Third Street in the crosswalk in front of the First Alternative Natural Foods Co-Op. Eric Austin, a 32-year-old Corvallis resident, was riding his bike through the crosswalk when he was struck by a van towing a cargo trailer.
Wendy Byrne, a member of Corvallis Right of Way, a group of bicycle safety advocates, placed the memorial bike at the site Thursday. The bike, which has been painted white, belongs to the organizers of the annual Ride of Silence, a group event intended to honor bicyclists who have been injured or killed while riding.
Byrne said the ghost bike is not meant to imply guilt on the part of the driver but is intended to be a memorial for the cyclist. She said she also hopes the bike spurs conversations among residents about being more aware as drivers and as pedestrians.
"We want to make sure there's safety awareness on all parts for everybody who is using the roads," Byrne said.
Austin's father, Bruce Austin, said seeing the ghost bike is hard for him, but it also comforts him to see flowers by the site and people stopping and contemplating what the bike means.
"I hope it brings more awareness to bike and driving safety," Austin said.
He said his son had ridden to the co-op on the day of the crash to get groceries for a family barbeque. Eric had gone north to the co-op from his parent's house at Southeast Debord Street and Southeast Alexander Avenue. When Eric hadn't returned, his stepmom went to look for him and learned what had happened.
Police have said the signal lights were flashing when Eric entered the pedestrian crossing. The van that struck him was driven by a 61-year-old Corvallis man. Police have not released that man's name.
You have free articles remaining.
Bruce Austin described Eric as uniquely kind, the kind of person who would carry spiders outside rather than kill them.
"I never saw him show his anger," he said of Eric. "He was so much more mature than I am and most other people I know."
Eric was born in McMinnville and grew up primarily in Sheridan. He graduated from West Salem High School before receiving a writing degree from Boise State University, his father said. While in college, Eric worked with a group of peers studying annotations in books that had been owned by author Herman Melville.
"He was brilliantly insightful and a great writer," Bruce Austin said of his son.
While in school, Eric composed short stories. He also wrote for the Boise Weekly, primarily writing film and music reviews.
He had recently moved back to Oregon and was writing for The Corvallis Advocate. Earlier this month, the alternative newspaper published a human interest story that Eric had written about the anti-war protesters who congregate every day in front of the courthouse.
On Thursday, The Advocate published a memorial story about Eric.
"With a quick wit and wry sense of humor, Eric fit in perfectly with our quirky little family right from the start, bringing with him a high level of skill and integrity," the story read.
Bruce Austin said his son was deeply thoughtful, which made him a fine reporter and writer.
Eric's family is hosting a remembrance ride for him on Sunday, July 8, starting at 4 p.m. at the corner of Southeast Debord Street and Alexander Avenue.
Lillian Schrock covers public safety for the Gazette-Times. She may be reached at 541-758-9548 or lillian.schrock@lee.net. Follow her on Twitter at @LillieSchrock.