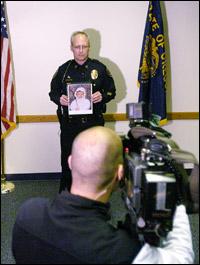 Police discover 'marijuana grow' in suspect's duplex
A Corvallis man has been charged with murder in the death of a 3-year-old girl in northwest Corvallis.
An autopsy at the state medical examiner's office showed that Karla "Karley" Elizabeth Ruth Sheehan "died as a result of trauma to the brain," Corvallis Police Capt. Ron Noble said Monday.
The girl lived with her mother, her mother's boyfriend, Shawn Wesley Field, 33, and Field's 9-year-old daughter, Noble said.
Field has been lodged in the Benton County jail since Friday. He was initially arrested on accusations of manufacture and delivery of a controlled substance and possession of a controlled substance.
Field was arraigned Monday in Benton County Circuit Court on two counts each of murder and endangering the welfare of a minor; and one count of manufacture and delivery of marijuana within 1,000 feet of a school, Hoover Elementary.
Though there is only one victim, Field is charged with two counts of murder because each count describes a different theory of how the crime occurred, explained Benton County District Attorney Scott Heiser. Count one accuses Field of killing the girl during an attempted assault and count two accuses him of killing her while committing assault. Ultimately, a jury will decide, Heiser said.
Investigators declined to give more details of the actions leading to the death of the girl.
Medics and police were called to Field's duplex at 2652 N.W. Aspen St. around 2 p.m. Friday after the child's mother called 911 to report that her daughter was not breathing. She performed CPR on the child until a Corvallis motorcycle police officer arrived, Noble said. The officer then attempted CPR on the child. The girl was taken to Good Samaritan Regional Medical Center, where she was pronounced dead.
After obtaining a search warrant, police searched Field's home and found what Noble called a "marijuana grow," though he did not know how many plants or what paraphernalia was found.
"I've really been focusing on Karley," he said.
Police have been called for welfare checks on Karley a couple of times in the last two years at different addresses, Noble said, but when officers and social workers from the human services department checked up on the girl, no evidence of abuse was found. Karley's mother had been living with Field since last fall, Noble said.
Police have declined to name Karley's mother and father, but "we are satisfied that neither is culpable," Noble said. "Mr. Field is responsible."