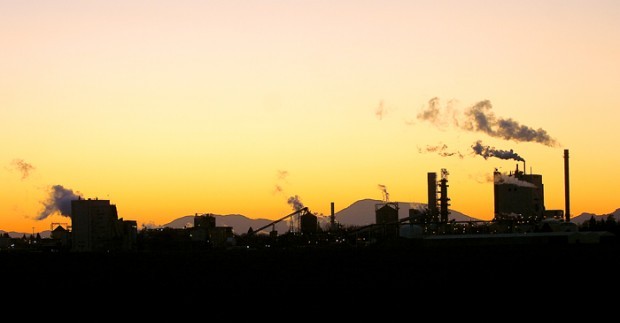 After more than half a century of churning out containerboard for cardboard boxes, the Albany Paper Mill will grind to a halt on Tuesday, eliminating 270 jobs and closing the books on one of this community's landmark industrial operations.
International Paper Co., the Tennessee-based corporation that owns the plant, says there's too much production capacity in the containerboard market. To balance output with demand, it's closing the Albany plant along with a similar facility in Pineville, La., and a containerboard machine in Valliant, Okla.
Unlike the periodic layoffs of years past, these closures are permanent, the company says. None of the plants will ever be reopened or sold to a potential competitor.
IP's Oct. 22 announcement hit an already recession-battered Albany like a punch in the gut and left anguished questions in its wake:
Why close this particular plant?
Why close it now, so soon after buying it?
Why not sell the plant and save the jobs?
Tim Kelly, vice president of containerboard manufacturing for International Paper, offered some answers last week in an interview.
While he said a number of factors went into the decision to close the Albany Paper Mill, the driving force behind them was the ecomonic downturn that hit late last year.
"There was such a dramatic change in demand. It was huge," Kelly said, speaking by phone from the company's Memphis headquarters.
"We were looking at having 11 million tons of capacity going into 2009, and we were only on pace to sell about 9 million tons."
Closing the Albany Paper Mill and the other two plants will slash International Paper's containerboard production by 1.4 million tons a year, or 12 percent of its capacity, according to company documents.
"The cost of carrying that additional capacity is tremendous," Kelly said, and with the current state of the economy, the company expects it will be years before demand for its products returns to pre-recession levels.
As an example, he talked about how the downturn has impacted the music industry and, in turn, International Paper.
"Look at CD packaging," he said. "If you don't produce the CDs, then you don't need the packaging — and you don't need to buy the boxes to put the CDs in for shipping."
But why close the Albany mill and not, say, the one in Springfield, which also makes containerboard? According to Kelly, the answer has to do with subtle distinctions between the mills and how they fit into the company's overall product mix.
"In the U.S., we have 14 mills, and they come in all shapes and sizes. They produce a variety of grades and products," he said.
"Springfield is somewhat different from Albany, and it was a mill we felt like we needed to retain, both for the products we're making today and in the future as well as for our customers on the West Coast."
International Paper acquired both mills in March 2008 as part of its $6 billion purchase of Weyerhaeuser's containerboard division. The deal vaulted IP into the front ranks of containerboard producers, giving the company about 29 percent of the U.S. market.
In Albany, some people have wondered if the company planned to do something like this all along — buy out a competitor and then close plants to try to force up containerboard prices.
Kelly insisted International Paper had no such designs.
"When IP made a decision to buy Weyerhaeuser, Weyerhaeuser was running full and IP was running full," he said.
"I think we went into it with our eyes wide open in a very strong economy, thinking, 'This is a great fit.' Who would have thought, with the depths of the recession we're still in, that it would have dropped so far so fast?"
Likewise, legal experts and industry watchers interviewed for this story see no evidence to support a conspiracy theory. Instead, they see simple, old-fashioned market forces at work.
You have free articles remaining.
"My first instinct is to not suspect malice or conspiracy," said John Tumazos, whose investment advising firm, John Tumazos Very Independent Research, tracks the paper industry.
Rather, Tumazos said, International Paper is simply responding to plunging demand for its product in the midst of a deep recession that it calculates will continue for some time to come.
"I regard their action as an economic forecast," he added. "Essentially, they are expressing a lack of enthusiasm for economic growth in the U.S."
Besides weak consumer demand, Tumazos said, other factors are depressing the market for containerboard from Northwest plants. He cited a downturn in the region's aerospace industry, a shift to plastic cartons by California produce packers and poor access to the growing Latin American export market.
"There may be too much capacity in the Northwest relative to the market," Tumazos said.
Large corporate mergers like IP's containerboard acquisition frequently result in job cuts, said John O'Brien, managing editor of the trade publication Paper Age, and the Weyerhaeuser purchase is no exception.
"As soon as they start talking about 'synergies,' there's going to be redundancies out there," O'Brien said. "I think when they bought it they knew down the road there would be some shutdowns."
At the same time, he said, there's no doubt that the recession has sharply depressed demand for containerboard, and broad trends toward less and thinner packaging are likely to dampen the industry's long-term recovery prospects.
"They may be looking at a permanent decrease in how much containerboard the world needs," O'Brien said.
Antitrust concerns involving concerted actions by multiple companies, such as allegations of price-fixing, have been raised in the containerboard industry before — including a lawsuit filed in 1999 that named International Paper, Weyerhaeuser and Georgia-Pacific as defendants. (Although IP denied any wrongdoing in the case, it agreed to a $24 million settlement in 2003.)
But Herbert Hovenkamp, a professor at the University of Iowa Law School and an expert on antitrust issues, said it's unlikely International Paper controls enough of the containerboard market to manipulate it all by itself.
"It could be a competitive problem if the acquisition of Weyerhaeuser and the shutdown was an attempt to reduce marketwide output," Hovenkamp said. "(But) a unilateral shutdown by a firm with less than 30 percent of the market would not ordinarily send out anticompetitive signals."
Edward Brunet, the Henry J. Casey professor of law at Lewis & Clark Law School in Portland, agreed.
"The lowest percentage of a market that's ever been held to be a monopoly is 66 percent," he said.
So if International Paper simply wants to get out from under the expense of maintaining mills it can't use, why not sell them to somebody else — perhaps even a group of IP employees, as Albany Mayor Sharon Konopa suggested after the shutdown was announced?
It simply goes against the company's financial interests, Kelly said.
"It's a competitive world we live in, and the whole reason we're making the decisions we are is there's too much capacity," he said.
"If we were to put another containerboard maker into business, if you will, that could have a significant impact on us."
Refusal to sell mothballed containerboard plants is "standard procedure" in the industry, according to Eric Hansen, a professor of forest products marketing in the Oregon State University College of Forestry.
The paper industry is both highly competitive and prone to alternating periods of boom and bust, Hansen said.
When demand is high, prices rise and confident papermakers invest in new factories and plant expansions to seize a bigger share of the market. But paper machines are hugely expensive, making expansion a high-stakes gamble.
"When any company adds capacity, it's going to add it in big chunks," Hansen said. "The other important dynamic here is that all the companies in the marketplace are going to be looking to add capacity at the same time to maintain market share."
That's exactly the sort of thing that can put too much product on the market, forcing down prices and starting the cycle all over again.
Add a global recession like the one that struck last year, and you have a recipe for ruin.
"If demand was what it was two years ago," Hansen said, "you'd have a different picture."