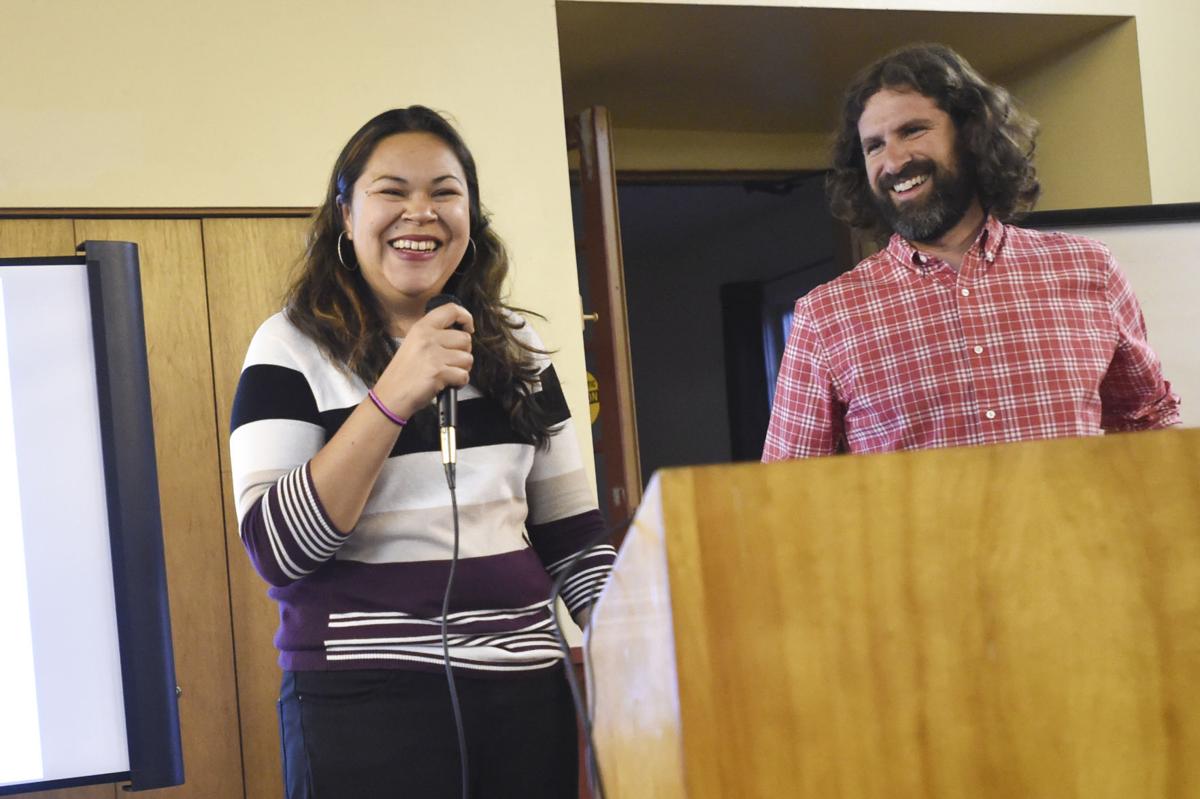 The Corvallis-Albany branch of the NAACP recognized Garfield Elementary School's parent-teacher organization Thursday for winning a national award for its diversity and inclusion efforts.
A representative of the civil rights organization presented the PTA's co-presidents with flower bouquets at its monthly membership meeting in Corvallis.
"We are so proud of you," said Shelley Moon, senior vice president of the local NAACP branch.
The National Parent Teacher Organization announced Garfield Elementary's PTA as the winner of the Jan Harp Domene Award in May. The award recognizes PTAs that are dedicated to the needs of all families represented in their schools. Garfield is the first Oregon school to receive the honor, which was established in 2013.
The school's PTA has created a number of initiatives over the years to facilitate an equitable, inclusive and welcoming environment, said co-president Rocio Muñoz, who has a child in third grade at Garfield. The PTA has Spanish- and English-speaking co-chairs for each of its leadership positions. The organization alternates facilitating its monthly meetings in English and Spanish, and provides interpretation services for the alternate language (for which the Linn Benton Health Equity Alliance provides funding).
"It's just a way to learn together," Muñoz said. "To experience what others have been experiencing for years and just to feel what it's like to be in those shoes and sometimes be 10 seconds behind and miss that opportunity to get involved."
The school works to ensure its teachers are representative of the student population, which is 47 percent Latino, Muñoz said. This allows students to see themselves reflected in their professional role models, she said.
The PTA is also working to be more inclusive of the school's growing Arab population, Muñoz said. Last year, Garfield started issuing flyers in English, Spanish and Arabic for school events. Further, the organization has for many years sold tamales to raise funds, but last year altered its recipe in awareness of the dietary restrictions of Arabic students and their parents, she said.
Garfield's PTA is also working to increase cultural programming at the school, such as international nights where students learn about various countries. Next month, the organization is co-sponsoring Noche de Alma Latinoamericana, an event featuring bilingual children's music artist José Luis Orozco and a piano concert by XX Digitus Duo.
Muñoz said her commitment to making parents feel welcomed and empowered at school events and meetings comes from her own experiences. When she was a child, Muñoz's parents didn't feel they were a part of her school's community, she said. Muñoz said she's not going to let that happen at Garfield, because parents who do not understand information being shared by the school miss out on opportunities for themselves and their children.
"I know what it's like to be in the shoes of these kiddos, 'cause how these kids are growing up, that's how I grew up: bilingual with parents not really knowing what's going on," she said.
While it can be challenging to make changes that are equitable to the whole community, it is something that all schools should be doing, Muñoz said.
"Working with differences is hard but it is certainly rewarding and it's the right thing to do," she said.
Muñoz's co-president, Mac Gillespie, said he remembers Garfield's first PTA meeting following last year's presidential election. He said a lot of families were upset over the results of the election; the meeting provided an opportunity for those families to share their stories and fears.
"If we can create this space that families can come to and they'll be safe and their kids will be safe and they can talk about issues that matter to them, that's really important," said Gillespie, who has children in the first and third grades at Garfield. "It kicked in then that this is a really special place and this is a place for people to feel safe. I felt really committed to supporting that."
Garfield's PTA is now visiting other parent-teacher organizations in Corvallis to provide guidance in establishing diversity and inclusion programs, Muñoz said.
Lillian Schrock covers public safety for the Gazette-Times. She may be reached at 541-758-9548 or lillian.schrock@lee.net. Follow her on Twitter at @LillieSchrock.