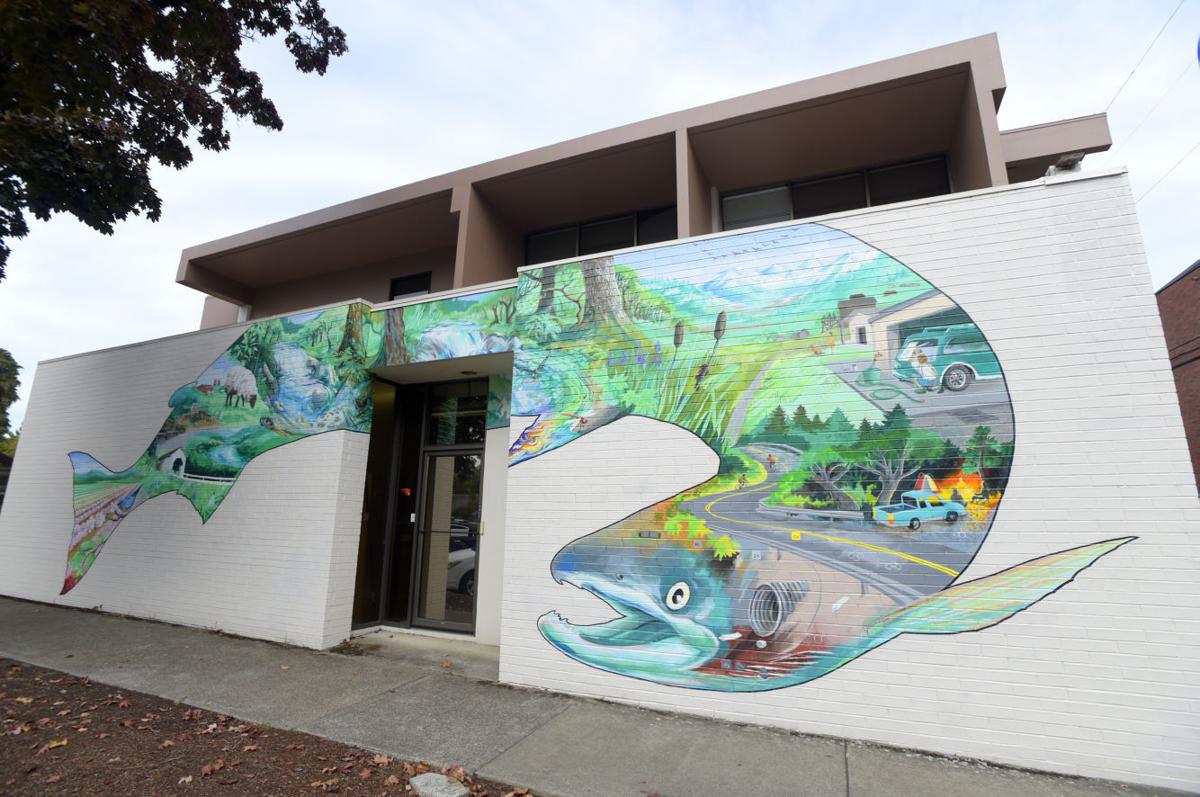 What might just be the world's biggest king salmon can now be seen on the side of a county building in downtown Corvallis.
A chinook the size of a tractor-trailer rig now graces the south wall of the Board of Commissioners' offices at 205 N.W. Fifth St.
The massive fish forms the outlines of a 13-by-45-foot mural painted this summer by Eugene artist Esteban Camacho Steffensen with the aid of a small group of local volunteers, some of them children.
Kevin Perkins, the board's administrative manager, estimated that 15 to 20 people helped work on the project, which was begun in late August and completed by mid-September.
"There were folks who came and helped for 10 or 15 minutes in the course of whatever else they were doing that day, and some who came pretty consistently," Perkins said.
Painted predominantly in blues and greens, the untitled artwork contains a tapestry of interwoven images intended to convey a sense of the Pacific Northwest's natural and human environments.
The mural depicts fertile farms and forested mountains, vibrant cities and flowing rivers, plentiful wildlife and carefree people. Camacho Steffensen also included a number of localized touches, such as Marys Peak, Hull-Oakes Lumber, the Irish Bend covered bridge, hazelnut trees and an endangered Fender's blue butterfly. Amid all the natural beauty are molecular models and atomic symbols as subtle reminders of the threats humans can pose to the planet in the form of pesticides, industrial waste and urban runoff.
"By and large, (the idea) is to display the natural features of our county along with the human interactions that have an effect on it," Perkins said. "Basically, what it shows is that we're all interconnected."
The $10,000 art project was championed by Commissioner Anne Schuster with the support of fellow board members Jay Dixon and Annabelle Jaramillo.
County spokesman Rick Osborn said a number of residents have called or stopped by the office to ask questions or express opinions about the mural.
"It's all been really positive," Osborn said. "People seem to think it's pretty cool."
Reporter Bennett Hall can be reached at 541-758-9529 or bennett.hall@lee.net. Follow him on Twitter at @bennetthallgt.