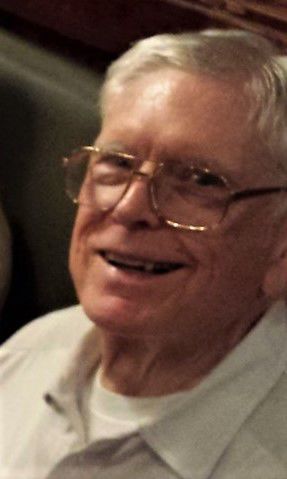 October 25, 1934 – April 23, 2020
Alan Hadley Robinson, 85, a resident of Corvallis since 1966, passed away in his sleep at Willamette Springs Memory Care on Thursday, April 23, 2020, after a decline from Parkinson's disease.
Alan is survived by his wife, Kay Conrad Robinson, a resident of Conifer House, his sons from marriage to the late Grace Robinson, Alan Robinson, Jr. of San Diego, California, and William N. Robinson (Julie Dolan) of Atlanta, Georgia, and grandson, Thomas Robinson of Atlanta. He is also survived by his stepchildren Shauna Smith of Portland and Jim Smith (Kelly Lomax) of Lake Oswego from his marriage to the late Gail Smith Robinson. The eldest of four children of Walter Hadley Robinson and Mariana Webster Robinson, he is survived by his brothers Myles Robinson (Elinor) of Aberdeen, Washington, Jared Robinson of Camano Island, Washington, half-sister, Caroline Sanders (Lee) of Seattle, Washington, and several nieces and nephews.
Born in Philadelphia, Pennsylvania, Alan enjoyed his summers camping in the Adirondacks, California, and Washington. He raced sailboats with his father on the Chesapeake Bay and Columbia River. He built cars and ran track in high school in Tunkhannock, Pennsylvania, graduating in 1951. Following his father and grandparents, Louis and Caroline Robinson, he graduated Swarthmore College in 1955.
He flew A-4 jets in the Marines, serving from 1956 to 1960, attaining the rank of Captain. While in flight school at Pensacola, Florida, Alan met and married Grace. Alan earned his Ph.D. in Nuclear Engineering from Stanford University in 1965, with the goal of transitioning from coal burning, which he saw as destructive to his home countryside of Pennsylvania.
Alan was hired by the new Nuclear Engineering program at Oregon State University in 1966. He helped shape the Health Physics and Nuclear Engineering programs at OSU and chaired the department from 1987 to 1996. Consulting for the government at the Hanford Site and other nuclear installations, he lobbied against the closing of the Trojan Nuclear Power in the early 1990s. Alan retired from OSU in 1995.
Alan was a member of the Benton County Amateur Radio Emergency Service. He was a volunteer crime analyst for the Corvallis police department. An avid OSU supporter, Alan and Kay were long time season ticket holders for Beaver football, women's gymnastics, and basketball. They endowed a scholarship in Nuclear Science and Engineering. Alan enjoyed horse trail rides, hunting, camping, fishing, flying, cars, boating, ham radio, and various intellectual pursuits.
The family would like to thank his many helpful friends and the staff, aides, and nurses at New Horizon's Home Care, Stoney Brook Assisted Living, Conifer House, Willamette Springs Memory Care, and Lumina Hospice, as well as the various healthcare personnel who cared for Alan over the years on trips to, from, and at Good Sam.
A memorial service may be held at a later date due to the pandemic. Online condolences for the family may be posted at mchenryfuneralhome.com or memorial contributions can be made to the Alan and Kay Robinson Endowed Scholarship at Oregon State University or the Semper Fi Fund.