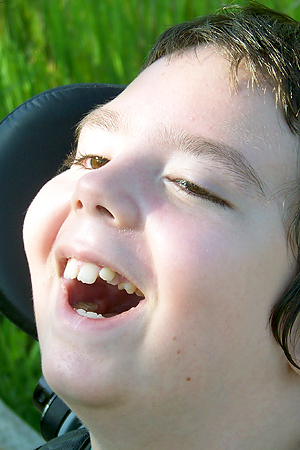 Oct. 6, 1999 — June 18, 2011
Zachary Robert Warnock was born Oct. 6, 1999.
From the start, he fought for every breath. As he grew, Zack's childhood play was accompanied by physical therapy. His social circle included a host of medical professionals. Every moment of his life was aided by something: a feeding tube, an orthotic, a wheelchair.
And yet, what we will remember about Zachary is his smile and a laugh so contagious that even strangers stopped to comment about how special he was. Instead of words, Zack spoke in shades of joy.
He touched many lives in his 11 years: through a shared cheer for a touchdown, a giggle while listening to someone read "Puff the Magic Dragon" or "Caps for Sale," a laugh that came 15 seconds before a slapstick punch line in a movie he'd memorized, or a squeal of pleasure that came as he performed with classmates during the school musical.
Zachary is survived by his parents, Mark and Larina Warnock; siblings Deanna, Kurtis and Shyla; and grandparents Chuck and Jean Warnock and Shirley Tompkins. Our family has been blessed too short a time with a direct line to Heaven.
Play. Run. Sing. And laugh, Zachary. Laugh.
A celebration of Zachary's life will take place at 1 p.m. Saturday, June 25, at First Presbyterian Church in Corvallis. Memorial donations "In memory of Zachary Warnock" can be directed to any branch of the Benton County Schools Credit Union. Online condolences can be sent via www.mchenry