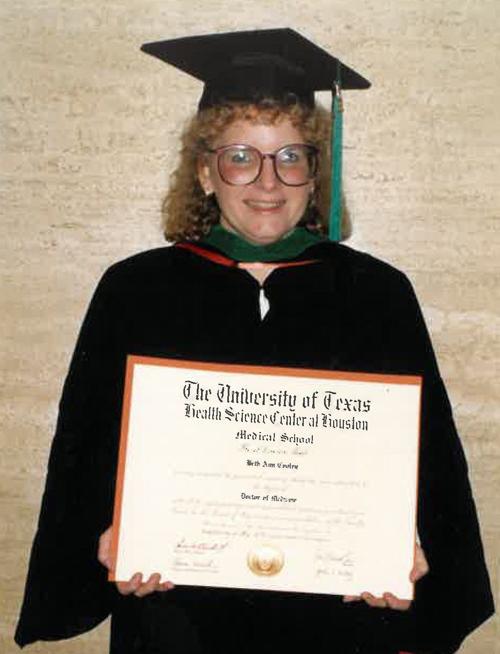 October 28, 1955 - March 28, 2021
Dear Beth Ann (Whittle) Cooley:
Daughter and sister of 65 years. This is a special letter to you, from your family.
You grew your Heavenly wings on March 28, 2021 following a brain aneurysm in November. You were born October 28, 1955, with a birth defect that should have ended your life but even in infancy, you survived and thrived.
Your compassion for others, even as child, helped you to weather the storm in Corvallis primary and secondary schools. You always wanted to be a doctor; your bedroom was a lab where you performed chemistry and dissected egg embryos. Your best friend Jocelyn (Dawson) D'Ahmed remembers spending nights with you. She read magazines; you read medical journals.
After graduating from Corvallis High School in 1973, you received a Bachelor of Science in Accounting from Robert Morris University in Pittsburgh, while raising three boys under the age of three. You completed your MD and board certification in Internal Medicine from the University of Texas Health Science Center at Houston, passing the first time round. You were incredibly smart!
How lucky your patients were to have you as their doctor. Your empathy and compassion for others was endless. You always put others before you. Your compassion and dedication to your canine family members was special as well. All were blessed to be touched by you.
Your sense of humor was infectious. Len, your husband of 43 years, shares your inability to finish a joke without laughing before the punchline.
You always wanted sons and God blessed you and Len with four, whom you protected and guarded: Timothy; Matthew; Christopher; and Jeffrey, who died at nine hours of age.
Matthew shared that you have left a hole the size of Yellowstone in all our hearts. Matt's wife, Jamie, shared that you were there for grandson Alex's entire labor and delivery. You were able to see one of your grandchildren born, a memory Jamie will always cherish.
Then, there was Becki. You literally saved her life. She called you and shared a health concern. On your advice she went to the doctor and learned she had cancer. You drove to Oregon from Arizona in record time, despite also caring for Len, who had his own medical problems. You stayed at Bec's side four weeks, doctoring and caring for her. She asked if you knew how to pray, you took her hands in yours and said the most blessed healing prayers and asked God to look over Becki. You gave her an incredible sense of calm - everything would be okay. Becki is alive and cancer-free because of you.
After returning home to Arizona, you were quickly summoned again - Becki's husband, Bill Goslow, was dying. She will never forget you taking her face in your hands and saying Bill was at peace.
You went through so much pain and suffering in your life, yet through your faith and love of family you found time, energy, and the creativity to become an expert quilter and quilt restorer, carrying on one of our mother's Self family traditions.
You are now with our Father, Jesus Christ. You join your son Jeffrey, mother Anita (Self) Whittle, grandmother Opal Self, and brother-in-law Bill Goslow.
You leave behind husband, Len Cooley, and sons, Timothy and twins Matthew Cooley (Jaime and Alex) and Chris (Logan and Sean) Cooley.
You also leave behind your loving father, Lester Whittle; brother, John (Denise, James, and Chandra); Becki (Whittle) Goslow (Jennifer, Scott, and Alex Yarrow, and Brian, Ediyana, and Emery Kreft), and cousin Carl Wilson.
At your request, Beth Ann, a private family memorial will take place at one of your favorite places on the Oregon Coast.
We will always love and miss you,
Dad, Becki, John and Crew