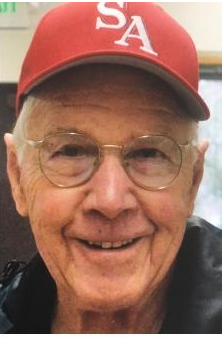 July 24, 1925 — February 5, 2020
Donald Wagner Rea was born on July 24, 1925, in Pocatello, Idaho, to Bertha Wagner Rea and Walter Raleigh Rea. He passed away on February, 5, 2020, at the Lacomb home of his oldest son, Brent, and his wife, Pam.
Don's parents and sister, Catherine Haslop, and his beloved wife Elizabeth, preceded him in death. Donald and Elizabeth Anne Neumann were married on September 26, 1952, in Negaunee, Mich., Elizabeth's northern Michigan hometown. Elizabeth died in 2014.
Don is survived by four sons: Brent (Pam) of Lacomb; Matt (Tina) of Portland; Kirby (Lorre) of Hood River and Joel (Liz) of Corvallis. He is also survived by grandchildren Sean and his wife, Katie; Nicholas, Connal, Delaney and Kira; and a great-grandson, Lucas, born in 2019 to Sean and Katie. An adoptive son, William Rea An, of California, also preceded Don in death. The Reas took William (born Cuong Le), a Vietnamese refugee, into their home in 1978.
In September 2019 the community gathered at Donald's church, Albany First Christian, for a Don Rea Appreciation Day, which he insisted be a day of honor for the community groups he and Betty had served with.
Both were active in Albany Peace Seekers, and worked with others to develop the Albany Friendship Force chapter, through which they formed friendships in Hungary, Germany, New Zealand and Russia. Church, Kiwanis, SMART Reading, delivering Meals on Wheels, and the weekly community meal at First Christian were part of Don's life up until weeks before his death.
Donald graduated in 1943 from Weather Wax High School in Aberdeen, a town he would return to near the start of his career with the YMCA.
Don served in the U.S. Navy from 1943-46, first in North Dakota, where he was baptized at 18 in his adoptive church in Valley City (writing his mother to ask her blessing), Chicago and then in Frederick, Md. He earned his Bachelor of Science degree from Linfield College in 1949 and his Master's Degree at George Williams College in Chicago in 1953. Don was introduced to the YMCA while at Linfield, and went on to a 26-year career with the organization, starting in Helena in 1950. In 1951 he went to work at YMCA Camp Manitowish in northern Wisconsin, where on his first day he met the camp secretary, Elizabeth Neumann. Don and a friend invited Elizabeth and a friend on a double date; Don's friend was first paired with Elizabeth, but they immediately sensed they had each other's hearts, and a lifelong romance began in the Northwoods. Manitowish was a spiritual home for Don and Liz.
Don went to work for Aberdeen YMCA in 1953 and the Portland YMCA in 1956. Don was an avid backpacker dating from his Scouting days, a passion rounded out in 2006 with a family hike to his beloved Enchanted Valley in the Olympic National Park.
After a move to Seattle in 1958, Don worked for several Y branches. In 1963 Don was assigned director of Eastside YMCA in Kirkland. He oversaw the capital campaign and building of a new Eastside in Bellevue. In 1972 he became directorship of Mid Valley YMCA in Albany, through 1977, then going to work at Ransom and Smith Real Estate. He retired in 1990.
Well before retirement, Don and Betty started what became a lengthy list of community engagement. They were active in Albany First Christian Church, and helped found the FISH program in Albany as well as Habitat for Humanity Chapter. He was Albany Boys and Girls Club Volunteer of the Year in 1996-97, and served United Way, Interfaith Caregivers, Partnership for Housing and Community Development, and twice served on the city planning commission.
Don was Albany Citizen of the Year in 1987. Don and Betty were charter readers from 1990 with SMART Reading, and Don continued until 2019. For years Don was a regular volunteer in Albany schools, developing recess and fitness programs at Waverly. In 1996 he was among local citizens asked to carry the Olympic Torch as it made its way through the Willamette Valley en route to Atlanta.
Don continued his passion for gardening until last fall when, to anyone walking with him to the bounteous patch, he'd say, "Let's send you home with some carrots and chard."
No services are planned; the community will be invited to help in early June at the Jackson Street Youth Shelter's Don Rea Memorial Garage Sale in Albany. Memorial donations may be made to First Christian Church, or Albany FISH, which Donald and Elizabeth founded.
To plant a tree in memory of Donald Rea as a living tribute, please visit Tribute Store.
Obituaries Newsletter
Sign up to get the most recent local obituaries delivered to your inbox.