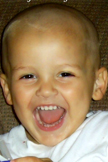 Sept. 4, 2010 — Jan. 17, 2013
He was 2 years, 4 months of age at his death.
He lived in Corvallis and died Jan. 17, 2013, in Doernbecher Children's Hospital at Oregon Health & Science University, due to a stroke from complications of treatment for his pneumonia. Our little angel got his wings.
Cameron was born Sept. 4, 2010, in Corvallis.
His parents are Cressey and Shelley Merrill.
He had twin siblings, Cressey and Keylin, age 4.
Cameron was the silliest person you would ever meet. He was always smiling and laughing. He loved his family, especially his brother and sister. Anything they were doing, he wanted to do! He loved blowing bubbles; balloons; kites; playing in any kind of water, especially mud puddles; and cuddling with his mom, dad and animals.
He had an 8-month battle with leukemia, and beat it! At the last treatment, his resistance to infection dropped and he got very, very sick: complications of treating the pneumonia were more than his little body could take. He fought a big fight, little trooper.
He is survived by his parents, Cressey and Shelley Merrill; his brother and sister, Cressey and Keylin; his grandparents, Cress Merrill, Paulette Merrill and Dori Freeland-Denhem; his great-grandparents, Ed and Min Merrill; his aunts and uncles, Christina Atkins, Brad Atkins, Pete Freeland, Theresa Sorensen and James Sorensen; and his cousins, Lillian and Nate Sorensen, and Casey, Kayleen and Kelsey Atkins.
All are welcome to attend a service for his celebration of life planned for at 11:30 a.m. Saturday, Jan. 26, at Suburban Christian Church, 2760 S.W. 53rd St., Corvallis. The number of the church is 541-753-2802, if you need directions or get lost. A reception will follow; the location and directions will be available at the service. McHenry Funeral Home is handling his final arrangements.
Donations can be made to his Parkrose Sparrow Fund; you can contact Laura Queen at Laura_Queen@parkrose.k12.or.us for instructions. You can also contribute to Cameron Merrill's Medical Trust at any Chase Bank.
We would like to thank all of the people and foundations who followed "Cameron Merrill's Big Fight" on Facebook, and helped make it much easier with your prayers, love and support. Cameron touched many lives in his short time here; thank you to each and every one of you. We were lucky to have you cheering him on. Thank you and big hugs.
Happy, loving, bubbles and stomping in puddles, is how we would like him to be remembered.