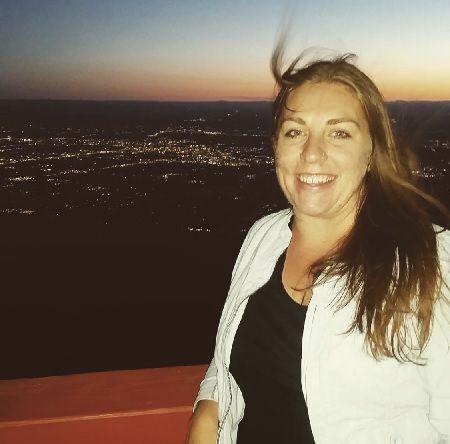 December 3, 1988 – July 14, 2020
Emily Alexandra Vaden (Whiteman) was born on December 3, 1988 to Dan and Lynne Whiteman. Growing up in Summit, Oregon allowed for a carefree childhood spent outdoors. The Whiteman family enjoyed camping trips, sweat lodges, and swimming for hours together in their pool.
At Blodgett Elementary, Emily met her lifelong friends, Grace and Allison. When Emily spotted Grace, the "new kid" on the playground, she immediately invited her to play and sat next to her on the bus ride home. Even at eight, Emily never wanted anyone to feel left out or alone. Emily and her siblings spent the majority of their childhood outside with the Sinclairs and the Motters. They climbed in the treehouse that Emily's dad built in their front yard, played at the Summit Community Center, and raced down their steep driveway on bikes. Emily found joy in performing from a young age. She frequented the Summit Talent Show stage and performed at home as one of the Spice Girls. She also acted in school plays, participated in Girl Scouts, and sang in choir.
At twelve, Emily fell in love with dance and began taking hip hop and jazz classes with her little sister, Andrea, at a local studio. In high school she joined the Philomath Shining Stars dance team. Emily used dance, writing, and poetry as her creative outlets and forms of self-expression. Her poetry was published, and she was frequently recognized in school as a gifted writer. With carefully crafted words, Emily articulated what many were unable to fully express.
Emily attended Western Oregon University where she danced for the Wolfpack Dance Team. In 2009, Emily participated in the Northwest Exchange program and attended school for one term at Cal State East Bay. There she met Troy Vaden who later moved to Oregon with Emily to finish school at WOU. Emily earned her bachelor's degree in Psychology with a minor in Sociology. Soon after, she began graduate school at Oregon State University where she received her master's degree in Public Health with an emphasis in Child and Adolescent Health. Troy and Emily got married in the summer of 2013 and moved to California for Troy to get his PhD in Organic Chemistry.
Emily gave birth to Nick on December 26, 2013. He was the light of her life and raising him was what she was most proud of. As a family, Troy, Emily and Nick enjoyed trips to the beach, reading books, and traveling home to Oregon to visit family. Troy passed away in 2015, leaving Emily with a toddler to raise alone. Like everything else she did in life, Emily rose to the occasion. Nick was her partner in crime, her love, her best friend. From singing and dancing in the living room to trying out new recipes in their kitchen, they did it all side by side. Emily would frequently brag about Nick's great style, bright personality, and his incredible smile. Nick never failed to bring out the notorious "Emily Laugh". Nick's favorite place to be was snuggled up in his mom's arms. Emily's fierce love for him was unmatched. Every choice Emily made was to create the best possible life for Nick.
Emily had the rare ability to make people feel comfortable in their own skin; she made them feel seen and important. If you were around Emily, she made sure you knew your worth. She believed in finding the joy and gratitude during difficult and unexplainable times. Her prioritization of celebrating others was profound. Even while living in California, Emily made it a point to be there for her close family and friends back home in Oregon. Her sister's graduations — her prideful shrieks could be heard from every corner of the auditorium. Her brother's business opening — she posted on Facebook like she was head of the marketing team. Right up until her death Emily continued to support and show her appreciation for those she loved. Two weeks before she passed, Emily threw a surprise 35th anniversary dinner for her parents. Emily was unashamed of the strong emotions and love she felt for others. Her love was loud and warm and left you not only loving her but loving yourself.
Emily was a passionate advocate for equal rights and opportunities for all and made it her life's work to give back to and improve the communities she was a part of. Emily was a Project Coordinator at YOLO County Health and Human Services. She worked to help the Community Health Branch achieve Public Health Accreditation and oversaw performance management for the entire agency. Her natural curiosity and determination to solve problems allowed her to give back to some of the most vulnerable communities. Emily was integral in promoting The Blue Dot Campaign, an awareness program for Maternal Mental Health. She was responsible for the "traveling blue dot" social media campaign that became extremely popular. Among her many accomplishments, Emily was recognized by the YOLO County Board of Supervisors for her leadership in the Public Health Accreditation Program. She was also selected to be one of the YOLO County's "Change Agents" and did training for staff on change management and how to successfully cope with change. It was through this meaningful work that Emily gained some of her closest friends. Emily took great pride in her work - she was able to use her brilliant mind to analyze data and help others on a daily basis. She also spoke at local colleges, organizations, and in front of the San Juan Unified School Board advocating for mental health reform and LGBTQ+ rights.
For her own mental health, Emily started dancing again in 2014 at Stages Dance Studio in Woodland. Zumba and Ballet were weekly activities that brought Emily joy. Later, she added Yoga and camping with friends into her rotation and used these activities as a way of giving back to herself. Emily's way of life reminded us that as much as we serve others, we must make it a priority to serve ourselves as well.
In 2017, Emily met John Cottrell and his daughter, Olivia. After a few months of dating, they introduced their children to each other and soon after blended their families. Emily's close family often referred to John as the male version of Emily. In November of 2018, sitting next to a riverbank in Yosemite, John proposed to Emily, and she said yes. By January of 2019 they bought their first home together in Orangevale, California. Emily, John, and the kids loved turning that house into a home filled with family meals and stories read before bedtime. Their weekends together were full of trips to the park with coffee in hand, traveling to the beach, and going out for Emily's favorite: ice cream.
In August of 2019, after trying to manage excruciating hip pain, Emily was diagnosed with an extremely rare form of Osteosarcoma. Shortly after the diagnosis, Emily and John were married on August 30, 2019. Emily was so excited for all four of them to officially be a family; they were her first priority. From the beginning, despite a bleak diagnosis, her approach was to fight the cancer head on with everything she had. That was how Emily's brain worked: identify the problem, assess all angles, find the best solution, and commit to the hard work with everything she had. Emily was determined to look into all treatment options and hear from expert oncologists. This led her to both Stanford and the Mayo Clinic. She completed both chemotherapy and radiation. Throughout her entire battle, Emily continued to be the positive force that she was, despite the agonizing, constant pain. By her side the entire time, was her "rock", her "superhero", John. Emily never let anything hold her back and continued to find joy in the simple pleasures in life alongside her children, husband, and immediate family.
Emily passed away on July 14, 2020. She is preceded in death by her sister, Kelly, and her grandparents, Carol Lewis, George Spooner, Charlie Whiteman, and Jenny Whiteman. She is survived by her husband John, children Nick and Olivia, parents Dan and Lynne, sister Andrea, brother Luke and wife Melissa, nephews Jax and Levi.
There are truly no words to accurately articulate how much Emily is missed. Her quick smile, selfless actions, and loving personality touched the hearts and impacted the lives of many. Her legacy of service and love will live on and continue to create positive change in the many communities she impacted.
Memorial contributions can be made to Wellness within Cancer Support Services, 609 Oak St. Roseville, California 95678 in memory of Emily Vaden. Written condolences can be sent to the family at rememberingemilyalexandra@gmail.com.
A celebration of life will be held in California and in Oregon, once it is safe to do so.
Obituaries Newsletter
Sign up to get the most recent local obituaries delivered to your inbox.