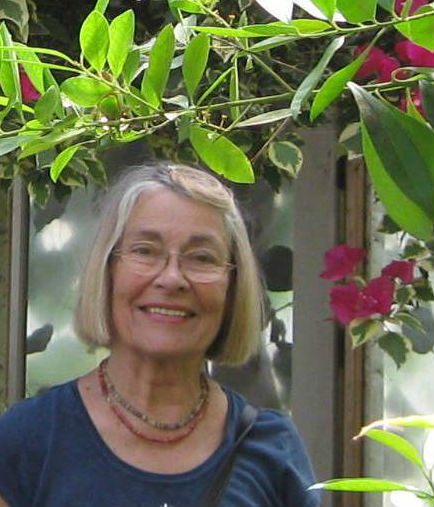 Aug. 12, 1939 — Nov. 30, 2016
Sabine's memorial service is at 2 p.m. Saturday, Dec. 17, at Peace Lutheran Church; wear bright colors please.
Sabine Miner was born in Kolberg, Germany, on the Baltic Sea. At the end of World War II, as a child, she fled to West Germany, where the family reunited and started a new life near Frankfurt. The early 1950s were a period of hardship, hunger and hard work in Germany. Necessities of life were in short supply, and so began her life of challenges, adventures and achievement in the extreme. Sabine had a strong character, was focused, and could achieve what she set out to do, all done in a loving, considerate way. Her German touch made life with Sabine special.
As a teenager she attended a convent school and learned rudimentary English. She was in a gymnastics club. Sabine learned sewing, knitting and crocheting clothes, skills that later facilitated her early art efforts. She also worked nights for a newspaper sending news by teletype. Sabine's next major challenge was immigrating to a land with a different language and culture in small town USA, with few foreigners.
Sabine met her future husband, Malcolm Miner, in 1959 while skiing in Austria. After their wedding in 1961 they moved to a Massachusetts dairy farm. The couple then worked at a ski resort and later followed interstate highway construction projects in northern New England with her first born son, Mark, in tow. In 1964 she moved to Quito, Ecuador, where her second son, Michael, was born. Without hesitation she accepted the challenge and adventure of moving to a remote jungle city with intermittent electricity. The nearest modern city was 11 hours away, and challenges in caring for a toddler and a baby were many and great.
Eventually the family moved to Reston, Virginia, near Washington, D.C. Here began her first serious arts projects. She made and sold paper flowers and created woven straw ornaments. At that time her third son, Matthew, was born. She learned American ways from her neighbors, but kept her German ways, too. Sabine learned basic emergency piloting in her husband's airplane. Weekends were spent hiking, bicycling and going to the beach, sometimes by airplane. Life became easier but busier.
Next the family adopted a Norwegian life in Oslo. Sabine spoke Norwegian with her contemporaries, German in her home and English on Sunday. In Norway her artistic talents grew greatly as she learned to weave on a complex loom that filled a room. She also took up tapestry weaving. For winter sports she knit complex patterned Norwegian ski sweaters. There was also family hiking, sailing and camping. Sabine applied herself to learning about early Scandinavian folk art. From Norway the family frequently traveled to Germany. Finally, since the children were becoming "Norwegianized," the decision was made to return to the USA.
After an interim stop in Virginia, Sabine lived the rest of her life on a small ranch outside of Philomath. She named it Rainbow Ranch, from where she followed her children throughout school activities and their multiple 4H projects. She was active in parent teacher activities and in following her three sons in school sports. In them Sabine nurtured an interest and awareness of places outside of America. She was very particular about eating healthy including cooking from scratch and baking multigrain bread without preservatives. Illness was rare in her family. Sabine spent a lot of time in her Volkswagen van hauling her kids and later in a pickup hauling her art.
Meanwhile her artistic proficiency blossomed during these years as she melded her European art knowledge and skills with working with wool and other media. She was a founding member of the Corvallis Weavers' Guild and exhibited proficiency and creativity in wearable art. This required starting with the newly shorn fleece washing and carding it. Eventually this lead to her felt making, blending hand dyed colors and adding crocheting and knitting to her one-of-a-kind garments.
In these years she designed and created wearable art and one-of-a-kind costumes for the movie industry, mainly Star Trek/Next Generation. She sold an outfit to Estelle Getty of "The Golden Girls" that was highlighted in TV Guide. Sabine participated in numerous juried art shows, mostly ACC juried, in San Francisco, Portland, Bellevue, Santa Monica, Carmel, Scottsdale, Sun Valley, Denver, Salt Lake City, Minneapolis, Baltimore and more. Her work was in boutiques and galleries around the west. She used only her first name, "Sabine" on her labels, and that's what her many repeat admirers and customers knew her by. She was honored as the only American artist selected to attend a fiber arts symposium in Arhus, Denmark, involving fiber artists from around the world.
At this point Sabine and her art career were hit with monumental challenges that took all the fortitude she could muster. First, her oldest son, Mark, died suddenly. Then within two years she was diagnosed with three kinds of cancer including pancreatic. She won a strenuous battle with pancreatic cancer and the other cancers in about a year. Then she took a break to focus more on her family, her home and her garden while regaining her strength. At this time she began devoting much time to helping raise her fatherless grandson, Kai. All of her grandchildren were lights of her life. Sabine was the center of her family dispersing her love, wisdom and guidance for all to hear.
Sabine found new achievements. When cancer free she discovered encaustic painting (painting with molten, colored wax). She said," It became my healing, my passion, and my addiction to satisfy my love for color and texture. I paint because it makes me happy. A painting a day keeps the doctor away." Working in her studio she loved the smell of the hot bee's wax, and enjoyed the music she played when working. She said, "I like the idea of each painting being on a journey ending at a beautiful destination."  It is easy to understand her love of rainbows.
If you come to Sabine's memorial service at 2 p.m. Saturday, Dec. 17, at Peace Lutheran Church, please honor her by wearing bright colors.
In lieu of flowers she asked that donations be made to Benton Hospice Service in Corvallis.