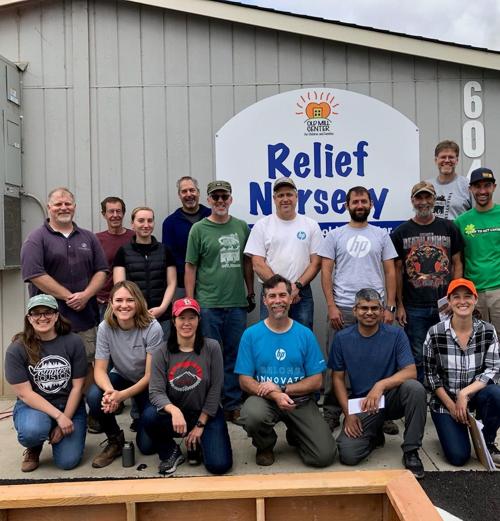 The Old Mill Center for Children and Families has opened a relief nursery operation in Monroe.
The center held a virtual ribbon-cutting ceremony and tour Wednesday,  with former Benton County Commissioner and Oregon Community Foundation volunteer Anne Schuster serving as the keynote speaker. 
The new center is located on the grounds of the Monroe Grade School, 600 Dragon Drive, and allows the Old Mill Center to provide early education, parenting education, respite services and resources for families in south Benton County. Once fully operational, the classroom will be the site of early education for as many as 11 children 3 to 5 years of age and eight additional children 2 to 3 years of age.
The relief nursery is a therapeutic early childhood program for at-risk children. Comprehensive early intervention services include family strengthening and preservation activities, parent education, advocacy, counseling, intensive home visiting, and therapeutic classrooms.
"This project began in 2016 with local community leaders and service organizations realizing the need for early education and parenting support services in the south Benton County area," said Kate Caldwell, development manager at Old Mill. "Monroe was selected as the central point for a satellite relief nursery classroom. Through amazing collaborative efforts with local partners … the project came to life on the grounds of the Monroe Grade School.
"The partnership with Old Mill Center and the Monroe School District allows us to take advantage of the facilities and some of the operational services we would otherwise need to financially cover. This is a wonderful opportunity for us to introduce early education to a community that had none."
The program has received support from the Benton Community Foundation, Oregon Community Foundation, Ralph Hull Foundation, Samaritan Community Foundation, Ford Family Foundation and Spirit Mountain Community Fund, Caldwell said.
"Additionally," she said, "community support has been critical in helping us to bring this project to fruition."
The Monroe operation received donations from many local community members such as Starker Forests Inc., the Thompson Foundation, the Rotary Club of Corvallis, Old Mill Center board of directors, and south Benton County businesses and residents.
The Old Mill Center for Children and Families offers a continuum of services including prevention, intervention, early education and physical and occupational therapy to children and their families in Benton and Linn counties. The center, which opened in 1977, is a nonprofit organization located in Corvallis. It also has offices in Albany.