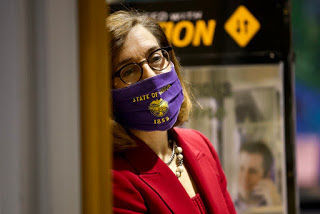 A plan to reopen Oregon's businesses and allow social gatherings will rely on a three-phase approach, with major decisions being made at the county level, depending on local health conditions.
On Thursday, Gov. Kate Brown and state health officials cautioned that current measures regarding physical distancing and hygiene likely will remain in place for months to come, as some retailers in rural counties prepare to enter the first phase of reopening for in-person activities by Friday, May 15.
Brown's office said the goal with the phased reopening is to "minimize hospitalizations and deaths" and reducing risk to health care and frontline workers.
So far, Oregon has seen far fewer cases and fatalities from COVID-19 compared to other states and countries. The governor credited the stay-home orders and Oregonians' adherence to safety precautions with the state's infection rate.
"These sacrifices have prevented as many as 70,000 COVID-19 infections," Brown said. "We still don't have everything we need but things are definitely improving."
Brown likened the state's plans to testing out the ice on a frozen pond before going ice skating.
She and other health officials warned that "reopening still comes with risk."
"As we reopen parts of our economy, we know and expect that there may be an uptick in new coronavirus cases," Brown said Thursday.
Oregon's three-phase plan allows businesses, personal service providers and retailers to reopen on a conditional basis, with specific guidelines for each business sector. Returning to in-person activities will be dependent largely on the risk factor of each activity, as well as health conditions and the number of COVID-19 cases in each county and region across the state.
In all cases, state officials want residents to wear face masks when working in or entering any business, with exceptions for eating and drinking.
Phase 1: As soon as Friday, May 15 in some areas
In counties approved to open during Phase 1, restaurants and bars could allow patrons to dine on-site, so long as tables are 6 feet apart. Employees would need to wear face masks and coverings supplied by the business and all activity must end by 10 p.m.
Fitness centers could open, with limits on the number of occupants, and salons also could reopen by appointment only, but they'd need to keep a log of every customer who visits, to allow for contract tracing by health departments if needed.
Standalone retail shops and boutiques also could resume activity under the Phase 1 plans, as long as they can follow specific guidelines laid out by the Oregon Health Authority.
State leaders said they aren't recommending group gatherings of more than 10 people yet.
A county could move on to Phase 2 after three weeks, only if they continue to meet the parameters of Phase 1.
Before entering Phase 1, a county would need to demonstrate a declining prevalence of COVID-19: that is, a steady drop in hospitalizations for 14 days, with emergency room visits for COVID-like illness being below what they typically are for influenza.
Specific guidelines for testing regimens and contact tracing systems, along with supplies of personal protective equipment and other health care capacity also are identified as prerequisites in the state plan.
Phase 2: Similar to Phase 1, with expanded gathering sizes
Brown's office said the goal of Phase 2 is to further expand allowable gathering sizes, allow more people to work together in offices and allow visitation at congregate care facilities.
Phase 3: Concerts, festivals will be last to return
Large gatherings at places like festivals, concerts and sporting events, won't see a comeback anytime soon. Initial guidance from the state indicates they will be postponed until at least September, but large events could be delayed beyond that, until a vaccine or prevention is developed, draft guidelines indicate.
Thursday's announcement followed draft plans the governor's office released earlier this week, and a reopening of some of the state's parks and recreational sites, where physical distancing could be practiced.
"It worked. Oregon flattened the curve," Pat Allen, director of the Oregon Health Authority, said Thursday. "So far, we have avoided the tragic worst case scenarios we have seen play out around the world and in other places in the United States."
Allen said Oregon's COVID-19 death rate was the "eighth lowest in the country," but Allen and Brown cautioned that reopening certain aspects of public life doesn't mean the virus has diminished, and increased public activity could lead to a spike in infection.
Concerned about COVID-19?
Sign up now to get the most recent coronavirus headlines and other important local and national news sent to your email inbox daily.